Who Is Sara Gideon? Democrat Challenges Susan Collins, Cites Senator's Vote for Brett Kavanaugh
Maine's Speaker of the House, Sara Gideon, announced her candidacy against U.S. Senator Susan Collins Monday morning, citing the Republican's votes for President Donald Trump's tax bill in 2017, political donations from drug companies and the insurance industry and her vote to confirm Brett Kavanaugh to the Supreme Court.
Sara Gideon is the third Democrat to declare a run against Collins, a moderate Republican who is considered a swing vote in the GOP-controlled Senate on certain divided issues. A Republican has also said he would challenge the 22-year incumbent.
Serving her second term as speaker and fourth as a state lawmaker in Maine's House, Gideon graduated from George Washington University with a degree in international relations and affairs, according to her LinkedIn profile. She interned for former U.S. Senator Claiborne Pell, a Rhode Island Democrat, and Gideon became an elected official herself to the Freeport Town Council prior to becoming a state lawmaker in 2012.
In her campaign video, Gideon touted her roles in helping to expand job training programs and protecting Maine Obamacare recipients with pre-existing conditions. She also described how the Maine House, under her leadership overrode Governor Paul LePage's veto of a bill that sought to expand opioid users' access to an overdose drug without a prescription.
Last week, Maine's governor signed legislation, introduced by Gideon, to automatically register voters in the state.
"Getting things done for Mainers is what we're elected to do, not falling in line behind the demands of someone else. It doesn't matter if that person is [Maine Governor] Paul LePage, [Senate Majority Leader] Mitch McConnell or Donald Trump," Gideon said in a campaign video released on Twitter. "At one point, maybe [Collins] was different than some of the other folks in Washington, but she doesn't seem that way anymore."
Gideon further criticized Collins for supporting Trump's 2017 tax bill, which cut taxes for many, but more heavily benefited large corporations and wealthy Americans.
Collins was also a deciding vote to confirm Kavanaugh, a Trump nominee whose confirmation seemed all but certain—until several women came forward with allegations of sexual misconduct that stretched as far back as high school. Kavanaugh adamantly denied any wrongdoing in a fiery testimony before Congress, which immediately followed that of one of his accusers, Christine Blasey Ford.
"This has destroyed my family and my good name. A good name built up through decades of very hard work and public service at the highest levels of the American government," Kavanaugh told the Senate Judiciary Committee in September. "This whole two-week effort has been a calculated and orchestrated political hit fueled with apparent pent-up anger about President Trump and the 2016 election."
Following an FBI supplemental investigation into some of the sexual misconduct allegations made against Kavanaugh, Collins—along with the swing votes of Democrat Joe Manchin and Republican Lisa Murkowski—voted to confirm the conservative judge.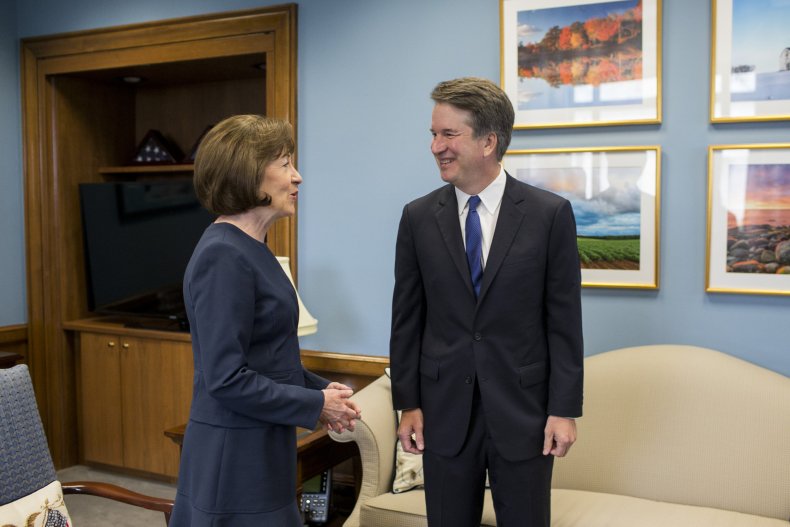 "Every person—man or woman—who makes a charge of sexual assault deserves to be heard and treated with respect," Collins said in a floor speech that detailed her decision to confirm. "The #MeToo movement is real. It matters. It is needed. And it is long overdue."
However, she said that Ford's claims that a young, intoxicated Kavanaugh in the early 1980s sexually assaulted her at a house party "fail[ed] to meet the more-likely-than-not standard."
"I do not believe that these charges can fairly prevent Judge Kavanaugh from serving on the court," Collins said.
Kevin Kelley, a spokesman for Collins' re-election campaign, told Newsweek in a statement that the Democratic nominee will not be determined for another year and that Collins will run on her record in Congress.
"One of the reasons why Senator Collins has been so effective is that she has more seniority than any U.S. Senator from Maine over the past 70 years," Kelley said. "She will continue to build on her record of extraordinary accomplishments for the people of Maine."
This story has been updated to include a statement from Collins' campaign spokesperson.