Who Is Sarah Rose Summers? Miss USA Winner Is the First Contestant From Nebraska to Win Crown
A Nebraska native was crowned Miss USA for the first time on Monday as Sarah Rose Summers beat runner-up Miss North Carolina Caelynn Miller-Keyes and third-place finisher Miss Nevada Carolina Urrea to the crown.
Summers is a 23-year-old graduate from Texas Christian University, where she earned two degrees with a cum laude distinction: a Bachelor of Science in strategic communication with a business minor, and a Bachelor of Science in child development.
Her career choice was heavily influenced by her childhood. She was hospitalized after being diagnozed with Idiopathic Thrombocytopenic Purpura (ITP) at five years old, an experience that made a lasting impression on her. "My nurse was amazing. She is who I strive to be like now working in children's hospitals," she said.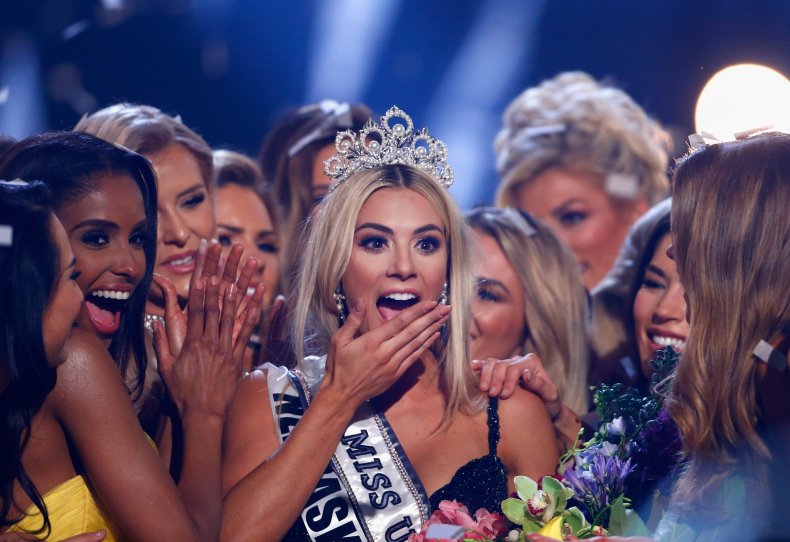 Her job working as a child life specialist—for which she was recently awarded official certification—informed one of her answers during the Q&A session, which this year featured queries on current issues written and submitted by the contestants themselves.
One question to Miss Florida Genesis Davila focused on sexual assault on university campuses—her answer discussing the need to give women self-defense training disappointed some of her fans on Twitter.
Summers was asked instead about her view of single-parent households and how these inform her generation's perspective on marriage and family. "I am so grateful to have grown up in a home with two parents. Hi, parents, out there. And so I can't personally relate to this," she said, her answer quoted in The Washington Post.
"However, I do work in children's hospitals as a certified child life specialist where I'm a liaison between the children and families and the medical team. And I've seen single mothers at the bedside working remotely on their computers to stay by their children and support them, and I think that it just shows that children, no matter if it's a boy or a girl, that they can do that."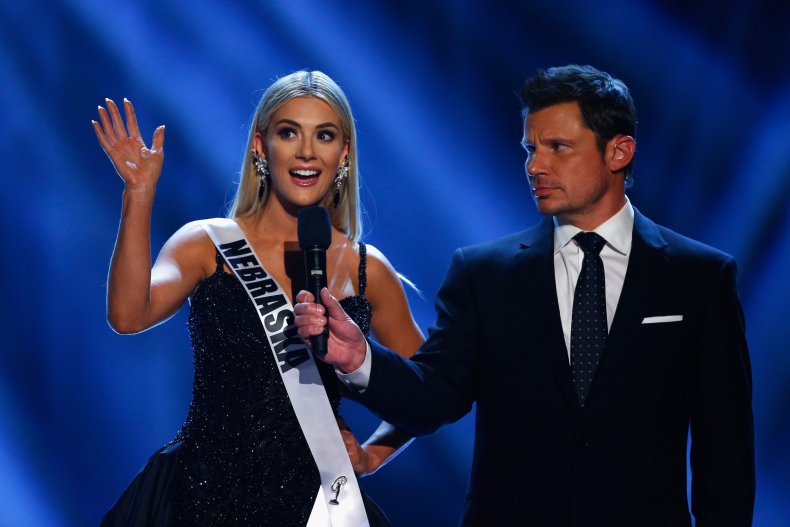 Summers had to answer another question after reaching the final three stage with Miller-Keyes and Urrea. This time, all three women were asked the same question, written by the show producers and addressing recent demonstrations such as the Women's March and March for Our Lives: "You're on your way to a march and someone hands you a blank sign and a marker. What do you put on your sign and why?"
While Summers's competitors gave straightforward answers—"Your body, your rights" was Miss North Carolina's choice, while Miss Nevada opted for "Let's work together to eliminate homelessness"—Miss Nebraska went down the diplomatic route.
"I say 'Speak your voice.' I don't know what march we're on our way to in this hypothetical situation, but no matter where you're going, whatever type of march it is, you're obviously on your way to that march because you care about that cause. So go speak to people. When they have questions, communicate to them. Listen to their views also. That is one thing in the United States that we really need to focus on, is listening to each other."
The pageant winner has represented Nebraska before in the Miss Teen USA in 2012 and then competed in Miss Nebraska USA 2016, where she was placed as the second runner-up. As Miss USA 2018 winner, she will represent the country at Miss Universe 2018.