Who is Sardar Vallabhbhai Patel? India Builds World's Largest Statue to Honor Independence Leader
The world's tallest statue has been unveiled in India. Standing at 597 feet tall (182 meters)—or almost twice the size of the Statue of Liberty—the bronze-clad statue in the western state of Gujarat depicts Indian independence leader Sardar Vallabhbhai Patel.
Indian Prime Minister Narendra Modi said at the unveiling of the monument Wednesday that "Patel wanted India to be a forceful, strong, sensitive, vigilant and accommodative nation, and we're working towards that."
Dubbed the "Iron Man of India," Patel served as the country's first deputy prime minister and interior minister after independence in 1947. He played a key role in the negotiations that saw the hundreds of feuding princely states that made up colonial India come together to form modern India—hence its title, the Statue of Unity.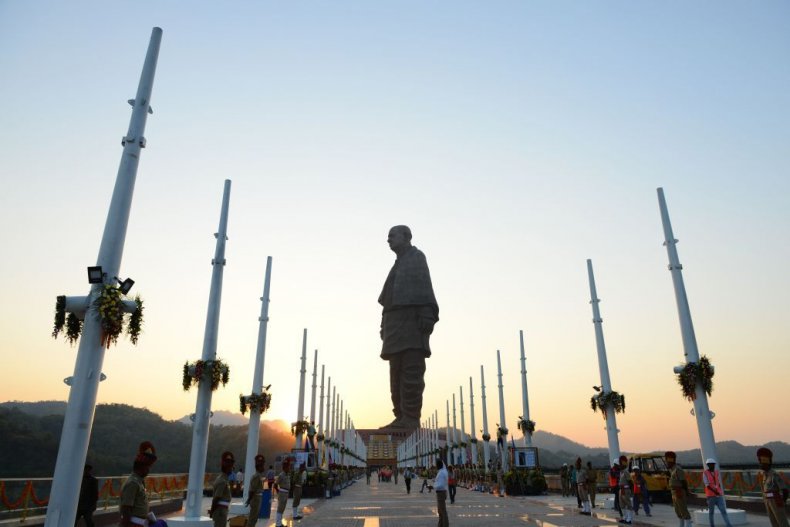 Created by sculptor Ram V. Sutar, it depicts the bald Patel in sandals and modest traditional attire. It was built in 33 months by construction and engineering company Larsen & Toubro.
The statue weighs 67,000 metric tons, with some of its metal contributed by local villages in the form of farming tools in tribute to Patel's legacy. It has been built to withstand a Category 3 hurricane and earthquakes of up to 6.5 magnitude, the Statue of Unity project said.
However, the creation of the statue has not been without controversy. Critics have questioned whether the 29.9 billion rupees ($406 million) spent on the statue by the Gujarat and federal governments and contributed by donors couldn't have been put to better use.
"If he had been alive, Patel would never approve millions to be spent on his statue," Mohan Gurumurthy of the Centre for Policy Alternatives told The Daily Telegraph.
Local farmers have protested the government's expropriation of land where the statue has been built, given their poverty.
"You would surely ask, On whose land would this statue stand? Whose plan was this?" social activist Medha Patkar wrote in what she called an open letter to Patel. "This land, river, forest that your avatar is going to stand on belongs to adivasis."
Authorities claim the statue will attract millions of visitors a year, boosting the local economy. A 150-meter-high viewing point around the statue provides panoramic vistas of the surrounding national park, and a bridge connects the monument to a museum.
Political opponents have accused Modi of trying to hijack the legacy of Patel, who was a member of the opposition Congress Party.
"Ironic that a statue of Sardar Patel is being inaugurated, but every institution he helped build is being smashed," tweeted Congress leader Rahul Gandhi. "The systematic destruction of India's institutions is nothing short of treason."
Modi's Hindu nationalist Bharatiya Janata Party (BJP) party says that Patel's legacy should be honored by all Indians.
Facing five state elections and a general election by May, Modi and his BJP are reaching back into history for alternatives to the heroes of the Nehru-Gandhi family that dominated Congress, according to Reuters. They also claim the achievements of independence-era figures, including Patel, have been neglected.