Who Is Sayfullo Saipov? Suspect in Lower Manhattan Terror Attack Yelled 'Allahu Akbar'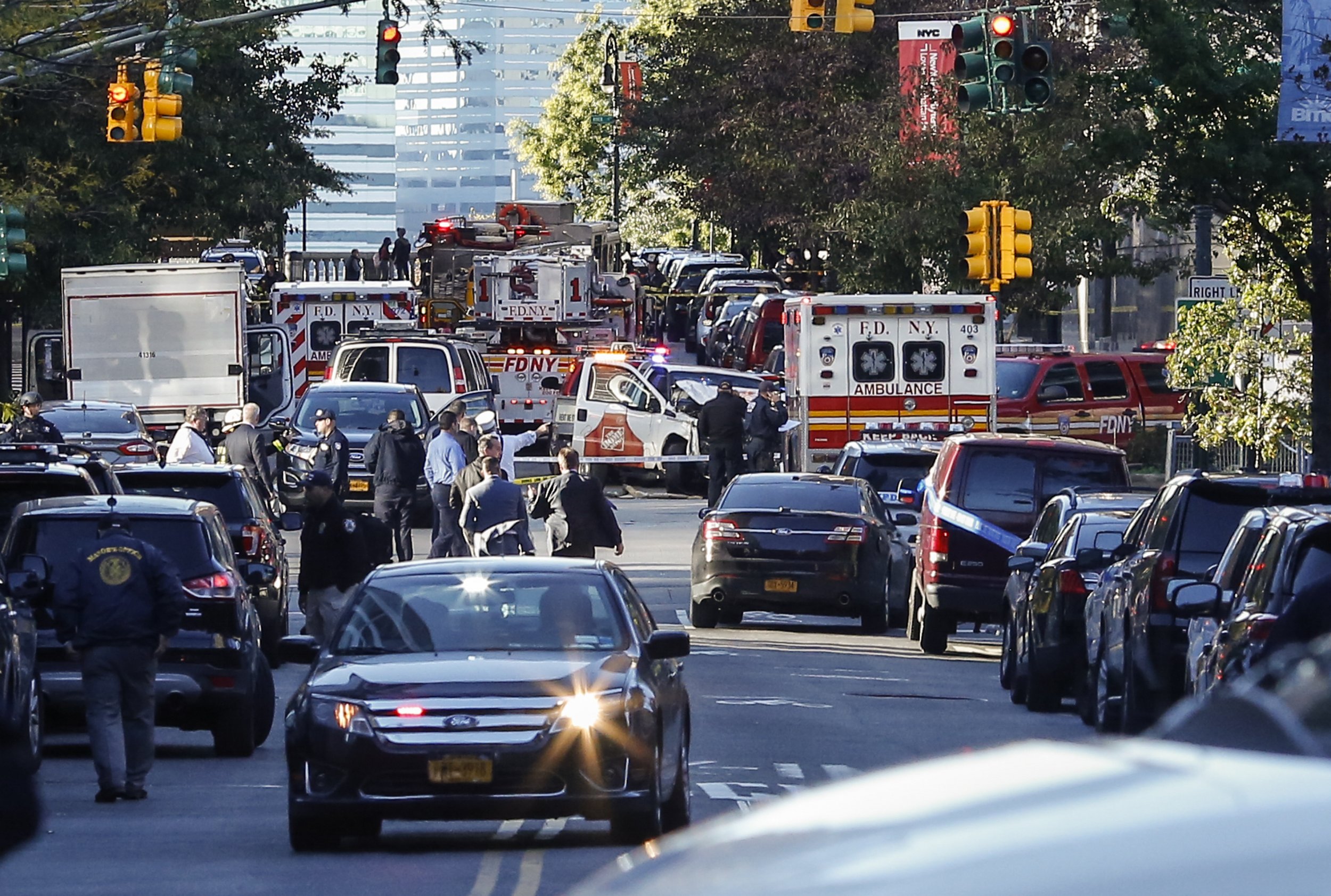 Updated | A man who drove a rented Home Depot truck down a bike path next to the Hudson River in Lower Manhattan in New York City Tuesday afternoon killing eight people, including two children, and injuring dozens more, was identified by media as Sayfullo Habibullaevic Saipov.
The New York Police Department said officially only that it had captured a 29-year-old man who drove his truck southward on a two-way bike path. During the attack, Saipov jumped out with two fake guns, one paintball gun and another pellet gun, and was shot by police officers, according to The New York Times. The incident was being investigated as an act of terrorism, and there were multiple reports suggesting Saipov yelled "Allahu Akbar," or "God is great" in Arabic after the truck crashed. He allegedly left a note in truck saying he committed the attack for ISIS.
According to NBC News, Saipov was born in February 1988 and came to the U.S. from Uzbekistan in 2010. Since he's been in the U.S., he has reportedly lived in Tampa, Florida and Ohio. CBS News reported that he worked as a truck driver, and his only known criminal offense, according to the Daily Beast, was a traffic ticket issued in Missouri last year.
A New York Post reporter spoke to one of Saipov's friends from Ohio, who said Saipov was an Uber driver. Uber could not comment to Newsweek at the time of this publication.
"He is very good guy, he is very friendly… he is like little brother… he look at me like big brother," Saipov's friend, Kobiljon Matkarov, told the newspaper over the phone on Tuesday evening.
He also crashed into a school bus, but it was unclear if anyone was on the bus. The police said they took Saipov into custody.
"Everybody started running," an unnamed witness told ABC's New York station WABC. "Everything was happening so fast. [The driver] kept going all the way down full speed."
Officials said the threat to New York City had been neutralized, according to the mayor's press secretary. The police took the suspect into custody and he was being treated at a nearby hospital, which officials declined to name.
Students at Stuyvesant High School told the Times that they saw a man "shooting from a pickup truck, and then saw the truck turn and strike a school bus." The NYPD confirmed in a press conference on Tuesday that the attack was an act of terror. New York Mayor Bill de Blasio said, "This was an act of terror, and a particularly cowardly act of terror."
President Donald Trump quickly tweeted about the incident as officials scrambled to learn details about the suspect's motive. He wrote on Twitter: "In NYC, looks like another attack by a very sick and deranged person. Law enforcement is following this closely. NOT IN THE U.S.A.!"
This story has been updated to reflect more information about the suspect.