Who Is Scott Morrison? Trump Pressed Australian Leader to Help Barr Probe Origins of Mueller Inquiry
President Donald Trump pressed Australian Prime Minister Scott Morrison during a phone call in recent weeks to help his administration's Attorney General, William Barr, probe the origins of former special counsel Robert Mueller's Russia investigation, the New York Times reported on Monday.
One unnamed American official with knowledge of the call told the Times that the White House restricted access of the call's transcript to a select number of the president's aides, a move similar to their handling of his controversial call with Ukrainian President Volodymyr Zelensky that took place in July. However, Trump's conversation with Morrison deals with an ongoing Justice Department investigation and could be considered as falling under the purview of his powers as the chief executive.
In a statement emailed to Newsweek, a spokesperson for the White House confirmed the phone call, but asserted that Trump did not commit any wrongdoing.
"This call relates to a DOJ inquiry publicly announced months ago to uncover exactly what happened. The DOJ simply requested that the President provide introductions to facilitate that ongoing inquiry, and he did so, that's all," White House deputy press secretary Hogan Gidley said.
A Justice Department spokesperson echoed Gidley's sentiments to NBC News. The president was "asking his law enforcement to work with ours," the official said.
A spokesperson for the Australian government told CNN that Morrison stood ready to execute Trump's request. "The Australian Government has always been ready to assist and cooperate with efforts that help shed further light on the matters under investigation. The PM confirmed this readiness once again in conversation with the President," the spokesperson said.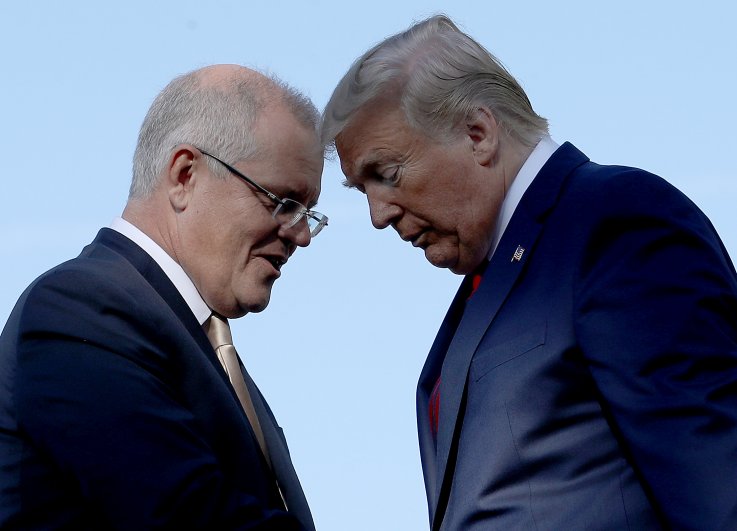 Morrison 51, who's currently serving as the 30th Prime Minister of Australia, has been the leader of the country's Liberal Party since August 2018. He has previously identified himself as a pragmatic conservative.
As a social conservative, Morrison has fast become one of Australia's top religious conservative politicians. Although he opposed the nation's same-sex marriage bill, he eventually abstained, a move that demonstrated his pragmatism when faced with a clash in personal beliefs and politics.
Before assuming office last year, Morrison previously served in Australia's Cabinet from 2013 to 2018, during which he worked as Treasurer of Australia. He had also worked as Director of the New Zealand Office of Tourism and Sport from 1998 to 2000, before then going on to serve as the Managing Director of Tourism Australia from 2004 to 2006.
Morrison was born in Waverley, Sydney to Marion and John Morrison. He grew up in the suburb of Bronte and studied economic geography at the University of New South Wales.
Who Is Scott Morrison? Trump Pressed Australian Leader to Help Barr Probe Origins of Mueller Inquiry | Politics