Who Is Sean Duffy's Wife, Rachel Campos-Duffy? 'Real World' Politician Retires From Politics
Wisconsin Congressman Sean Duffy will retire from politics due to his unborn ninth child's heart condition, the politician announced on Facebook Monday. He explained why his family must come first, and expressed how much of a privilege it was to serve Wisconsin's 7th District.
Duffy was formerly on MTV's Boston season of The Real World. His wife, Rachel Campos-Duffy, is also a Real World alumnus from the San Francisco season. The pair announced their ninth pregnancy in May on Instagram.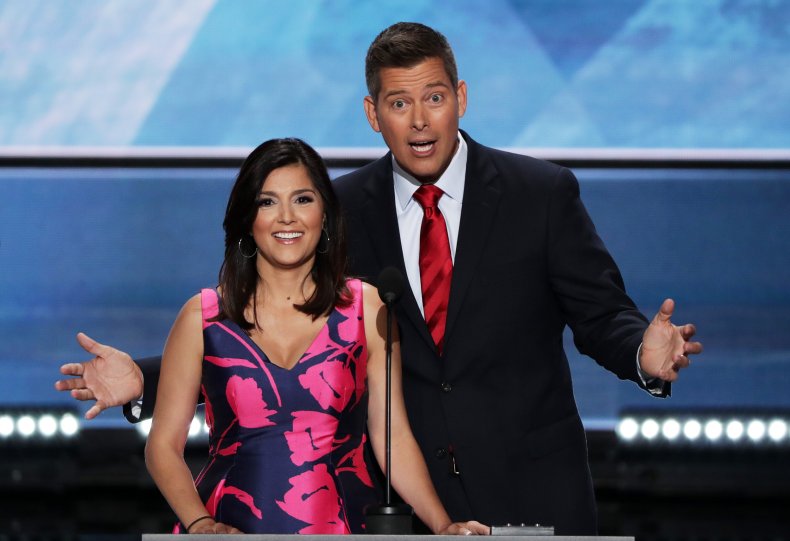 The Republican congressman opened up about their unborn child in the personal Facebook post. "Recently, we've learned that our baby, due in late October, will need even more love, time, and attention due to complications, including a heart condition," he wrote. "With much prayer, I have decided that this is the right time for me to take a break from public service in order to be the support my wife, baby and family need right now. It is not an easy decision — because I truly love being your Congressman — but it is the right decision for my family, which is my first love and responsibility."
Campos-Duffy did not issue her own statement on her baby's health. The couple's eight other children range in age from three to 19, according to People magazine.
So who is Campos-Duffy?
Duffy's wife is currently a Fox Nation host. She got into television hosting shortly after she appeared on the 1994 season of The Real World set in San Francisco. Duffy has also appeared on a handful of other television shows like Life Is Like and The Kelly Files. She also acted as a guest co-host of The View during select episodes from 2003 to 2014, according to the Internet Movie Database.
According to her social media, which is full of photos of her children, Duffy is family-driven. She also shares her own Republican viewpoints on her Instagram account. A recent photo of Duffy includes text that says "As the first Hispanic conservative on an MTV reality show in the 90s, I learned the myth of liberal tolerance at a young age."
Duffy and Campos-Duffy aren't the first Real World stars to go on and find prestigious jobs. They're among the likes of Queer Eye host Karamo Brown and actress Jacinda Barrett.
Supporters of the Duffy family have expressed messages of strength and understanding as Duffy steps down from his role in politics. Wisconsin Senator Ron Johnson was one to share a message of condolence and support. "We are all saddened by this news," he wrote. "Family responsibilities should always come first, and I fully understand and respect your decision to devote your full time and attention to your family. You are in our prayers."
Many comments praise the Duffy family's commitment to God and will to put the love and health of their family before a position of political power.
This article has been updated to correct Campos-Duffy's job title as a Fox Nation Host.