If there's one thing comic Sebastian Maniscalco likes to do in his comedy, it's talk about his family. After marrying artist Lana Gomez in 2013, she's become a prominent part of his standup routine. As seen on his new Netflix special, Stay Hungry, Maniscalco regularly refers to his wife, his in-laws, and, of course, his own upbringing as an Italian American.
Before Stay Hungry, where he jokes about his wife is from a family that is more forgiving than his, he also quipped about their religious differences in his last Netflix special, Aren't You Impressed. He has an iconic skit where he talks about going to Passover with his in-laws, and jokes that the Italians should cater the food.
So who is the woman the comedian regularly talks about in his standup routine? Gomez, 35, went to college at the University of Tennessee. She then moved to Los Angeles, where her career blossomed. She likes to work with acrylics and various other materials. Her work can be seen in outdoor venues around Beverley Hills, including the famed Greystone Mansion. She's also been featured in publications like The New Yorker, House Beautiful, InStyle, Lonny and Los Angeles Confidential.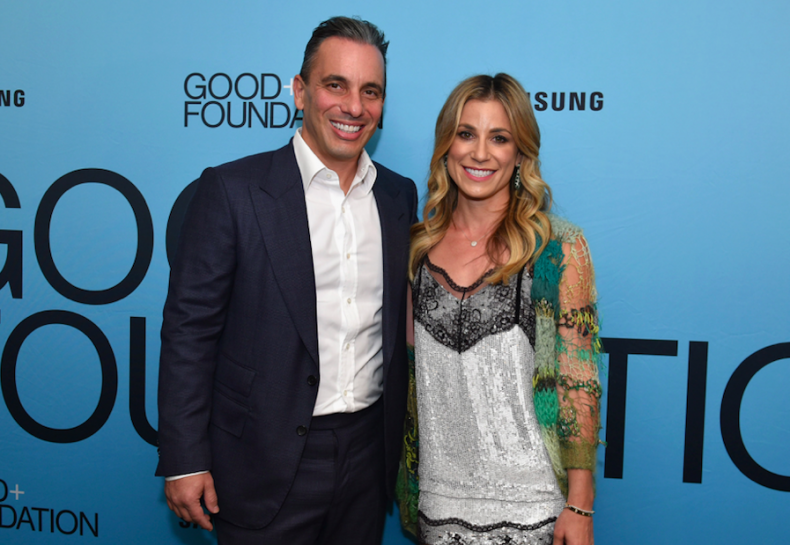 "I believe everyone possesses a creative flow that allows them to communicate in their own unique way; painting is how I express this notion. When I paint, I allow spontaneity to drive my creative process," Gomez writes on her official website. "My work reflects the lens through which I see the world—whether in color, shape or form. Each of my paintings pays homage to a remarkable nostalgic moment in my own life. It is my intention that when others experience my work, they will reflect on these types of moments in their lives while connecting to and feeling inspired by my own."
Gomez and Maniscalco welcomed their first child, Serafina Simone Maniscalco, in May 2017. "She has more hair than me!" Maniscalco, 45, joked to People magazine at the time. "Lana and I couldn't be happier!"
Maniscalco explained his daughter's name on Instagram. "We are so excited to introduce the newest member of our family- Serafina Simone Maniscalco! Serafina was my grandmother's name, Simone is Lana's mom, and Serafina Simone is our baby girl!" he wrote.
Gomez, who has more than 26,000 followers on Instagram, regularly shares pictures of her family. In July, she posted pictures of Serafina's first trip to Italy. Of course, she also posts pictures of her colorful art.
Stay Hungry is currently streaming on Netflix.