Who Is Shannon Smith? Larry Nassar's Attorney Reps Alleged Oxford Shooter's Parents
The parents of the accused gunman in the Oxford High School shooting in Michigan are being represented by Shannon Smith, a lawyer known for previously representing convicted child molester and former USA Gymnastics doctor Larry Nassar.
James and Jennifer Crumbley have retained Smith and Mariell Lehman as their attorneys in the wake of Tuesday's shooting.
On Friday, Oakland County Prosecutor Karen McDonald charged the parents with four counts of involuntary manslaughter each in the deaths of the four students whom Ethan Crumbley, 15, is charged with shooting.
After the charges were announced, the couple went missing. Following their disappearance, Smith and Lehman defended their clients in a statement to the Detroit Free Press, saying that the couple were not on the run and that they would turn themselves in to be arraigned.
"The Crumbleys left town on the night of the tragic shooting for their own safety. They are returning to the area to be arraigned. They are not fleeing from law enforcement despite recent comments in media reports," the attorneys said.
The Crumbleys were scheduled to be arraigned at 4 p.m. ET.
Smith is well known for representing Nassar in 2018, when the former Michigan State University doctor faced charges related to the sexual assault of nine women. He is serving life in prison without parole.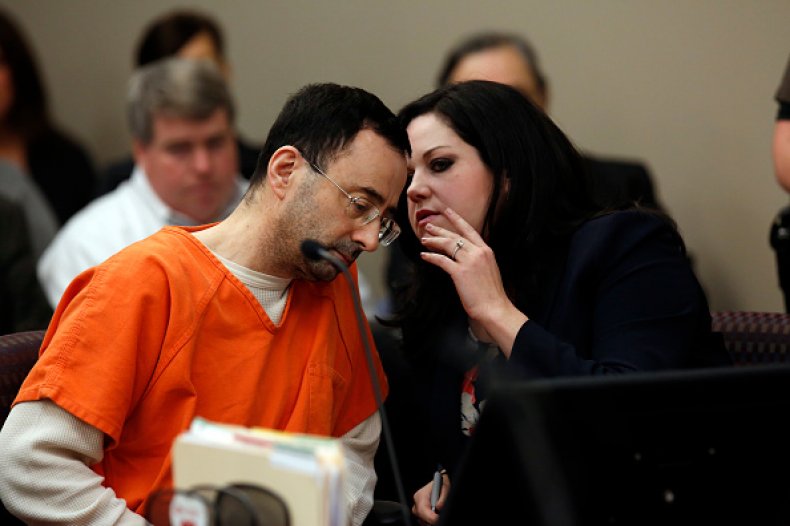 Smith, who graduated from the Michigan State University College of Law and began her career in family law, has been known for defending people accused of Michigan's most notorious sex crimes. She represented Dr. Jumana Nagarwala, who was charged with performing female genital mutilation, and former MSU football player Josh King, who was charged with two counts of criminal sexual conduct.
In 2018, King was sentenced to three years' probation after being convicted of seduction charges. Nagarwala's case is ongoing.
"I like the stakes being high," Smith told MLive in a 2018 interview, adding that she only takes cases in which the charges come with a sentence of life in prison.
"I love the part of this practice that lets me help my clients escape a system that can very much be a bully," she said.
Under Michigan law, an individual can be prosecuted for involuntary manslaughter if it is believed the person contributed to a situation in which harm or death is high.
"While the shooter was the one who entered the high school and pulled the trigger, there are other individuals who contributed to the events on November 30, and it's my intent to hold them accountable as well," McDonald said on Friday.
The prosecutor noted that after a teacher reported Ethan Crumbley had searched for ammunition on his phone, his mother texted her son: "LOL, I'm not gonna get mad at you, you have to learn to not get caught."
If convicted, the Crumbleys could face up to 15 years in prison.