Who Is Sharice Davids? Kansas Democrat Becomes First Openly Lgbt Native American Woman Elected to House
Sharice Davids has become Kansas's first openly LGBT woman elected to Congress, in a historic win for the Democratic Party.
Fellow Democrat Deb Haaland, who scooped victory in New Mexico, joins Davids as the first two Native American women elected to Congress in its 229-year history.
Davids will represent Kansas's third congressional district, winning the seat from incumbent Republican Kevin Yoder. Yoder won the seat in 2011 after holding Kansas' 20th district in the Kansas House of Representatives from 2003.
Davids, an attorney, was raised by a single mother who spent some 20 years in the U.S. Army, The Shawnee Mission Post reported when she entered the race for Democratic nomination back in February. Davids went to Leavenworth High School, before attending Johnson County Community College and the University of Missouri-Kansas City, the publication reported. She went on to gain a law degree from Cornell Law School in Ithaca, New York.
A martial arts fan since childhood, she grew up idolizing Bruce Lee, The Guardian previously reported. But her mother struggled to pay for fighting lessons, so she didn't train until she was 19 and attending college. She made her amateur fighting debut in 2006, before going pro in 2013.
"In terms of career options, I didn't think about MMA at all," Davids told the British newspaper. "I don't know if I really thought it was a career path for many women. For someone like me, even in my prime, it wasn't something I really considered."
She went on to become a White House fellow during the Obama administration.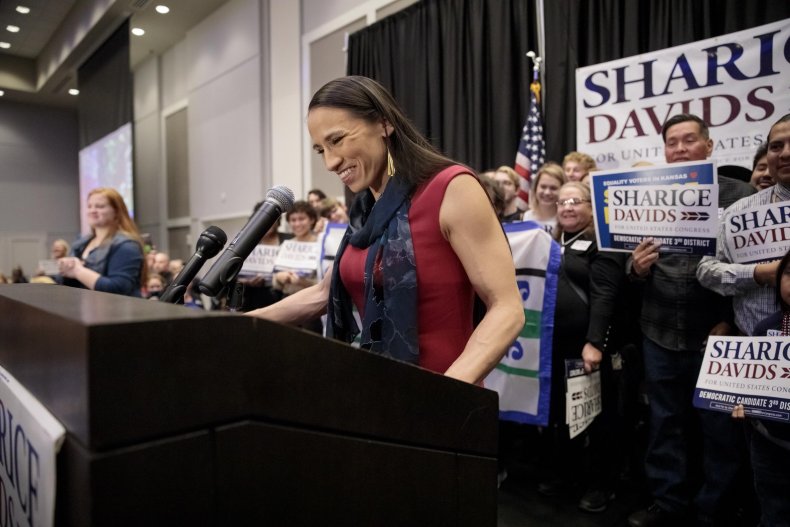 A member of the Ho-Chunk Nation, which hails from Wisconsin, Davids has worked on community development on the Pine Ridge Indian Reservation in South Dakota. She praised the role of generations of Native women in driving progress in the U.S., previously telling Native American web program Wassaja: "That's part of why we're seeing many Native women running now... we're building off of the opportunities that our mothers and grandmothers helped lay out in front of us."
Davids campaigned on a platform of affordable healthcare and quality public education. She has called out gun violence and certain tax credits, and voiced support for abortion rights and an expansion of Medicare.
"Sharice won the hearts of voters by putting forward a positive and solutions-oriented agenda while explaining how her experiences as a Native American LGBTQ woman influenced her policy positions and beliefs," former Houston Mayor Annise Parker said in a statement to NBC News. "Sharice's victory tonight will become a model for other LGBTQ leaders considering a run for office in red states or districts."
"It's 2018 and women, Native Americans, gay people, the unemployed and the underemployed have to fight like hell just to survive," she said in a campaign video. "It's clear Trump and the Republicans in Washington don't give a damn about anyone like me or anyone who doesn't think like them."