Who Should Broker a Gaza Cease-Fire?
As Israel launches a so-far limited ground invasion into Gaza, talk of diplomacy to achieve a lasting cease-fire is intensifying. But who is best placed to orchestrate these talks?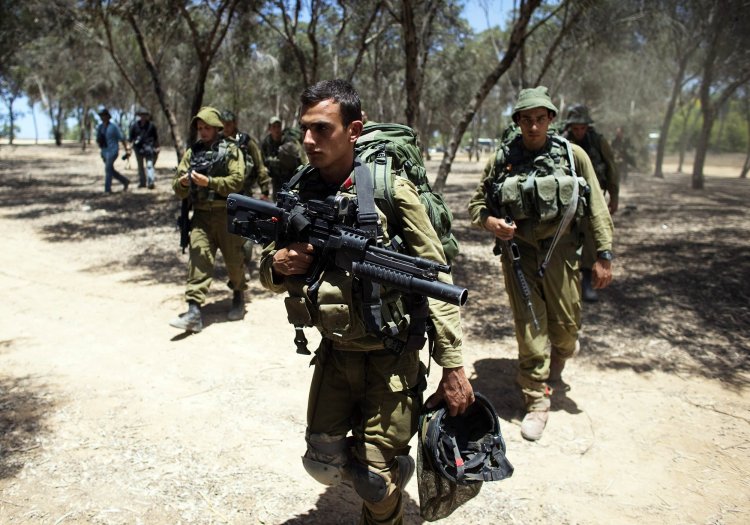 In Focus
As the war between Hamas and Israel continues, Palestinians searched for safety, prayed, protested, and mourned the dead. One Israeli soldier has been killed in the offensive, and a reported 35 Palestinians have died.
Launch Slideshow

10 PHOTOS
Desperate to extract any benefit from a war in which it started from a very weak position, Hamas strategists are looking for an interlocutor who could best plead their case. They have all but snubbed Egypt, whose president, Abdel Fatah al-Sisi, Hamas sees as an enemy. They are wary, too, of Palestinian Authority President Mahmoud Abbas. And they have little faith in the United States.
Instead, Hamas is hoping that its last regional allies—Turkey and, even more so, Qatar—will steer the talks.
Israel, however, does not trust Qatar, which has been a stalwart supporter of Hamas and its Egyptian-based parent organization, the Muslim Brotherhood. And while Israeli tourists, business executives and military exporters are now slowly returning to Turkey, a former top regional ally, they still feel they cannot trust its government, headed by Prime Minister Recep Tayyip Erdoğan, which is increasingly hostile to Israel.
Earlier this week, Egypt proposed a cease-fire formula that was widely welcome in Washington, Europe and the United Nations. Israel accepted the terms of the cease-fire and even halted its air campaign in Gaza for five hours to facilitate the diplomacy.
But although Hamas's second in command, Mousa Abu Marzouk, traveled to Cairo to take part in the talks, the terrorist organization's spokesmen complained they had not been consulted in advance of the negotiations.
Hamas rejected the Egyptian deal—and Cairo was livid. "Had Hamas accepted the Egyptian initiative, at least 40 Palestinian souls would have been saved," the Egyptian foreign minister, Sameh Shukri, told reporters. He also blasted Turkey and Qatar for meddling in the talks.
On Thursday morning, the Israeli delegation to Cairo, which included the head of the country's internal security, Yoram Cohen, and Prime Minister Benjamin Netanyahu's confidante Yitzhak Molcho, returned to Jerusalem to brief the security cabinet. According to Israeli sources, the prospects for another negotiated cease-fire looked bleak.
On the same day, 13 Hamas militants emerged from a tunnel dug underneath Gaza's border with Israel, in what Israeli officials said was an attempt to abduct and kill whoever they could snatch in the nearby Kibbutz Sufa (population 150).
Although the Israeli army averted the attack and killed the infiltrators, the security establishment realized that while the Hamas rockets have been mostly neutralized as a deadly weapons, Gaza's vast tunneling system remains a major threat.
"We're not talking about a little mole tunnel which is dug and a person goes through like in Shawshank Redemption," said Miri Eisen, a former head of the Israeli Defense Forces combat intelligence unit. In Gaza, she said, tunneling is done "the way you would build nowadays trains, roads, anything that goes underground into a mountain."
The foiled Hamas attempt to infiltrate Israel and kidnap residents came as an agreed temporary lull in the fighting, negotiated by the U.N. for humanitarian reasons, was about to go into effect. Israel called a halt to its air bombardment, and while a small number of rockets were still shot into Israel from Gaza, the "humanitarian pause" was mostly kept for six hours. By that time, however, the Israeli cabinet had already given the green light for a ground invasion of Gaza, according to reports.
On Thursday morning, citing Israeli sources, the BBC and Reuters reported that another cease-fire was afoot and would take effect Friday afternoon. Several press reports in Israel later contended that this was a diversionary tactic by Netanyahu, whose cabinet had already approved—"with heavy heart but full-heartedly," as Justice Minister Tzipi Livni, the Cabinet's most dovish member, tweeted later—a military plan to send troops to destroy Gaza's network of tunnels. Officials say the decision was based as much on the diplomatic failure in Cairo as on the failed Hamas attack.
One of the reasons the Israelis, and later everyone else, realized that the Cairo talks had reached a dead end was that Hamas insisted upon a number of new conditions that were so unrealistic it seemed they were made thinking that Israel would reject them. Later, some of the key players in the conflict, including Abbas, flew to Turkey and Qatar in the hope that that the two countries that are Hamas's closest allies can find a way to end the fighting.
"All of us are working hard to return to the cease-fire that was reached in November of 2012," President Barack Obama said Friday. "Secretary Kerry is working to support Egypt's initiative to pursue that outcome. I told Prime Minister Netanyahu that John is prepared to travel to the region following additional consultations."
But while the United States publicly continues to praise the Egyptians for their role as mediators, Washington has also been consulting Qatar, and Kerry is reportedly prepared to fly to Doha in the coming days.
"It is remarkable to me that the U.S. would view Qatar as a reliable intermediary," says Elliott Abrams, who was a White House Middle East adviser to President George W. Bush. Qatar maintains a "very warm relationship with Hamas but has no relation with Israel," he says, adding that Turkey, too, has become increasingly hostile toward Israel.
Israel withdrew some of its diplomats from Turkey on Friday after a protest in front of the Israeli Embassy in the Turkish capital of Ankara turned violent. Erdoğan, meanwhile, has accused Israel of committing "systematic genocide" against Palestinians and has protested that the rest of the world, including the U.S. and the U.N., isn't doing more to stop it.
"Turkey and Qatar are on one side, and Egypt is on the other," says Robert Danin, a former State Department official who dealt mostly with Israeli-Palestinian affairs. "Egypt is siding with Israel, and Turkey and Qatar with Hamas." What is needed, he says, is a "traffic cop" that can coordinate the diplomacy that would lead to finding a mediator to propose a permanent cease-fire.
That role, Danin said, should undoubtedly be played by Washington. And he agreed with Abrams, who like him is now at the Council on Foreign Relations, that the U.S. should insist on Egypt as the mediator in any newly proposed cease-fire.
Who Should Broker a Gaza Cease-Fire? | World