Ivory Coast's Iron Lady, Simone Gbagbo, Goes on Trial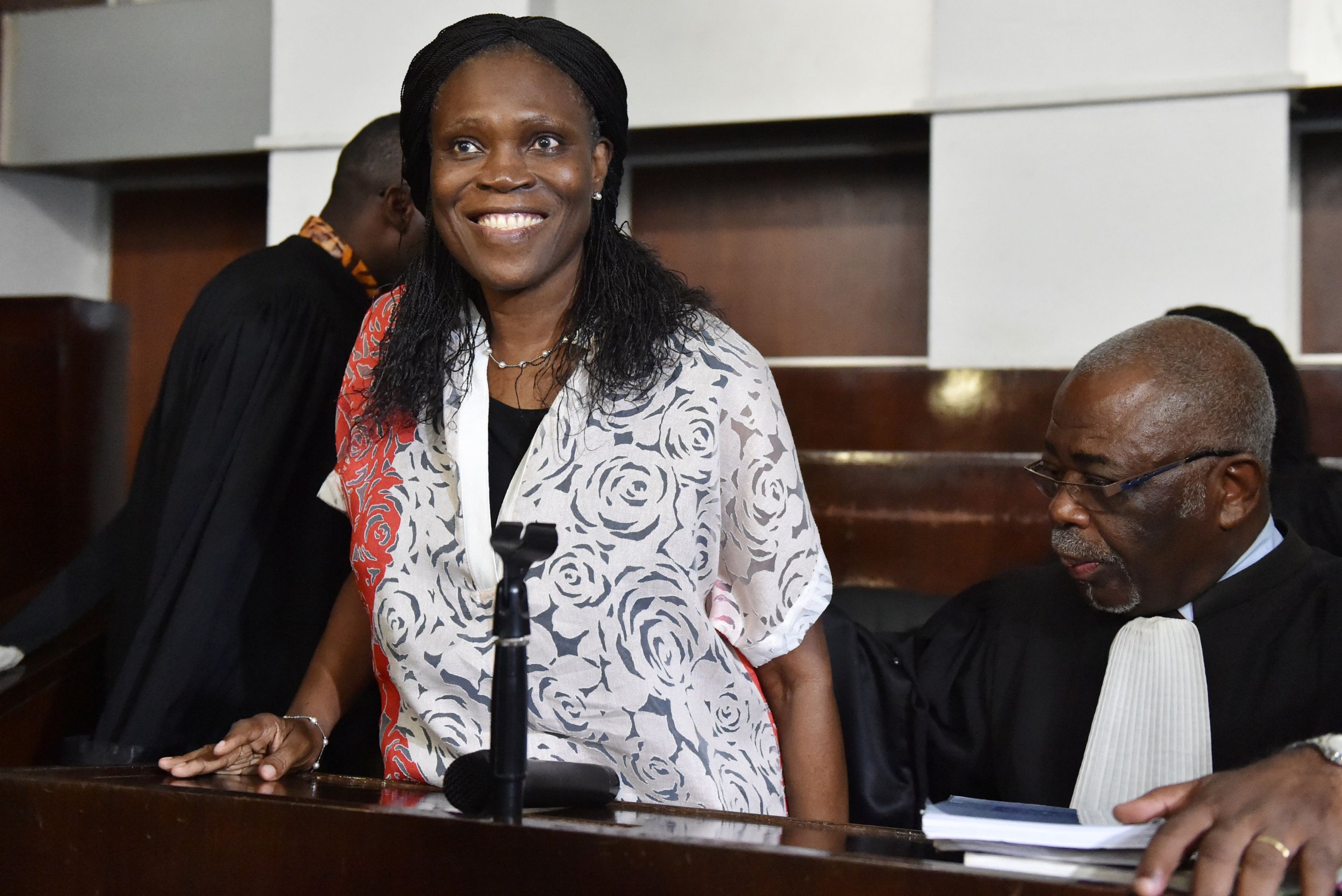 Ivory Coast's so-called Iron Lady appeared warm and content arriving in court in Abidjan on Tuesday, smiling and waving at supporters.
The trial of Simone Gbagbo, the wife of former president Laurent Gbagbo, has begun in the Ivorian commercial capital, where she stands accused of crimes against humanity for her alleged role in post-election violence in the West African country in 2010. Simone is alleged to have played a key role in organizing violence against supporters of opposition candidate and current president Alassane Ouattara in order to keep her husband in power. The violence resulted in the deaths of more than 3,000 people over the course of five months from November 2010 until April 2011, when Gbagbo and her husband were pulled from a bunker in Abidjan and arrested.
Laurent Gbagbo is currently standing trial for similar charges at the International Criminal Court (ICC) in The Hague, the Netherlands. But Ouattara rejected an ICC's warrant calling for the former first lady to be extradited, maintaining that the country's domestic judicial system was capable of giving her a fair trial.
After her husband was elected in 2000, Gbagbo refused to take a backseat and instead got directly involved in the politics of his administration—she served as a vice president of the Ivorian Popular Front, her husband's political party. According to Phil Clark, an expert in African politics at SOAS University of London, Gbagbo would often address crowds of supporters without her husband and commanded the loyalty of youth militias used to crack down on political opposition, particularly around election time. Clark says that, when the 2010 elections came around, Simone had a vested interest in seeing her husband remain in power. "The sense in Ivorian politics was that Laurent and Simone Gbagbo really worked in lockstep," he says. "This was very much a partnership and as long as Laurent was in power, Simone would benefit enormously."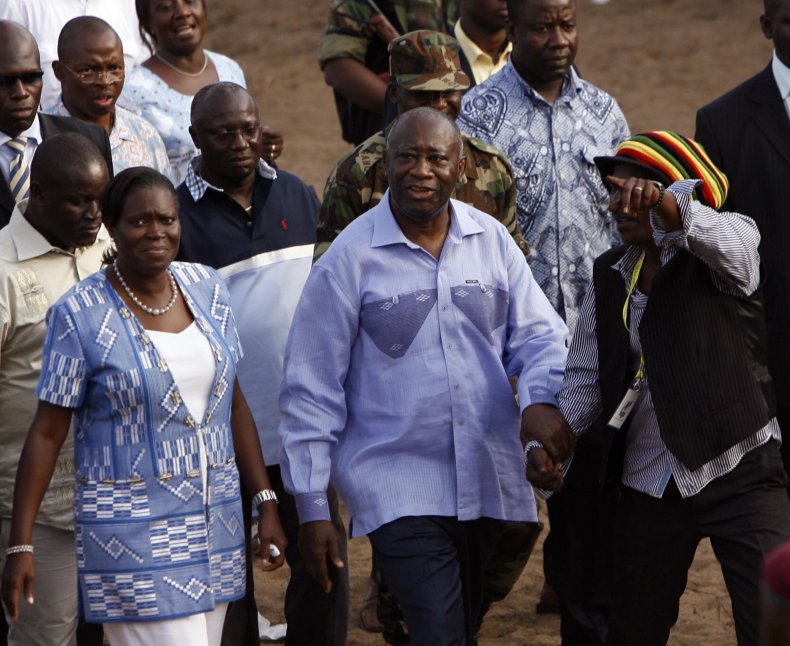 Ivory Coast plunged into chaos following the presidential election in 2010, which Laurent Gbagbo lost in a run-off vote to Ouattara. Despite pressure from multiple international organizations—including the United Nations and the African Union—the incumbent refused to step down and fighting consequently broke out between pro-Gbagbo supporters and those allied with Ouattara.
Simone Gbagbo has already been convicted by an Ivorian court of being involved in the post-election violence. In March 2015, a court in Abidjan found her personally responsible for distributing arms to pro-Gbagbo militias during the conflict and sentenced her to 20 years imprisonment for undermining state security. While the 2015 trial related to crimes against the state, Simone Gbagbo's current trial is for alleged crimes against civilians and prisoners of war.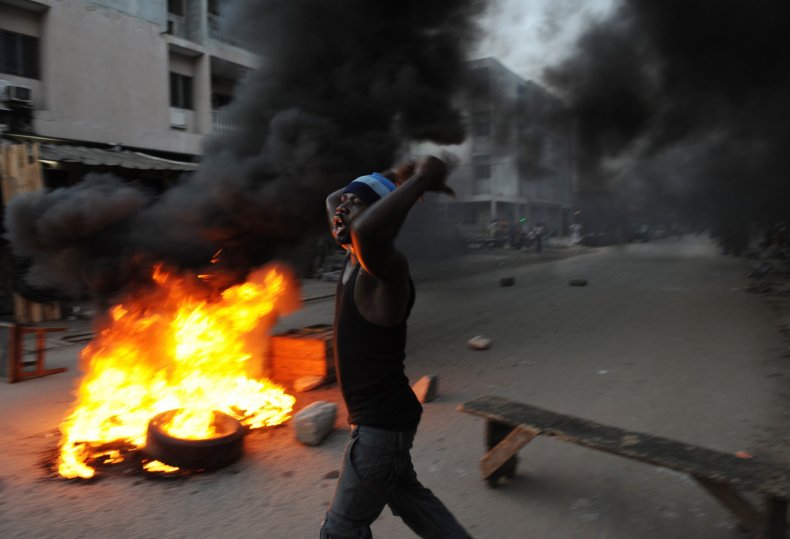 The trial comes at a key time for African judicial systems. A Senegalese court, backed by the African Union, sentenced former Chadian dictator Hissène Habré to life imprisonment on Monday for crimes against humanity during his rule from 1982 to 1990. The verdict is the first time an African court has prosecuted a former head of state of another African country.
Several human rights groups representing hundreds of victims of the violence in Ivory Coast pulled out of Simone Gbago's trial in the run-up to the start of proceedings, however, citing doubts about the trial's credibility. A spokesman for the International Federation of Human Rights, Antonin Rabecq, said that it was inconceivable that the trial could bring justice to victims of the widespread justice with only Gbago on trial and said it had been "held in a hurry," according to the International Business Times.
A consistent complaint of those in Gbago's camp has been the fact that nobody from Ouattara's side has been prosecuted for their role in the post-election violence. According to Clark, the Ivorian president's decision to ignore the ICC request to extradite Gbago may be an attempt to protect those in his camp from any potential future prosecution. "[Ouattara] is very worried about the continuation of Ivorian cases heading to The Hague, because it seems eventually that trail may lead back to some of his own supporters and potentially his inner sanctum," says Clark.