Who Is Singing The National Anthem At Super Bowl LIV?
Before Super Bowl LIV kicks off, Demi Lovato will take the stage to perform the National Anthem.
Lovato's appearance is the second time the pop star will sing in public since a drug overdose in 2018. Last week, she made her singing debut with a performance of an emotional new song at the Grammy's.
Lovato will follow a list of popular performers like Pink, Luke Bryan, Lady Gaga, Kelly Clarkson and Beyonce who have taken the stage at past Super Bowls to perform the National Anthem. Last year, the honor belonged to Gladys Knight, the 'Empress of Soul.'
Lovato won't be on stage alone as she performs, she will be accompanied by Christine Sun Kim, an artist who will deliver the anthem in sign language. Kim's presence will continue the National Football League's partnership with the National Association of the Deaf according to artnet.com.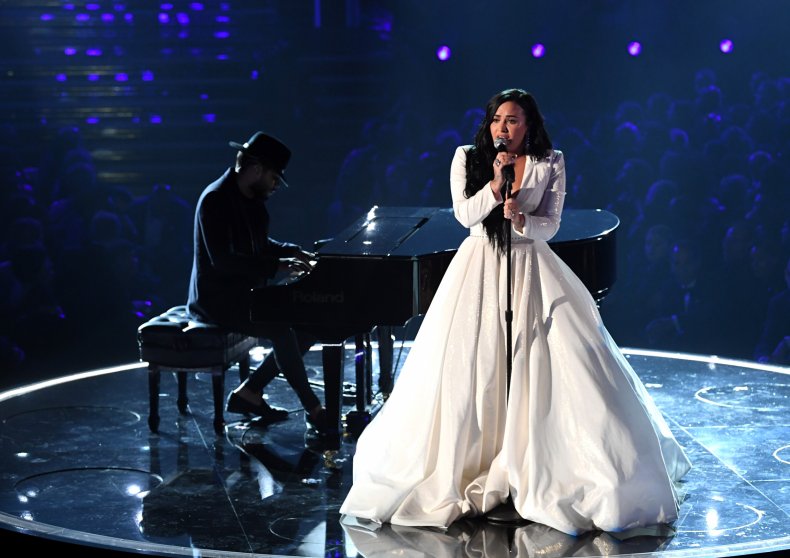 Lovato's performance is already being bet on. The Super Bowl National Anthem draws a crowd of gamblers every year. A handful of categories predict everything from the color of Lovato's outfit to how likely it is any scoring drive during the game will take less time than Lovato's rendition of the song.
Another popular bet is how long Lovato will take to sing the anthem.
The Super Bowl National Anthem performance has the potential to skyrocket Lovato's longevity in the music arena. Each year before the Super Bowl, publications remember some of the best National Anthem performances of all time. A list by Rolling Stone remembers Whitney Houston's 1991 performance as the most memorable. Her rendition is followed by Luther Vandross in 1997 and Mariah Carey in 2002, among others.
While Lovato is best known for her successful music career, she began her time in the spotlight as an actor on Disney Channel. Lovato starred in the Disney Channel original movie Camp Rock and the television show Sonny with a Chance, which aired two seasons.
Lovato has been open about her struggle with addiction. She released a documentary titled Simply Complicated on YouTube in 2017. The candid, in-depth conversation with Lovato documented the start of her drug use, history with eating disorders and more. It was released alongside her sixth album, Tell Me You Love Me. Her Grammy performance debuted single "Anyone," which the artist said was written as a "cry for help" before her overdose.
Music fans can also see more performances at halftime of Super Bowl LIV when Jennifer Lopez and Shakira will share the stage. Viewers can tune into the game, as well as all performances at 6:30 p.m. ET on Fox.