Who is Steve Penny? Former USA Gymnastics President Arrested in Larry Nassar Investigation
The former president of USA Gymnastics, Steve Penny, was arrested on Wednesday by U.S. Marshals in Tennessee after being indicted on September 28. He is accused of tampering with evidence during the sex assault probe into former team doctor Larry Nassar.
Penny resigned from his post in March last year after hundreds of U.S. gymnasts leveled serious allegations of sexual abuse against Nassar. Last month, a grand jury in Walker County continued its investigation into the disgraced doctor and into Karolyi Ranch, the Texas training center where he molested victims. In February, Nassar was sentenced to hundreds of years in prison.
According to WVLT-TV, Penny was detained by officials from the U.S. Marshals Smoky Mountain Fugitive Task Force in a cabin in Gatlinburg, Tennessee, and was booked into the Sevier County Jail. He is currently awaiting extradition to Walker County, Texas, a press elease confirmed.
Authorities believe Penny ordered the removal of documents from the Karolyi Ranch that were related to Nassar's activities at the ranch. The indictment alleged the removal was "done for the purpose of impairing the ongoing investigation by destroying or hiding the documents."
The federal investigation reportedly discovered that the documents bad been sent to Penny at the USA Gymnastics headquarters based in Indianapolis. They were never found.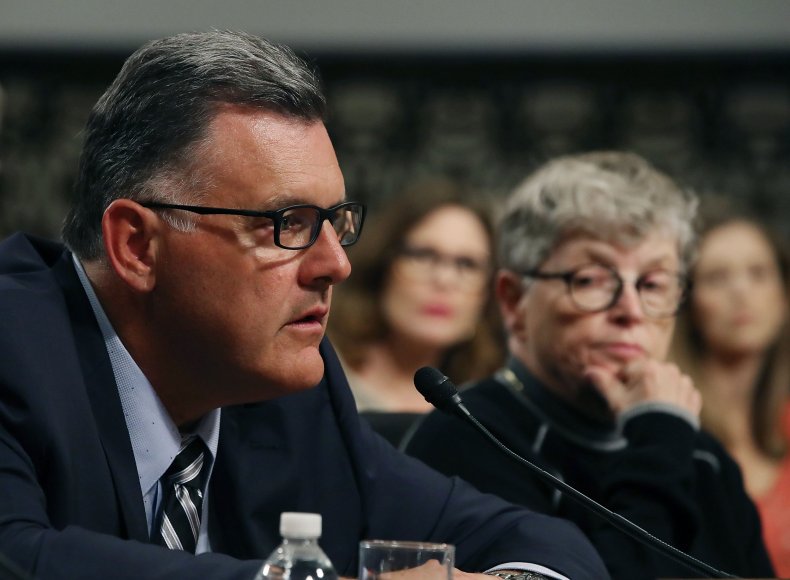 "Texas rangers and detectives believe that those records are material to their investigation and that the removal of the records by Penny prevented them from reviewing documents that would have helped in their investigation of Nassar as well as assisted with the investigation of other offenses that may have occurred at Karolyi Ranch," the police statement said.
If convicted, the range of punishment is two to 10 years in prison and a fine of up to $10,000.
David Jolley, U.S. Marshal for the Eastern District of Tennessee, said in a statement after the arrest: "Deputy U.S. Marshals and task force officers from the Southern District of Texas and the Eastern District Tennessee worked tirelessly to locate Penny. Good police work ensured that Penny was swiftly and safely apprehended. He will now face the charges against him."
Penny appeared before the U.S. senate in June this year, but declined to answer most questions by invoking the Fifth Amendment. As he shuffled out of the room, refusing to respond, a shout of "shame" was heard from former gymnast and sexual abuse victim Amy Moran Compton.
Martha and Bela Karolyi, former coaches of the United States women's gymnastics team, have claimed they were unaware of Nassar's sexual abuse at the ranch that bears their name.
"I don't feel responsible, but I feel extremely hurt that these things happened, and it happened everywhere but it happened here, also," Martha Karolyi told NBC News this year. Some survivors of Nassar's abuse said Martha was aware of allegations against him in 2015, CNN reported.
The Associated Press reported on Wednesday that prosecutors in Walker County have "found no corroborated evidence" of wrongdoing on behalf of Bela and Martha Karolyi.