Who Is Steve Waithe? Ex-Northeastern Track Coach Charged With Tricking Students Into Sending Nude Photos
A former university sports coach is facing federal charges for allegedly soliciting nude and partially nude photos of female students through deceptive means.
Steve Waithe, a 28-year-old Illinois resident, was arrested in Chicago on Wednesday, just over two years after Boston's Northeastern University dismissed him as coach of the education institution's track and field team.
University administrators reportedly fired Waithe for "inappropriate conduct toward female student athletes" roughly four months into his term of employment at Northeastern, a school spokesperson said in a statement to Newsweek on Wednesday.
Waithe held coaching roles at Penn State University, his alma mater, Illinois Institute of Technology, University of Tennessee and Concordia University Chicago, according to a U.S. Department of Justice announcement providing early details about his case.
Law enforcement took Waithe into custody Wednesday on charges of cyberstalking and wire fraud, which respectively carry maximum prison sentences of five and 20 years, in addition to fines totaling $500,000.
The criminal complaint, filed in the U.S. District Court of Massachusetts, details Waithe's alleged involvement in a scheme to trick female student athletes at Northeastern into sending him nude or semi-nude photographs. The complaint also alleges that Waithe cyberstalked at least one female student athlete.
Waithe allegedly perpetrated the scheme from at least February until October of last year. Prosecutors accuse the former coach of establishing false social media accounts through which he contacted members of the women's track and field team at Northeastern, claiming to have discovered "compromising" photos of them online.
He is accused of then requesting nude, or partly nude, photographs of the student athletes under the guise of endeavoring to "help" remove the supposed original photos discovered on the Internet. Waithe allegedly told the women targeted that sending new photos would allow him to conduct a "reverse image search."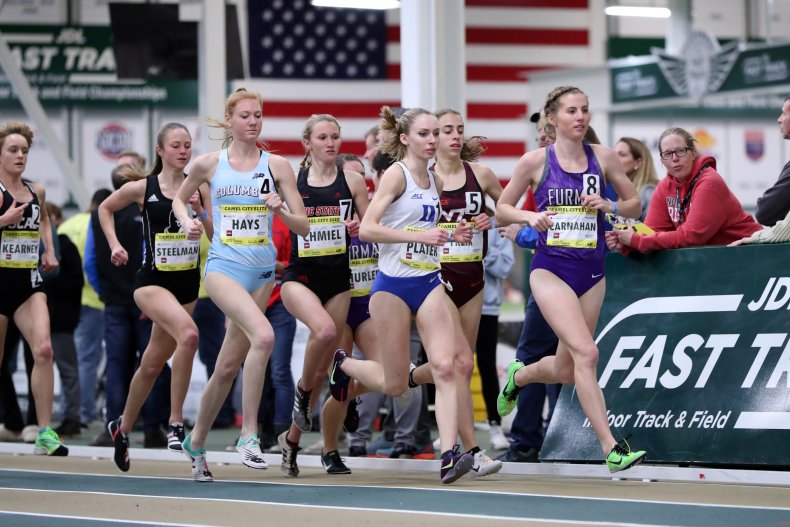 The former coach is also accused of soliciting photos of female Northeastern students using other deceitful strategies. Masquerading as "Katie Janovich," a name that Waithe allegedly used to create one of multiple false Instagram accounts, or "Kathryn Svoboda," prosecutors' investigation suggests that he asked Northeastern students for photographs through a series of emails that claimed to be connected to "athletic research" or "body development" studies.
Investigators have so far identified more than 10 women targeted by the email scheme, in addition to roughly 300 nude and partially nude images of women in Waithe's Google accounts, according to the criminal complaint.
Personnel at the Northeastern University Police Department "provided substantial assistance" as federal authorities pursued their investigation into Waithe's alleged conduct, the Justice Department said. The university launched its own inquiry into the former coach's alleged inappropriate behavior in early 2019, leading to his firing, according to Northeastern's Wednesday statement.
"The Northeastern University Police Department also alerted federal law enforcement officials and worked in full cooperation for the duration of the federal investigation. We appreciate the diligence of the FBI and the US Attorney's office and the actions that resulted today," the spokesperson said.
Updated at 4:58 p.m. ET to include Northeastern University's statement to Newsweek regarding Waithe's previous employment at the school and its involvement in the federal investigation.