Who Is Sunisa Lee? Team USA Gymnast and Rising Star at Tokyo Olympics 2020
Sunisa Lee is the U.S. gymnastics team's bright young prospect, hoping to help win the team its third gold medal in a row at the Tokyo Olympics this summer.
Lee performed particularly well in the U.S. Olympic Trials last year, coming runner up in the all-around behind Simone Biles.
Here are some interesting facts about the 18-year-old U.S. gymnast.
Sunisa Lee's Gymnastics
Lee began gymnastics when she was only six years old, drawing inspiration from YouTube videos.
She made her senior debut at the 2019 City of Jesolo Trophy, helping Team USA to win gold in the team final and individually winning gold in the all-around. She won silver and bronze medals at the 2019 World Artistic Gymnastics Championships in Germany and helped the United States team take home gold.
Lee is an expert in uneven bars and performs one of the hardest routines, leaping and falling with elegance.
Speaking to The New York Times earlier this year about Lee's uneven bars routine, NBC analyst and five-time Olympic medallist Nastia Liukin said: "If one little thing goes wrong, the whole routine could essentially fall apart."
After taking some time off in 2020, Lee came first in uneven bars in the 2021 national championships and at the Olympic trials.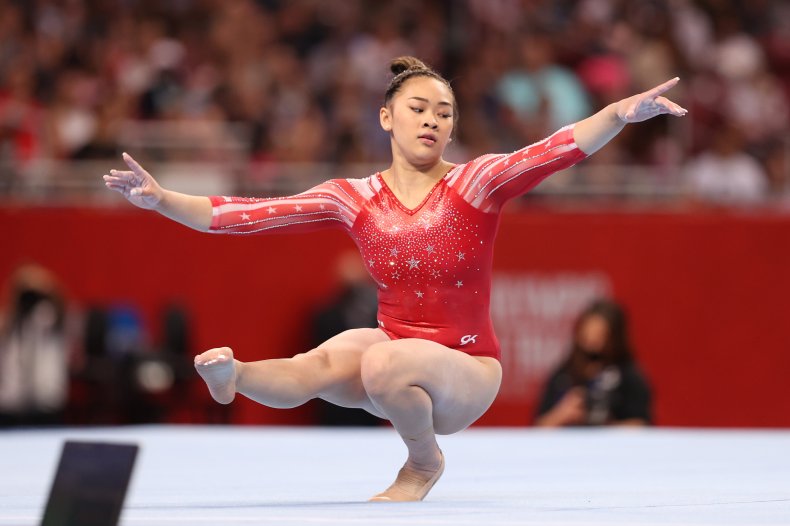 She is tipped to get a gold in Tokyo, but her parents and siblings aren't permitted to travel there due to COVID restrictions, according to the New York Times.
Sunisa Lee's Height
Lee is only 1.52 meters tall — just under five foot.
Sunisa Lee's Instagram
The gymnast is prolific on Instagram, with 230,000 followers. On Wednesday, she posted a photo of herself and fellow U.S. gymnast MyKayla Skinner, captioning the photo jokingly: "Me & grandma in Tokyo."
Sunisa Lee's Family
Lee was born in St. Paul, Minnesota, on March 9, 2003, to mother Yeev Thoj, a health worker, and father Houa John Lee, a Navy veteran. She has five siblings — sisters Shyenne and Evionn and brothers Jonah, Lucky and Noah.
Lee attended Minnesota Virtual High School and is now attending South Saint Secondary High School, from where she will graduate later this year.
Her heritage is Hmong, an Asian ethnic group that hasn't had a country of its own. For thousands of years, Hmong people lived in southwestern China, but immigrated to Laos, Thailand and other neighboring countries in the 1600s.
Sunisa Lee father
In August 2019, just days before Lee was going to leave for the national championships in Kansas City, her father fell off a ladder while he was helping a friend trim a tree. The fall injured his spinal cord, initially paralyzing him from the chest down. John Lee also broke his right wrist and fractured several ribs.
In spite of her father's accident, Lee went to the championships, finishing second to Biles.