Who Survived The Battle of Winterfell? Lead Characters Still Standing After The 'Game of Thrones' Dramatic Battle
The Battle of Winterfell is over, and left standing are most of the leading names in the series. Game of Thrones fans spent Sunday evening on the edge of their seats, staring at an ultra-dark display and trying to make out the deaths, falls and serious moments for all of their favorite characters. While the battle was dramatic, and nearly every character, skilled in combat or not, played a fighting role, most of Westeros's leading names were spared during the battle of the dead.
A handful of characters had a brush with death, from Arya Stark to Jon Snow. Both faced a handful of near-death moments, though they were able to prosper and make it out alive. Daenerys Stormborn was even forced to pick up a sword and fight for her own safety, and, partially at the hand of Jorah, who lost his life, survived.
Sansa Stark and Tyrion Lannister also nearly fought the dead themselves, Sansa with a dragonglass knife in hand, as the dead in Winterfell's crypt came alive during the battle.
A list of main-names who survived includes:
Grey Worm
The Hound
Tyrion Lannister
Gilly
Jorah Mormont
Brienne of Tarth
Tormund
Jamie Lannister
Arya Stark
Sansa Stark
Daenerys Stormborn
Jon Snow
Bran Stark
Sam Tarley
Gendry
While many of the fan favorites did survive the battle of the dead, thanks to Arya Stark, who killed the Night King, some members of the army of the living did fall. Those who died in the Battle of Winterfell were:
Edd Tollett
Lyanna Mormont
Beric Dondarrion
Theon Greyjoy
Jorah
Melisandre, or The Red Woman, also died during the third episode of Season 8, but not during the battle. The witch collapsed on her own terms after the fighting had ceased by letting go of her youth-producing necklace and walking into the snow alone.
The graphic below, provided by Statista, shows the number of deaths in Game of Thrones per season.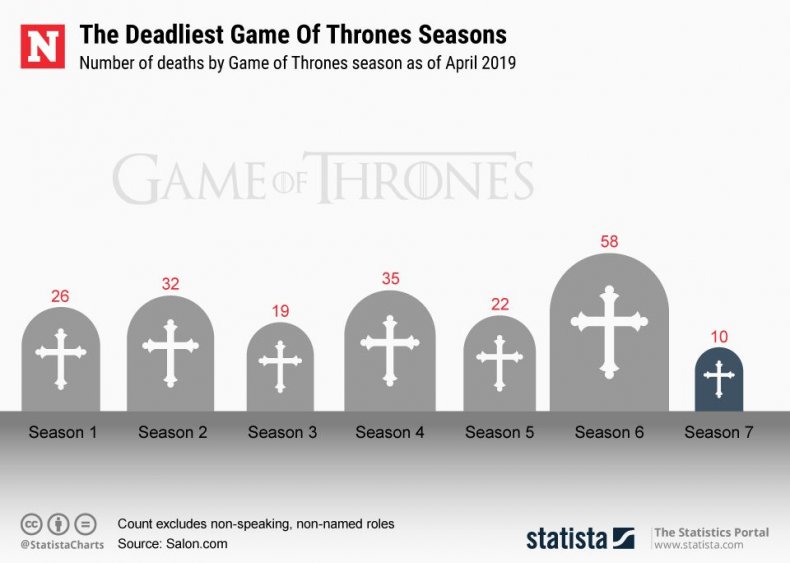 The fourth episode in Season 8 promises to refocus attention on the battle of the Iron Throne. Now that the Night King and his army have been defeated, previews of the next episode showed Cersei patiently waiting at King's Landing for the next battle.
This article was updated to include an infographic.