Who Is Susan Westwood? 'South Park Susan' Filmed Harassing Black Women Surrenders to Police
A woman who lost her job after she was filmed berating two black women in a North Carolina parking lot has turned herself in to police. Susan Westwood, 51, surrendered on Saturday and was later served with an outstanding misdemeanor warrant for the misuse of the 911 system and four criminal summons for simple assault and communicating threats, according to the Charlotte-Mecklenburg Police Department.
Westwood was filmed confronting sisters Leisa Meria Garris and Mary Michelle Garris while they were waiting for AAA in the parking lot at the Camden Fairview Apartments in Charlotte, North Carolina.
Westwood was later dubbed "South Park Susan" after the clip of her harassing the women went viral in what was the latest high-profile example of a white person calling the police on black people for no apparent reason.
"I'm hot, I'm beautiful, I'm 51, what we going to talk about tonight? Being hot? Being beautiful? Being white? My new weave?" Westwood asks one of the sisters after realizing she is recording her.
"Do you live here? Why do we feel that we need to be here hanging out on this beautiful place?" Westwood adds she is calling the police to "make sure there's nothing going on here" as her children go to the nearby Myers Park.
"What's going on here in this parking lot that makes you feel that you need to congregate?" Westwood asks later in the clip.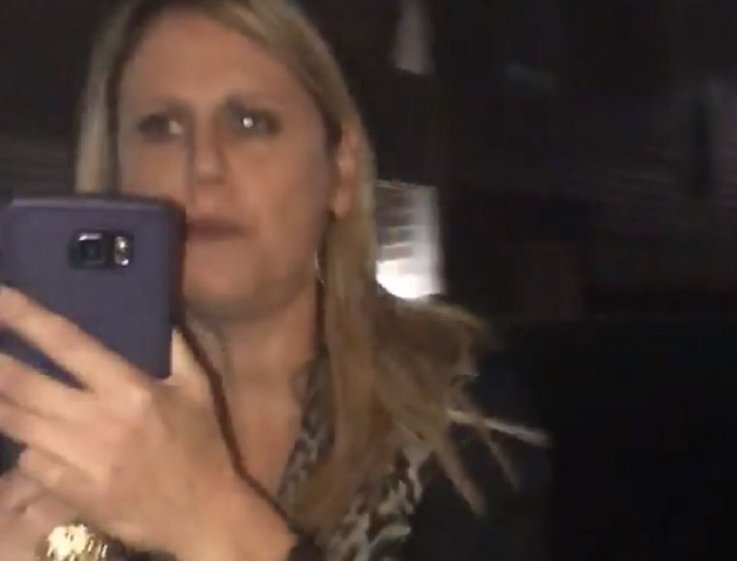 After realizing one of the women lives in the apartment complex, she asks how much rent she pays before informing the pair that she makes $125,000 a year
"Is your boyfriend here? Is your baby daddy here?" she asks one of the sisters. "Nobody cares. I'm white and I'm hot, so what are you doing here?"
Police later released the 911 call Westwood made following the encounter in which she falsely suggested the women may have been trying into break into some apartments.
"There are folks that are trying to break in. They're trying to get in the apartments. I'm trying to do it in a very clandestine manner because it's actually on Fairview Road," Westwood told police, reports ABC. "They are actually people that I've never seen here before—but they are African American."
Patrick Paterno, Director of Communications of Carolina Region for Charter Communications, later confirmed that Westwood had been fired after the clip of the incident went viral.
"The incident recorded in Charlotte is a blatant violation of Charter's code of conducts and clearly disregards the company's commitment to inclusion and respectful behavior," Paterno said in a statement. "As such, Ms. Westwood's employment with the company has been terminated, effective immediately."
Who Is Susan Westwood? 'South Park Susan' Filmed Harassing Black Women Surrenders to Police | U.S.