Who Is Tamika Mallory? Women's March Organizer Wants This Year's Fight To Center on Voting Rights
It's not easy planning the largest single-day protest in United States history. But if there's anyone up to the challenge it's Tamika Mallory, the national Women's March co-chair whose political activism dates back to early childhood.
Mallory—who organizes national Women's March events alongside co-chairs Linda Sarsour, Carmen Perez and Bob Bland—began attending protests when she was just a kid, accompanied by her parents, two of the founding members of the Reverend Al Sharpton's National Action Network. Later, she went on to become the organization's youngest executive director. The 36-year-old Mallory has planned other large-scale marches before, like the 50th anniversary March on Washington, and has years of experience as a grassroots organizer, fighting gun violence in New York City.
But even after spending most of her life in the trenches of political organizing, the scale of last year's Women's March—and the movement it sparked—went far beyond Mallory's expectations.
And for that, she says she has President Donald Trump to thank.
"Trump is actually the best co-organizer I've ever had," Mallory told Newsweek last month. "The more he talks, the more he tweets, the more he does, the easier the work is because people of good moral conscience know what's happening is not normal, and that it's going to take great discernment and strong leadership to reject it."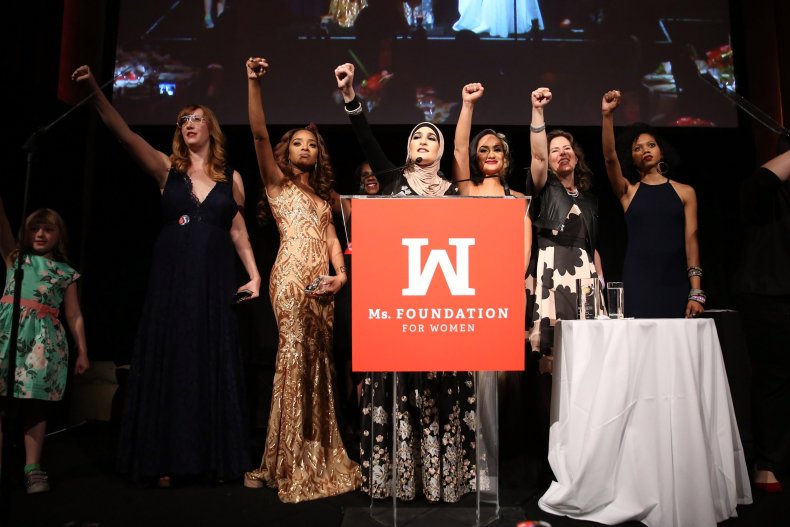 This year, however, the Women's March is taking its focus off of Trump, and playing offense: On Sunday, Mallory and her fellow co-chairs are heading to Las Vegas, for an event called "Power to the Polls," which will kick off a national voter registration blitz aimed at fighting voter suppression and electing progressive female candidates.
Nevada is the perfect backdrop for the rally, according to organizers, partly because it's a swing state with a competitive Senate race that could go to Representative Jacky Rosen, a Democrat hopes to unseat Republican incumbent Dean Heller in November. The Women's March is hoping to capitalize on the momentum of 2017 to push candidates like Rosen across the finish line.
"With all the noise we've made and the significant impact we've had last year, we knew the next step has to be getting people engaged in local politics and the races coming up," Mallory said. "We understand that the true power of the movement will be measured by how we engage in the political process."
Women's March organizers know black women, who have always been at the forefront of political activism, will play a huge role in the next phase of their movement. Sarsour had announced the group's second-anniversary event after an overwhelming 98 percent of black women voted, according to exit polls, for Senator Doug Jones (D-Ala.), helping him defeat his Republican opponent Roy Moore in December's special election.
"We've seen black women consistently show up and make a difference in these elections," Mallory said. "But black women don't just show up by osmosis—there are people who do real work within the black community to make it happen, and they need the necessary funding and attention so they can continue doing that work."