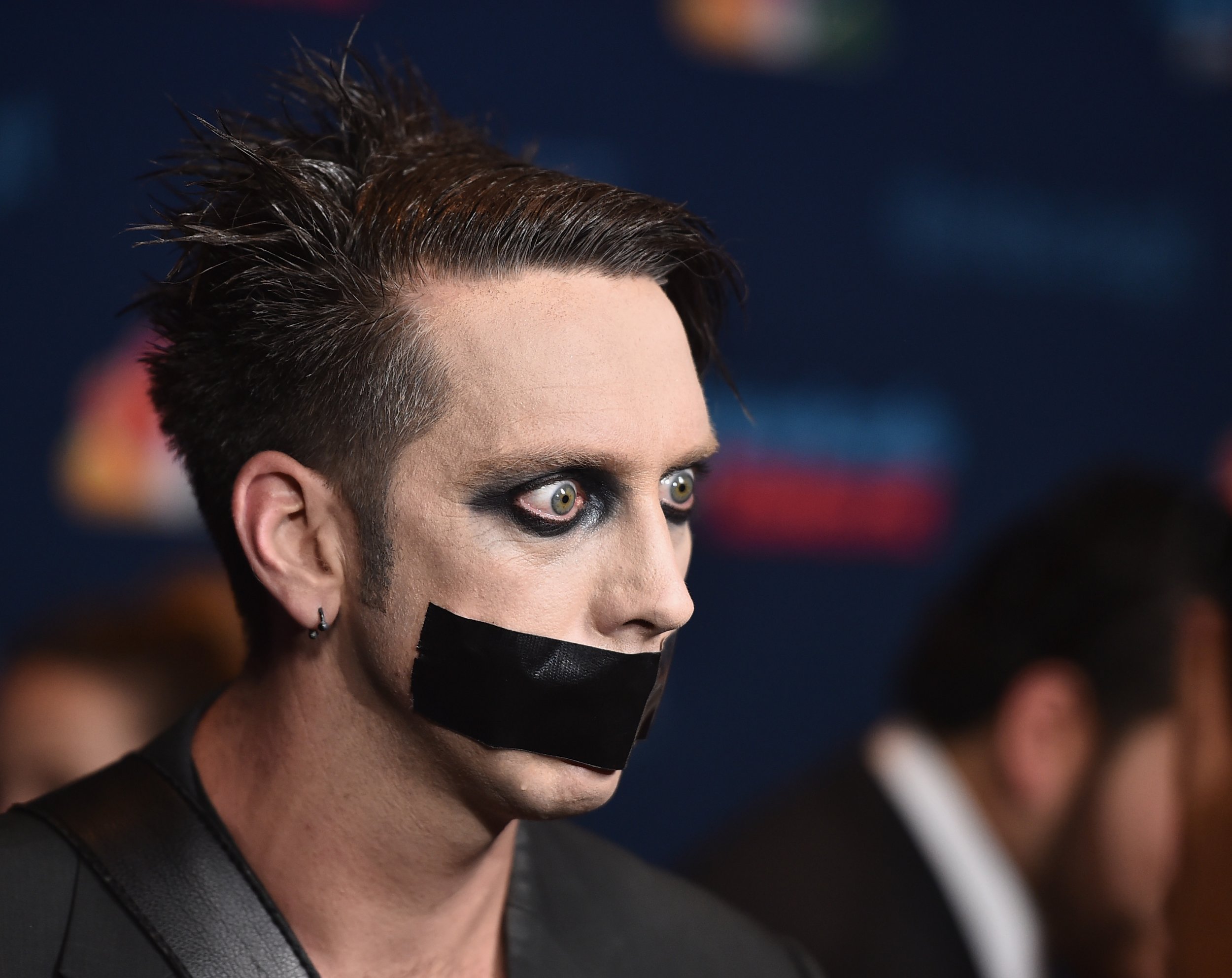 America's Got Talent: The Champions returned Monday for another week of fierce competition. Another 10 acts returned to Got Talent stage to have another chance at victory; one of those acts was none other than eccentric New Zealand comic Tape Face.
Born Sam Wills, the 40-year-old was a finalist on the reality talent show in 2016. Due to his mouth being covered with a strip of black duct tape–hence the name Tape Face–the comic gets crowds on their feet with his entertaining mime routine.
Monday's routine brought the same amount of energy Wills is known for; however, included AGT's very own judge Howie Mandell and host Terry Crews.
Mandell joined the comic onstage to perform what seemed like an improv DJ skit, which included the AGT judge wearing a "Stay Weird" hat. Tape Face follows up his performance by asking Crews to join him on stage. The host was then dressed in a construction worker uniform, and as Wills runs off stage to join the judge's panel, sexy music begins to play and Crews begins to do an impromptu striptease.
The crowd and judges began to roar in laughter and as Wills returned to the stage he presented his very own golden buzzer. As the iconic golden confetti rained down, audience members applauded and rose to their feet. The comic took a bow and judges went on to shower Tape Face in compliments.
"You are one of the most memorable acts that have ever been on this show ... you are amazing. I'm so thrilled you are back," said Howie.
"I loved how you got everyone involved in your act .. glad to have you back," said Mel.
"You're funny, you're clever, totally original and I have to tell you my kids are still talking about you," said Heidi.
"That was so silly but so funny ... you brought back so many happy memories for me," said Simon.
Unfortunately, Tape Face did not advance into the next round of The Champions; however, he continues to build his dedicated fanbase through his show in Las Vegas at his very own theatre called House of Tape.
"The tape came about when I used to do a show where I talked too much," Wills revealed in an interview with That's So Vegas. "I started at around 12 years old with a magic set–I think every kid gets a magic set at one point–but I ended up in my small town in New Zealand and I stalked a local clown. I found out where he lived and auditioned on his doorstep; he then took me on for about 4 years."
"I then dropped out of school to pursue juggling, went to clown school and then got involved with standup comedy."
America's Got Talent: The Champions airs Monday nights at 8 p.m. ET on NBC.