WHO Telling 'Women of Childbearing Age' Not to Drink Is Likened to 'Handmaid's Tale'
The World Health Organization's suggestion that women of childbearing age should refrain from drinking alcohol has been widely compared to the oppressive regime in The Handmaid's Tale.
The organization's draft Global Alcohol Action Plan 2022-2030 states that emphasis should be placed on the "prevention of drinking among pregnant women and women of childbearing age" because it could impact their chances of giving birth.
"One of the most dramatic manifestations of harm to persons other than drinkers is prenatal alcohol exposure and the development of fetal alcohol spectrum disorders," the draft plan reads.
Fetal alcohol syndrome can cause deficiencies in growth, facial defects and significant impairment to the central nervous system.
According to WHO, the measures reported on are a "first draft" and several rounds of consultations are due to take place before it is finalized and released. The organization added that it does not recommend all women of childbearing age do not drink.
In a statement to Newsweek, the organization said: "The current draft of WHO's global action plan does not recommend abstinence of all women who are of an age at which they could become pregnant. However it does seek to raise awareness of the serious consequences that can result from drinking alcohol while pregnant, even when the pregnancy is not yet known."
The reference to "childbearing age" suggests women between about 18 and 50 would be advised not to drink alcohol purely as a precaution for pregnancy.
This sparked an uproar online, with many saying it sounds like the dystopian world of Margaret Atwood's novel and its TV adaptation.
The Handmaid's Tale is set in a totalitarian, fundamentalist America where women are the property of the state. The birth rate is plummeting and there are few fertile women left, so those who can are forced to bear children for powerful men.
Twitter user @niamh_dr—a doctor from Cork, Ireland—reacted to the WHO report by sharing a GIF from the Hulu show, which shows a group of handmaids and one of the regime's ominous slogans, "Under his eye." She added the caption: "Because women of childbearing age are only here to bear children…?"
Another user, @patrburke, pointed out that the organization might be focusing on the wrong issue: "I wasn't expecting the WHO to go full Handmaid's Tale while they were still dealing with a once in a century pandemic, to be honest."
User @DominantDomest1 shared a GIF of a woman in fancy dress as one of the handmaids, shouting: "SHAME!"
In an open letter @beatingblog wrote: "Hi @WHO could you do a study please on the affect of alcohol on sperm production, size, quantity and the affects of drinking on men's fertility please? Cos apparently it badly affects men's fertility. Are men going to be 'prevented' from drinking too? Or is it just women?"
Another Twitter user, @kelliejan, posted: "Ohh great idea!!... Just one more step and we'll be fully emerged into the Handmaiden's Tale."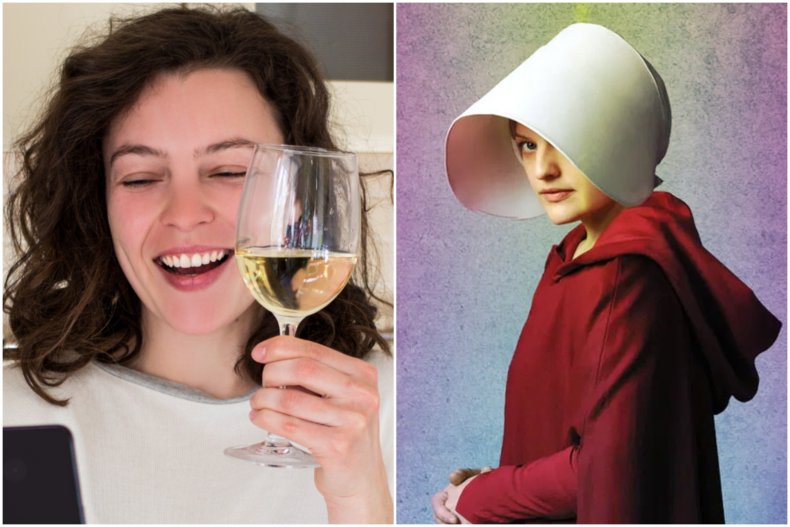 06/18/21, 02:30 a.m. ET: This article was updated with a statement from the World Health Organization.