Who Is Therese Okoumou? Statue of Liberty Climber Was Protesting ICE Policies
A woman who scaled the Statue of Liberty on the Fourth of July to protest the Trump administration's handling of immigration issues was arrested after a confrontation with police.
At around 3 p.m. on Wednesday, Therese Patricia Okoumou, 44, climbed to the Statue's base and refused to get back down, reported New York Times. For about three hours the protestor walked around the base until eventually, after a stand-off at about 6.30 p.m., rescuers from the New York Police Department's Emergency Service Unit safely cornered and escorted her off the statue.
A New York Police Department source told CNN that Okoumou said she would only come down after "all the children are released," referring to the separated migrant kids being held in detention centers near the border.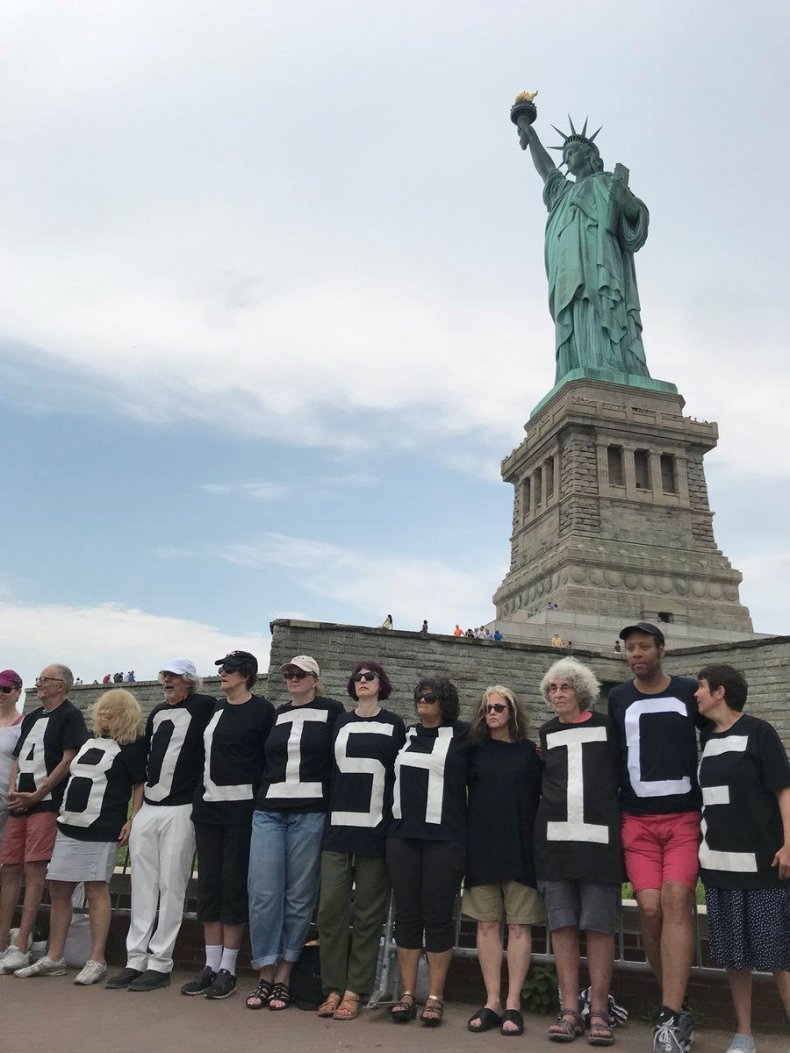 The incident occurred just before the Independence Day fireworks erupted on the Hudson River. National Park Service officials revealed that more than 20,000 people visit the historic statue every July 4.
At a news conference last night, Brian Glacken, a New York City Police Department officer confirmed that around 16 police were involved in apprehending Okoumou. "At first, she wasn't friendly with us, but we took the time to get a rapport with her so that took a while," he said. "She just kind of mentioned the kids in Texas. I guess the whole debate that's going on about that. In the beginning, she threatened to push us off, push the ladder off, but we stayed with her."
Glacken then said that authorities eventually gained Okoumou's trust and cooperation. "At first she was being a little combative, then she was willing to cooperate with us. She actually apologized to us for having to go up and get her," he added.
Okoumou is a member of the group Rise and Resist. According to their website, they are a group of protestors "committed to opposing, disrupting, and defeating any government act that threatens democracy, equality and our civil liberties."
Martin Joseph Quinn, an organizer of the group, told CNN that Okoumou's actions were not planned or part of the group's protest. "She climbed without our knowledge. It was not part of our action," he said.
Jay W. Walker, another organizer, told New York Times that although Okoumou was an active member of Rise and Resist, she did not coordinate her plans with the group that day. "She's a free citizen in the world—it's a choice she made," he said. "I think the choice she made is certainly bringing more attention to the overall protest."
Walker added: "We don't condemn her for the choice she made, and we're going to do anything we can to support her."
Okoumou is currently being held in federal custody and is scheduled to appear in a Manhattan court on Thursday.
Okoumou was born and educated in the Democratic Republic of Congo before she moved to New York a decade ago. She is currently a resident of Staten Island.
The New York City Police Department did not immediately respond to Newsweek's request for comment.