Who Is Thingamajig on 'The Masked Singer' and Are They Really Crushing On Nicole Scherzinger?
Thingamajig will take the Masked Singer stage again on Wednesday night, and according to a new clip, his flirtation with judge Nicole Scherzinger will continue stronger than ever.
The masked singer will apparently sing a love song, and Scherzinger's photo will appear on the screen, according to a clip obtained by Entertainment Weekly.
The "match," seemingly inspired by a dating app, comes after weeks of admiration from Scherzinger, who is stunned by Thingamajig's vocals. She isn't the only one. Fans of The Masked Singer have been wowed by the masked celebrity's performances throughout the competition.
Scherzinger has stated Thingamajig could be her "future husband" in conversations past, and Wednesday night's episode may take that concept to a whole new level. In the clip, Thingamajig asks Scherzinger where she'd like to go on a first date, in order to "plan ahead." If the two will really spend time together outside of the show is unknown. First, Thingamajig's true identity must be revealed.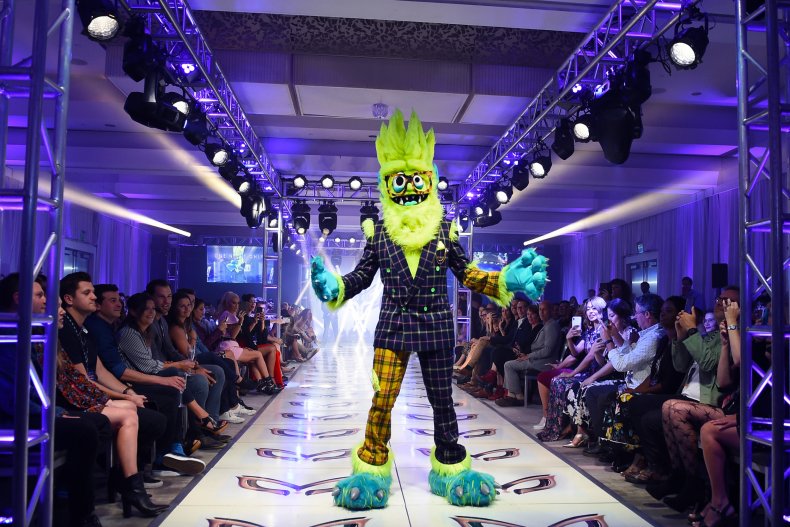 Fans can't seem to come to a clear agreement on who Thingamajig may be. There are a few clues that have propelled guesses from the start of the season. First, Thingamajig is very tall, which led both fans and judges to immediately assume the singer, who sounds male, is an athlete. There are questions on if Thingamajig has had a music career in any shape because of their impressive vocal abilities.
The leading guess for Thingamajig's true identity seems to be NBA player Victor Oladipo. The Indiana Pacers player has been namedropped by hundreds of viewers, but he's denied involvement in the show.
"I don't know what you're talking about, man," Oladipo said. "I keep getting a lot of that lately. I don't even watch the show. The guy sounds pretty good, though," he told Fox Sports Indiana.
He also spoke to The Indianapolis Star in early November. "I keep getting that stuff, too, can y'all please stop @ing me?" he said of fans tagging him in conversations about the show. "I don't even know what that is. Look at me, why would I hide my face, anyway?"
Oladipo isn't the only celebrity who has denied involvement. Adrienne Bailon, who most fans seem to think is Flamingo, has said she is not connected to the show. In both cases, the comments haven't stopped fans from assuming their predictions are correct.
A few other Twitter conversations claim the man under the mask may be basketball legend Michael Jordan. A list of other NBA players have also been named, including Lamar Odom, Kobe Bryant and Dwayne Wade. However, those players seem to be less popular guesses.