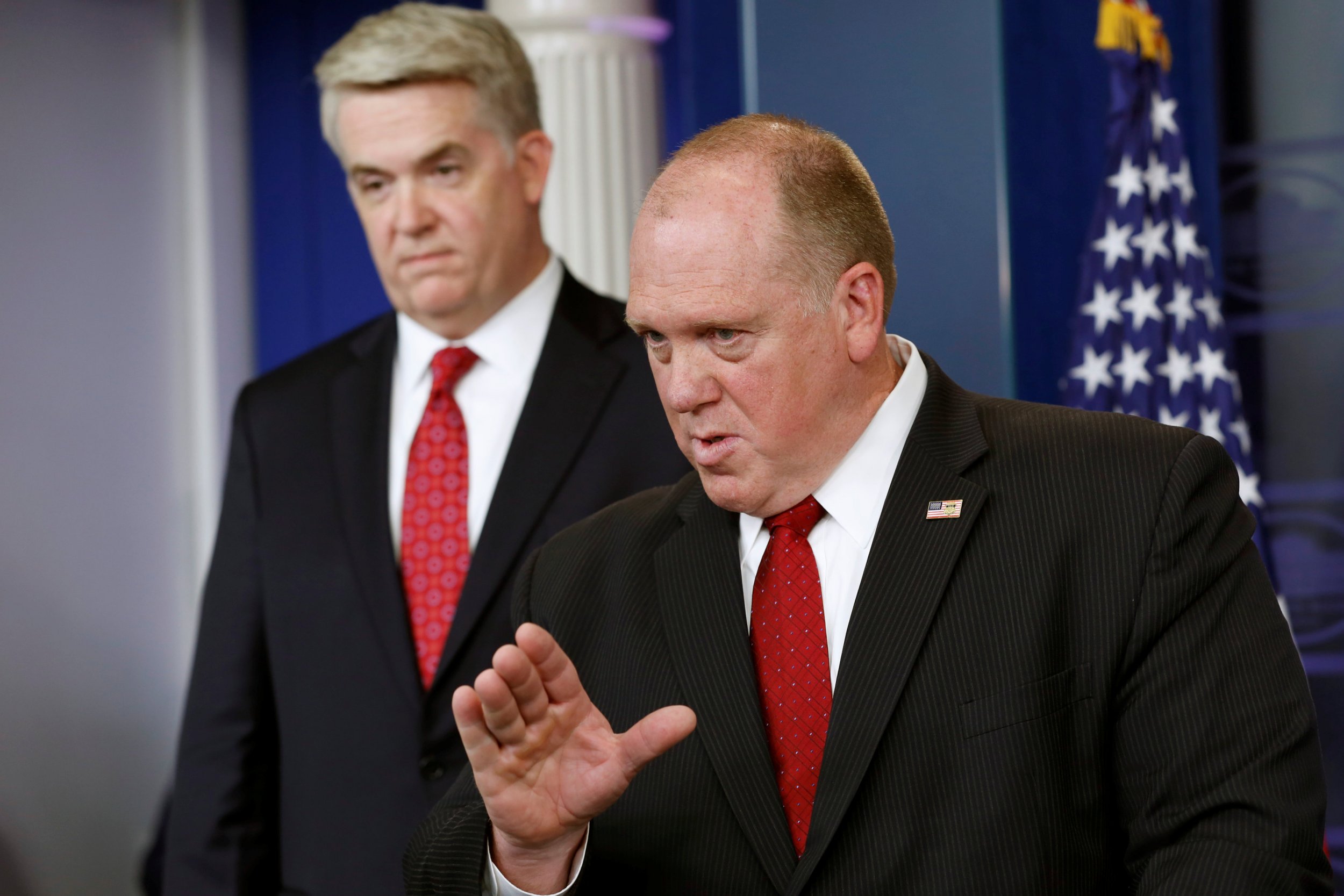 Thomas Homan, President Donald Trump's nominee for director of U.S. Immigration and Customs Enforcement, is an immigration enforcement official who has said undocumented immigrants "should be concerned" about deportation and that sanctuary cities "pose a threat to the American public."
On Tuesday, the White House announced Trump's pick to permanently lead ICE. Homan, who has 30 years of experience, shares Trump's draconian views on immigration policy.
Homan has served as acting ICE director since January when Trump appointed him. He testified before Congress in June that all undocumented immigrants should be worried about deportation.
"If you choose to enter this country illegally, which is a crime, you should be concerned. You violated a law in this country, and I'll tell you, you can't have it both ways," Homan said. "You can't be part of this country and not respect its laws."
Later in June, Homan said, "Sanctuary jurisdictions pose a threat to the American public by refusing to work with ICE and allowing egregious criminal offenders back into the community to put the lives of the public at risk."
The former U.S. Border Patrol agent also campaigned to build a border wall along the U.S.-Mexico border, a proposal that Trump continues to push amid backlash from various sectors of society.
As deputy director of the agency since January 30, Homan "advances ICE's mission to promote homeland security and public safety through the criminal and civil enforcement of approximately 400 federal laws governing border control, customs, trade and immigration," according to his bio on ICE's website.
Homan served as executive associate director of ICE Enforcement and Removal Operations, leading the agency's efforts to "identify, arrest, detain, and remove illegal aliens, including those who present a danger to national security or are a risk to public safety," his bio states.
His previous roles include working as a special agent in the former U.S. Immigration and Naturalization Service and as a supervisory special agent and deputy assistant director for investigations for ICE.
Homan was promoted to assistant district director for investigations in San Antonio, Texas, in 1999, and was transferred to Dallas, Texas, a few years later to carry out the same role.
He earned a bachelor's degree in criminal justice and won the Presidential Rank Award in 2015 for "his exemplary leadership and extensive accomplishments in the area of immigration enforcement," his bio states.
Homan's role will not be permanent until the Senate holds confirmation hearings and approve his nomination.