Who Is Thurman Blevins? Graphic Body Camera Footage Released by Minneapolis Police of Fatal Shooting by Cops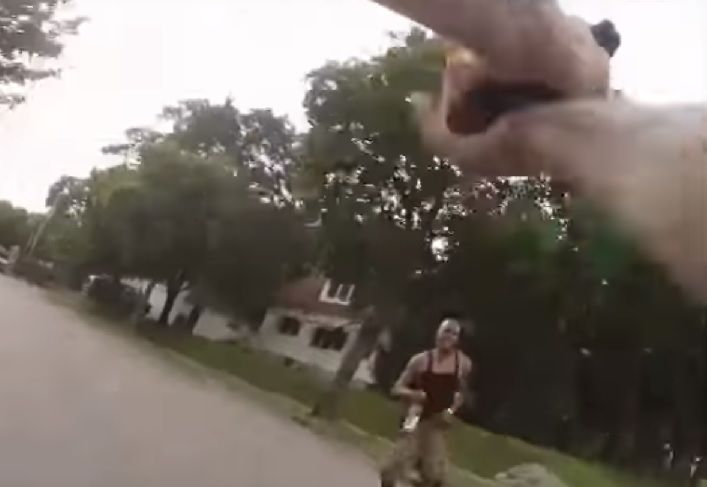 Police in Minneapolis have released bodycam footage of the fatal shooting of Thurman Blevins following protests and calls for transparency.
Blevins, 31, was killed by police fire on June 23, following a chase through a residential neighborhood.
Police were responding to reports that a male suspect was "walking around shooting off his gun, and he looks intoxicated," according to a transcript of the 911 call released by the department.
The footage shows officers Justin Schmidt and Ryan Kelly pulling up beside Blevins while he sits on a curb talking to a woman pushing a baby in a stroller.
Schmidt warns Blevins to "put your fucking hands up now!" before Blevins flees. During the chase, Schmidt again orders the 31-year-old to stop running, warning him: "I will fucking shoot you."
When Blevins frantically asks why he is being chased, the officers responds: "You got a gun, motherfucker!"
During the chase, which lasted around 30 seconds, Blevins can be heard repeatedly denying that he has a weapon on him while pleading "please don't shoot me" and "leave me alone."
Both officers then repeatedly fire at Blevins, including several shots fired once he hits the ground. A gun can be seen on the ground next to Blevins's body following the shooting.
Minneapolis Mayor Jacob Frey promised a release of the bodycam footage in response to demands from protesters who in the wake of the shooting had gathered outside the 4th Precinct, where the officers work, reported WCCO.
Dozens also took part in a two-mile peace walk to the office of the Bureau of Criminal Apprehension to demand the release of the footage, which had still not been made public more than a month after the shooting.
"Regardless of how our own life experiences and backgrounds have formed conclusions we draw, let us all recognize one truth: A life was lost, and that in and of itself is tragic," Frey told reporters following the video's release, reported KSTP.
"Although in the past, video footage has not been released for some time…we felt the community wanted to see the evidence."
Sydnee Brown, a cousin of Blevins, told the Star Tribune the footage proved he was not a threat to the officers. "He didn't deserve to die," Brown said. "He wasn't a threat when [the officers] approached him. They didn't view him as a human being."
The police union defended the officers' decision to shoot.
"It's our belief that body camera will reveal what happened, that the officers were subjected to a threat," said Bob Kroll, the president of the police union. "There were numerous commands to drop the firearm; the suspect did not comply with these commands."
The department has launched an investigation into the shooting, with both officers placed on leave pending the outcome.
According to court records seen by the Star Tribune, Blevins had a string of criminal convictions, including possession of a firearm and fleeing Minneapolis police in 2008 and 2012. He also committed fourth-degree assault after spitting at and kicking a Minneapolis park police officer in 2015.