Who Is Tom Frieden? Former CDC Director Arrested on Sexual Abuse Charge
Tom Frieden, the former director of the Centers for Disease Control and Prevention (CDC), was arrested Friday on charges of sexual abuse and harassment stemming from an alleged 2017 incident.
New York Police Department spokeswoman Arlene Muniz told Reuters that a 55-year-old woman filed a complaint against Frieden in July, alleging that he grabbed her buttocks in October 2017 at his apartment in the neighborhood of Brooklyn Heights. Frieden turned himself in Friday morning at a Brooklyn police station. He was charged with one count of forcible touching, one count of sexual abuse and one count of harassment, according to CNN.
The incident allegedly occurred during a dinner party at his home, CNN reported. As guests were leaving, Frieden allegedly reached over and grabbed the woman, whose name has not been released, without her consent. The two have reportedly known each other for several years.
"This allegation does not reflect Dr. Frieden's public or private behavior or his values over a lifetime of service to improve health around the world," a spokeswoman for Frieden told CNN.
Frieden, who earned his medical degree at Columbia University, currently serves as the president and chief executive officer of Resolve to Save Lives, a $225 million-dollar initiative aimed at saving 100 million lives through the prevention of heart disease and stroke. The initiative is funded by the Chan Zuckerberg Initiative, the Bill and Melinda Gates Foundation and Bloomberg Philanthropies.
Operating in more than 60 countries, Resolve to Save Lives works with governments to implement evidence-based strategies to improve the health of the nation's citizens.
Before his job at Resolve to Save Lives, Frieden served as the director of the CDC from 2009 until 2017. After taking over the agency, Frieden amped up efforts to combat the Ebola outbreak in Africa and eradicate polio, according to his CDC biography. He also led the U.S. response to the H1N1 influenza outbreak and has done extensive work with tuberculosis control.
"Ebola was a wake-up call for the world. It showed, again, if there is any area that is not prepared, then all areas are potentially at risk," Frieden told NPR. "Ebola was an epidemic that did not have to happen."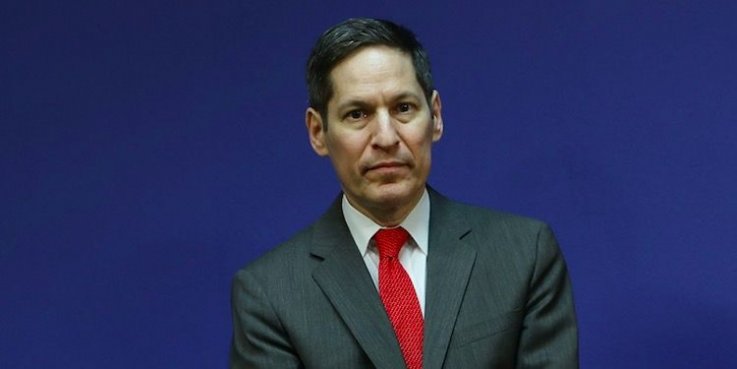 When President Barack Obama appointed Frieden to his post at the CDC, he said the doctor had been a leader in health care reform, in addition to fighting heart disease, cancer, obesity and infectious diseases.
To honor Frieden's work at the CDC, the CDC Foundation established the Tom Frieden Future Leaders Fund to help develop future health leaders.
Frieden began his career at the CDC in 1990 as an epidemic intelligence service officer and worked to identify and combat issues regarding the spread of a multidrug-resistant strand of tuberculosis.
Frieden served as the New York City Health Commissioner from 2002 until 2009, when he was appointed to his position as the head of the CDC. As health commissioner, Frieden focused his efforts on increasing the life expectancy of residents with measures aimed at reducing smoking and encouraging healthy eating, according to a biography on the Vital Strategies website.
He has authored over 200 scientific publications and, in addition to his work in the United States, has worked to combat infectious diseases in various other countries. He was married and had two children as of 2010.
This article has been updated to include comments from Frieden's spokeswoman.
Who Is Tom Frieden? Former CDC Director Arrested on Sexual Abuse Charge | U.S.