Who is Tom Steyer? Billionaire Called for Trump's Impeachment Before Other Candidates in Democratic Debate
New to the Democratic debate stage on Thursday is Tom Steyer, a former hedge fund manager who pushed for President Donald Trump's impeachment long before the formal inquiry and announced his candidacy late.
Steyer, a billionaire Democratic donor and philanthropist, joined the crowded Democratic field in July and failed to qualify for the third Democratic debate last month.
In Tuesday's fourth debate set in Westerville, Ohio, among a record 12 candidates, Steyer will stand second from the left facing the stage, with only Hawaii Senator Tulsi Gabbard to his right.
In a video he tweeted from Columbus, Ohio, on Tuesday afternoon, Steyer expressed appreciation as well as hope that American voters would give him a chance.
"I want to give a gigantic shoutout to the people who got me here⁠—the people who donated, the people who volunteered, the people on my campaign, but mostly I want to talk about the people from America," Steyer said in the clip. "Traveling around this country has been the most important and heartening thing I've ever done.
Steyer concluded: "I just hope tonight, I can be worthy of your trust."
Steyer faces off with other candidates at a time with Trump's impeachment inquiry is at the center of American politics. Steyer founded the Need to Impeach campaign, gathering signatures on an online petition for Congress to begin removal proceedings on Trump, in October 2017, nearly two years before House Democrats moved forward with an inquiry in light of Trump's Ukraine scandal.
"There will be increasing evidence and increasing urgency with the American people to get this guy out of office as people realize we really can't survive him," Steyer said of Trump to Newsweek in September 2018. "When it happens, I don't know. Exactly what the next events will be, I don't know. That there will be next events, I do know."
Before launching Need to Impeach and stepping down to pursue the presidency, Steyer spent some of the wealth he earned from starting the hedge fund Farallon Capital on creating NextGen America in 2013 to fight climate change and advocate for clean energy. Steyer's net worth as of Tuesday was $1.6 billion, according to Forbes.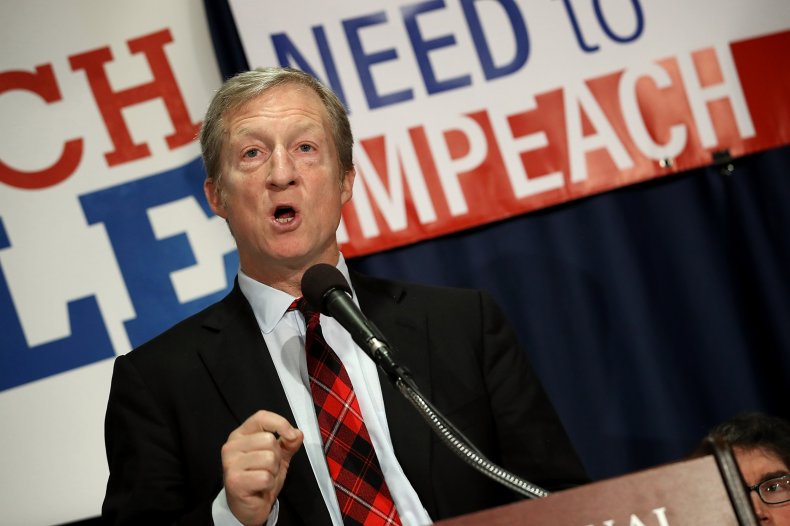 In the 2016 election cycle, Steyer spent about $65 million supporting some Democratic candidates and on environmental issues.
In a campaign memo about Steyer's first debate, his campaign manager Heather Hargreaves wrote that it was "not about having a moment. It's about building a movement."
"Tom's first goal is to introduce himself to a national audience and let them know why he is running for president," Hargreaves wrote. "He's running to end the corporate takeover of our government and return power back to the American people. Tom knows if we get that right, we can finally tackle the climate crisis and pass our progressive agenda."