Who Is Tommy Ward? 'The Innocent Man' Shines Light On Possible False Confession
Netflix's latest true crime series, The Innocent Man, has painted another possible who-done-it in the style of Making A Murderer that may leave viewers with more questions than answers. One of the docuseries subjects is Tommy Ward, a man currently serving life in prison for the murder of Donna Denice Haraway.
Ward says he didn't commit the crime, but in the 1980s, he confessed to her rape and murder. Ward sits beside Karl Fontenot, who was also charged with Haraway's murder, in a possible play of false confessions. So did they really do it?
The Innocent Man outlines the crime, which fell within a similar timeline to the murder of Debbie Carter, who was also killed in the small town of Ada, Oklahoma, and takes a deeper look at wrongful confessions. Whether Fontenot and Ward are really innocent is unknown, but it wouldn't be the first case of false confessions. There are a handful of television shows centering around the idea of false confessions, including Netflix's own The Confession Tapes.
After watching The Innocent Man, many Twitter users were quick to support Ward in particular. Some compared it to Making A Murderer, which outlined a similar, said wrongful confession from Brendan Dassey. But while many exclaimed Ward should be free, others didn't see the justification of a false confession.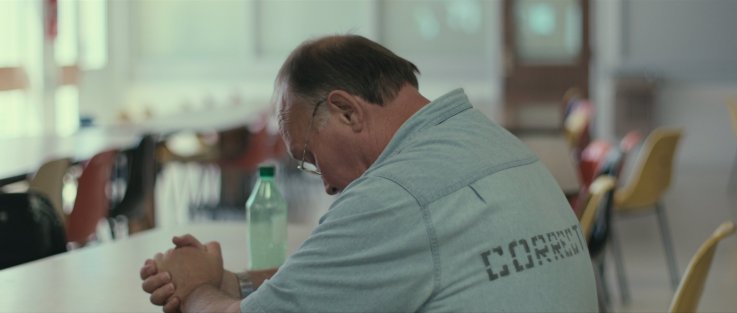 "My biggest thing about people like Brendan Dassey and Tommy Ward are if they are innocent and had been coerced, why did they still give such disgusting recounts of what happened? Can they really blame low IQ/mental illness on this? You don't say you stabbed and raped a person…" tweeted @keepcalm_lvjack.
The Innocent Man is based on the true crime novel of the same name written by notable fiction writer John Grisham. The book is his only nonfiction novel, and Grisham has a special connection to the cases himself.
"I received Christmas cards last week from both Tommy Ward and Karl Fontenot, so we keep in touch," Grisham said in a 2017 conversation with The Marshall Project. "They have now been in prison for 31 years, serving hard time for a murder committed by someone else. Both are model prisoners. Tommy has been recommended for parole at least twice, but turned down by the board in Oklahoma. Both have excellent teams of lawyers who continue to work for their release."
Ward's team of lawyers continues to fight for an appeal. He began his appeal process in 2015, according to Bustle. Some of his arguing points shown in the Netflix series are the discrepancies between Ward and Fontenot's accounts of the murder, as well as what the truth happened to be.