Who Is Tony Bobulinski? What We Know About Hunter Biden's Business Associate
Tony Bobulinski, the former business partner of Hunter Biden, is expected to participate in an informal interview before a Senate panel on Friday to discuss allegations that the Biden family accepted money from foreign entities, including China and Ukraine.
Rumors of Hunter Biden's international business affairs, often mentioned by President Donald Trump while addressing Democratic presidential nominee Joe Biden, were exacerbated by a story published by the New York Post which purported to include screenshots of incriminating emails. That documentation implied that Hunter Biden accepted payment for introducing a Ukrainian business executive to Joe Biden while Joe Biden served as vice-president. In a separate story, the New York Post published more alleged emails that claimed Hunter Biden had also accepted money from a Chinese company. Bobulinski has claimed the allegations connecting the Bidens and China are accurate and that he has supporting documentation.
Washington Republican Senator Ron Johnson and Republican Iowa Senator Chuck Grassley confirmed Bobulinski's interview in a statement emailed to Newsweek on Thursday.
"As part of the committees' efforts to validate the authenticity of recently publicly released emails involving the Biden family's international financial entanglements, we sent letters to five individuals identified in the emails," the statement read.
"So far, the committees have received a response only from Mr. Tony Bobulinski, who appears to be willing to fully cooperate with our investigation," the statement continued. "In fact, Mr. Bobulinski has already agreed to appear for an informal interview by the committees tomorrow, Friday, October 23, 2020."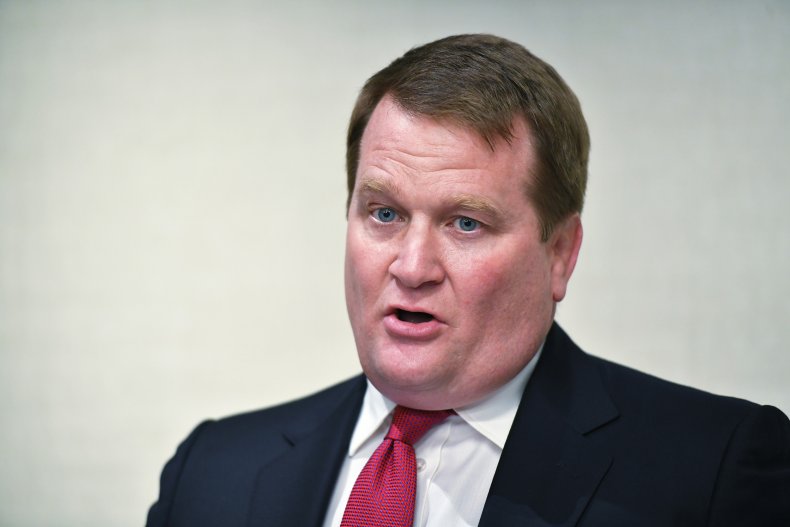 Bobulinski is a retired U.S. Navy lieutenant and the CEO of Sinohawk Holdings. According to a Thursday statement from Bobulinski to the New York Post, Sinohawk Holdings is a partnership involving Chinese energy company CEFC and the Biden family. After retiring from the military, Bobulinski said he "held a high level security clearance" and served as an instructor for Naval Nuclear Power Training Command. Bobulinski also claimed not to be a "political person," but said he has made campaign donations to Democrats.
Bobulinski alleged that code names were used to disguise the identities of some individuals named in the emails. References to the "Big Guy" were actually about Joe Biden. Jim Biden, Joe Biden's brother, was referred to as "JB."
In one of the emails published in October by the New York Post, money was allegedly earmarked to be given to "the big guy."
"I don't have a political ax to grind," Bobulinski wrote. "I just saw behind the Biden curtain and I grew concerned with what I saw. The Biden family aggressively leveraged the Biden family name to make millions of dollars from foreign entities even though some were from communist controlled China."
The documents published by the New York Post were allegedly obtained from the hard drive of a laptop computer taken to a Delaware computer repair shop. Hunter Biden's ownership of the laptop has not been confirmed by the store's owner, John Mac Isaac, who has impaired vision. Trump's personal attorney, Rudolph Giuliani, allegedly obtained a copy of the hard drive and gave it to the New York Post.
On Thursday, Bobulinski told reporters that he was in possession of text messages, documentation and electronic devices that would lend authenticity to his allegations.
Bobulinski said he was introduced to Joe Biden by Jim Biden and Hunter Biden in May 2017. "At my approximately hour long meeting with Joe that night," Bobulinski said, "we discussed the Bidens' history, the Bidens' family business plans with the Chinese, with which he was plainly familiar at least at a high level."
In a statement released Thursday, Biden's campaign said "Joe Biden has never even considered being involved in business with his family, nor in any overseas business whatsoever."
Trump is expected to mention the allegations during Thursday's presidential debate in Nashville, Tennessee. Bobulinski is expected to attend the debate as Trump's guest. "If Kristin Welker, the moderator, doesn't bring it up," Trump re-election campaign senior adviser Jason Miller told Fox News on Monday, "I think you're pretty safe to assume that the president will."