Who is Tony Gruenig? Brooklyn Center Police Chief Replaced after Tim Gannon Resigns
Tony Gruenig was named the Brooklyn Center Police Department chief on Tuesday, after Tim Gannon resigned from his post two days after the fatal shooting of 20-year-old Daunte Wright.
During a press conference, Brooklyn Center Mayor Mike Elliott confirmed that Gannon had announced his resignation and that he named Gruenig as the acting chief of police. In addition to Gannon, Elliott also announced that Brooklyn Center Police Officer Kim Potter, the officer identified as firing the fatal shot, announced her resignation.
Their resignations came the day after body camera footage of the traffic stop where Wright was shot was released. In the footage, Potter can be seen yelling for her Taser but instead grabbing her firearm and fatally shooting Wright.
According to Elliott, Gruenig has been with the Brooklyn Center Police Department for 19 years.
During the press conference, Gruenig said that despite learning about his new position a few hours ago, he was committed to bringing a sense of "calm" to the community.
"It's very chaotic right now," Gruenig said. "I was just informed less than a half-hour ago, or an hour ago, about the whole change in status. There's just a lot of chaos going on right now. We're just trying to wrap our heads around the situation and try and create some calm."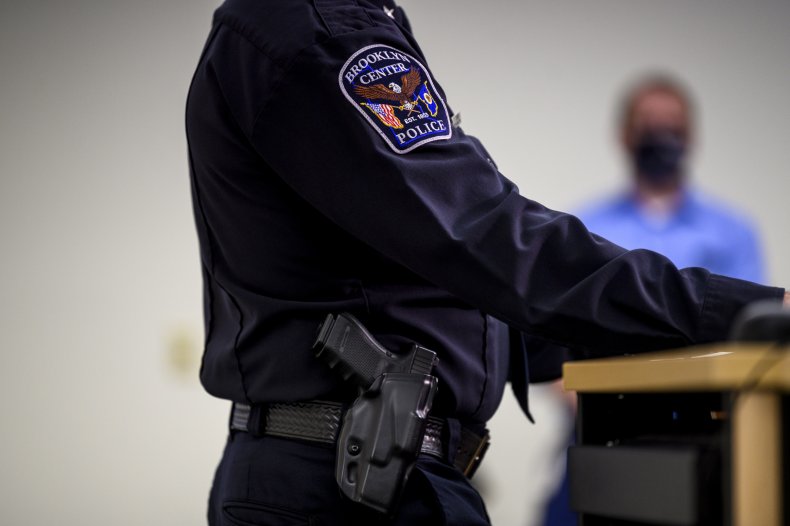 When asked what his plan is with the staff now that he has been appointed acting chief of police, Gruenig said, "I don't have a plan. I'll work on a plan."
"I can talk to the community members and see the direction they'd like to go but I was appointed the chief an hour ago. I don't have a comprehensive strategy to look internally, to look externally....We want to be transparent. We want to do things that the community members would like to see us do. We want to be apart of that community, we want to work with our community members," Gruenig added.
During the press conference, Elliott said that Gruenig "has spent a lot of time working in the community, working with the community."
"He's someone who knows Brooklyn Center well," Elliott said. "He, probably more than any other person in the department, has a very strong commitment to working directly with the community to help resolve issues."
The fatal police shooting of Wright sparked mass protests in Brooklyn Center and Minneapolis on Monday night.
Newsweek reached out to the Brooklyn Center Police Department for comment but did not receive a response in time for publication.