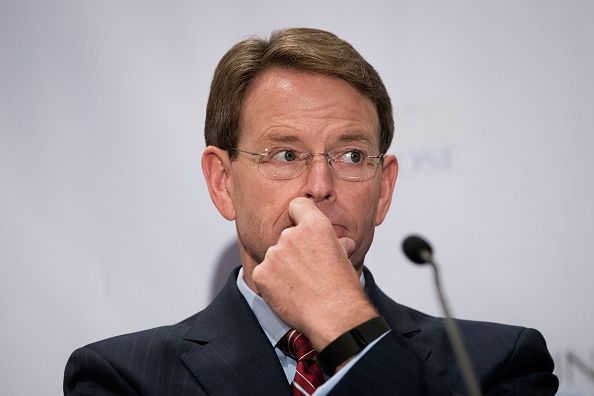 President Donald Trump is the leader evangelicals have been looking for—despite his questionable moral behavior and alleged affair with porn star Stormy Daniels. This statement comes courtesy of Tony Perkins, president of the conservative Family Research Council, who spoke with Politicoin a Tuesday interview.
"[Evangelical Christians] were tired of being kicked around by Barack Obama and his leftists. And I think they are finally glad that there's somebody on the playground that is willing to punch the bully," Perkins toldPolitico.
Related: Trump will start the end of the world, claim evangelicals
When questioned about whether the desire to "punch the bully" is in line with Christian values, Perkins argued that Christians should defend themselves instead of following the biblical teaching to turn the other cheek.
"You know, you only have two cheeks," he said. "Look, Christianity is not all about being a welcome mat which people can just stomp their feet on."
Daniels reportedly had an affair with Trump four months after his wife Melania gave birth to their son. The Wall Street Journal reported earlier this month that Trump lawyer Michael Cohen arranged to pay Daniels $130,000 in hush money just before the election. She and Trump have both denied it publicly, but a 2011 interview with Daniels has surfaced in which she describes the affair in detail.
Perkins, an evangelical activist, is a frequent visitor to the Oval Office and has prayed with Trump during his presidency. In November, he was accused of helping cover up sexual assault allegations against a Republican state legislator in Ohio. The legislator, who was a vocal advocate for the family values Perkins supports, was forced to resign after he was caught having sex with a man in his office.
Perkins toldPolitico he is happy with the White House's position on abortion and religious freedom, and he argues that Trump has "delivered more than any other president in my lifetime."
Over 80 percent of evangelicals supported Trump in the presidential election, even though he has essentially bragged about committing sexual assault and once admitted he never asks God for forgiveness. This is partly because Trump promised to protect the religious liberties of Christians and pledged to recognize Jerusalem as Israel's capital, an action many evangelicals believe will help lay the groundwork for the second coming of Christ.
That staunch support, however, has started to waver since Trump took office. A Pew Research Center poll last month showed that Trump's support among white evangelical Christians dropped from almost 80 percent in February to 61 percent in December.