Who Trades With North Korea and What Can Trump do About it?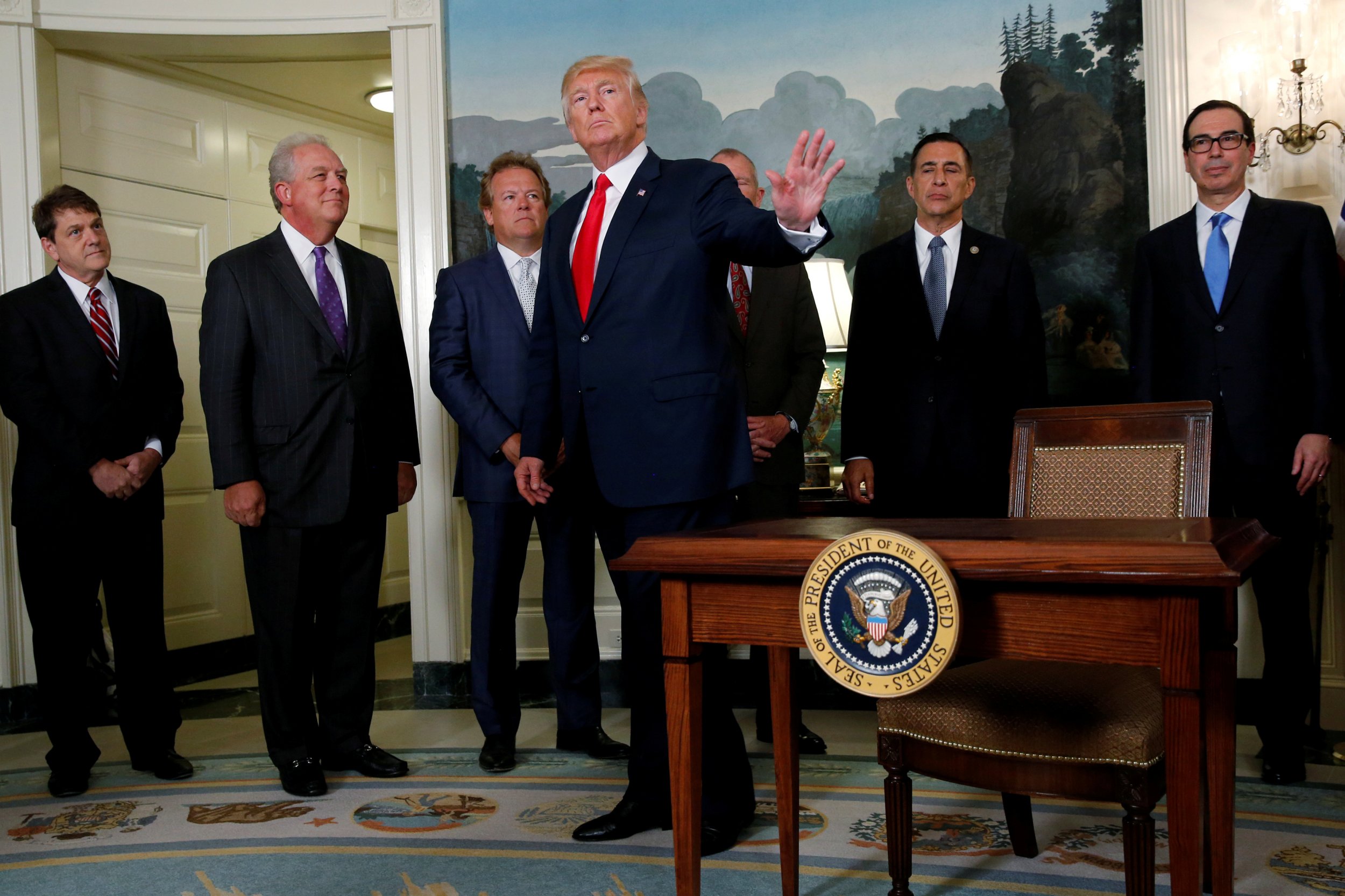 Updated | For once, President Donald Trump's reaction to North Korea's provocation did not include direct threats of military action, but of trade restrictions instead.
After North Korea claimed to have successfully tested a hydrogen bomb, its sixth and largest nuclear test to date, Trump threatened consequences for countries doing business with Pyongyang.
"The United States is considering, in addition to other options, stopping all trade with any country doing business with North Korea," he wrote. But which countries is Trump talking about?
Above all, China. Beijing is North Korea's major defense and business partner, counting for an estimated 90 percent of Pyongyang's total trade. Other countries taking up the remaining share of North Korea's trade include Russia, Thailand, the Philippines, Taiwan, France, Singapore and Mexico, as data reported by the Observatory of Economic Complexity shows.
Treasury Secretary Steve Mnuchin told FOX News Sunday with Chris Wallace that he supported Trump's idea. "If countries want to do business with the United States, they obviously will be working with our allies and others to cut off North Korea economically," he said.
However, trade experts believe the president's threat to be empty, as the repercussions on the American economy would be significant—especially as China is one of the U.S.' largest trade partners.
"It would be very difficult for the U.S. to take such extreme measures as putting wide-ranging direct trade sanctions on China. Bilateral trade in goods and services between China and the US reached $648 billion in 2016. Any disruption to such large trade flows could create significant risks to manufacturing supply chains," Rajiv Biswas, Asia Pacific Chief Economist at IHS Markit, told Newsweek.
Matthew Goodman, senior adviser for Asian economics at the Center for Strategic & International Studies, went so far as to call the proposal "absurd." Goodman responded to a tweet from Ari Fleischer, a former White House press secretary for President George W. Bush, who said that "cutting off all trade" isn't wrong to avert war.
"With the adversary, maybe—but with China, Mexico, and France, which together trade more than $1 trillion with us? Absurd," he wrote.
Besides the unanimously approved U.N. Security Council sanctions against North Korea, the U.S. has also implemented its own sanctions, targeting third country entities and persons trading with North Korea in the Countering America's Adversaries Through Sanctions Act signed into law last month.
Later in August, the Treasury's Office of Foreign Assets Control announced new sanctions against 10 entities and six individuals from China and Russia that were found to support North Korean regime's nuclear development program in violation of U.N. resolutions.
The U.S. sanctions also targeted countries involved in exporting North Korean workers abroad, restrictions that could now be implemented at U.N. level in future sanctions to force North Korea back to the negotiating table.
"As North Korean worker remittances of foreign exchange back to North Korea are a major source of foreign exchange earnings for North Korea, curtailing this source of remittance flows is an important measure for further increasing economic pressure on North Korea," Biswas said.
China is ramping up its broader economic sanctions on North Korea "to an unprecedented scale," Biswas said, but Pyongyang is still able to receive significant currency inflows from remittances of North Korean guest workers in Russia and China.
At an emergency meeting of the U.N. Security Council on Monday, U.N. ambassador for the U.S. Nikki Haley said "The time has come to exhaust diplomatic means before it's too late."
"The time for half measures in the Security Council is over. The time has come to exhaust all of our diplomatic means before it is too late. We must now adopt the strongest possible measures. Kim Jong Un's action cannot be seen as defensive," she said, The Hill reported.
According to Biswas, if the international community is serious about bringing North Korea back to the negotiating table and avoiding military confrontation, severe economic sanctions banning fuel exports, as well as barring workers from sending home their remittances, are the last peaceful option left. While North Korea likely has fuel stockpiles to last several months, he believes sanctions would, in the long term, affect both economic and military operations.
This article was amended to specify that Treasury Secretary Steve Mnuchin's comments were made on FOX News Sunday with Chris Wallace not FOX News.