Who Is Troy James? Contortionist Uses 'AGT' Guest Judge Chris Hardwick for Act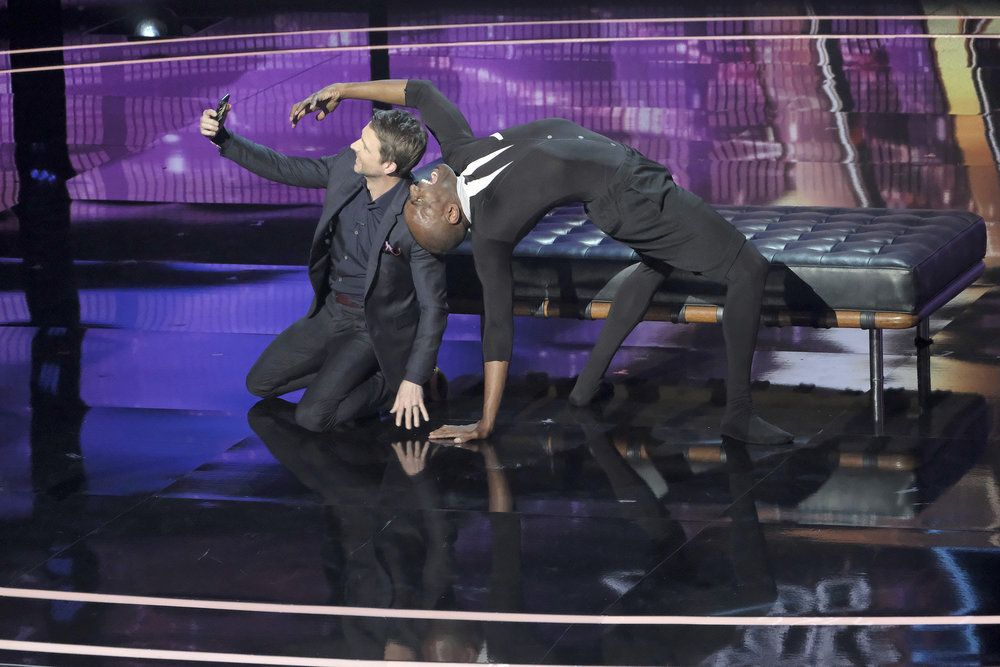 Contortionist Troy James' act is creepy enough without a close-up look, but that's what America's Got Talent guest judge Chris Hardwick gets in a clip Entertainment Tonight, released Monday.
Troy is back for the fourth round of the Judge Cuts Tuesday. While no one at work knew he was auditioning, "some of my coworkers are avoiding me," he admits before his performance, which he describes as "bolder." "I'm going to get in your face," he teases before doing just that, twisting and contorting his way off the stage and to the judges' table.
He takes Hardwick back to the stage and arranges him on a couch. Troy then twists his body around and climbing up and over him as he finishes his act.
The 28-year-old works in Human Resources and said his life was very routine before his audition, which got him a yes from every judge, in June. "I'm a pretty reliable employee," he said. "I never miss work, except for one time. My boss put out a missing person's report for me."
During his audition, he twisted his body around and also crawled off the stage and focused on judge Simon Cowell when he reached the table. "I am very flexible in many parts of my body, and I bent and twisted and flailed my way across the stage," he said in a video interview NBC posted four days after his first performance for the judges.
"When I crawled down those stairs, I could see the audience, their faces, it was like they didn't know what was happening, what was coming towards them. I crawled to Simon in particular because I was worried most about him," he explained. "I thought he would be mean to me, so I said, 'let me get back at him just in case.' But it all worked out and I think he was pretty shocked."
"When you came up close to me, it was like you turned into an animal or something," Simon said of his audition, which he compared to The Exorcist. "But I loved that. It's great."
Judge Howie Mandel wanted to see him in a horror film and asked how he knew he could contort his body. "I thought everyone could do it," Troy said.
Judge Mel B called him "spooky, but really great," while Heidi Klum said his act was "absolutely disturbing." "I feel like there is no one like you,' she told him.
America's Got Talent Season 13 airs Tuesdays at 8 p.m. ET on NBC.