Who Is Joy Villa? President Trump Says He's a Fan of the Singer Who May Run for Congress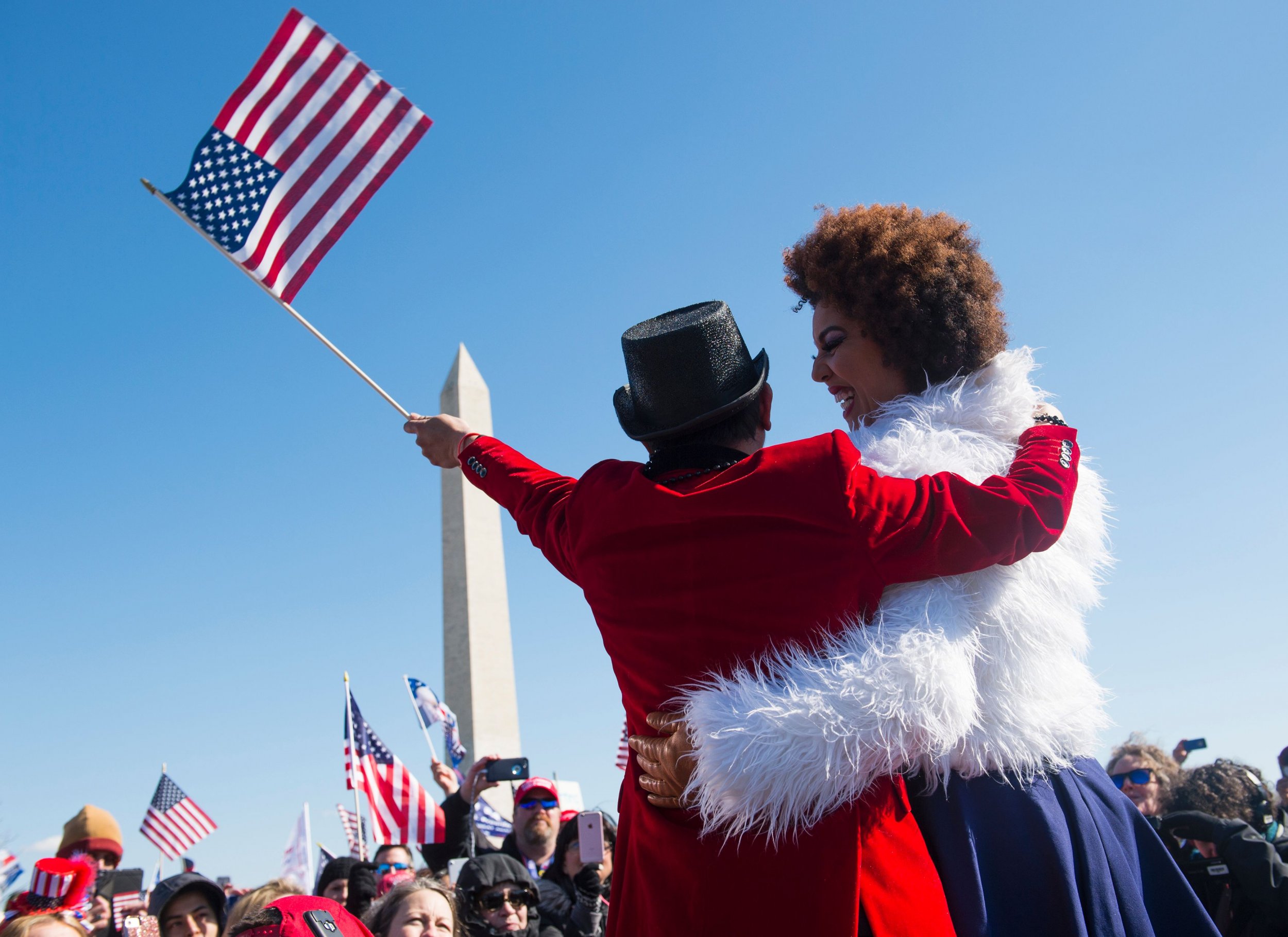 President Donald Trump took to Twitter on Friday to welcome to politics a 26-year-old entertainer who made a political statement earlier this year with her "Make America Great Again" dress at the Grammys.
"She has many fans," the president tweeted.
Villa responded by thanking the president and calling him her "ultimate warrior."
During a Friday appearance on Fox & Friends, Villa announced a possible run for Congress and attacked some leading female Democrats, including Representatives Frederica Wilson and Maxine Waters and House Minority Leader Nancy Pelosi, saying they "are destroying this country." Wilson and Waters are African-American, and all three women have been attacking Trump.
"It's time we have strong women who step up, run, win and support the president of America," Villa said during her Fox interview. She has described herself as an "Afro-Latina Native woman married to an immigrant."
Villa said she could run in Florida, California or New York, places where she has lived, worked and was raised.
"I would be running as an outsider but definitely as a Republican," she said.
When asked about the platform on which she would run, Villa told host Ainsley Earhardt she would follow the populist ideas put together by former Trump adviser Stephen Bannon. She plans to support tax reform and aid for legal immigrants, as opposed to illegal immigrants.
Villa caught the attention of the president after she appeared at the Grammys in a red, white and blue dress emblazoned with Trump's slogan in February. Her eye-catching dress also got her noticed by Trump supporters, who helped boost the singer's sales on iTunes and land her album, I Make the Static, on the Billboard Top 15 chart.
In iTunes reviews of her album, which includes the song "Make America Great Again," reviewers thanked her for supporting the president.
Twitter erupted over the singer's Grammys dress, with some users saying she showed "true bravery" by wearing it and others asking, "Who paid her to wear the dress?"
Villa is also known for at least one other Grammys dress: She arrived one year wearing a barely-there outfit made of orange Home Depot fence material.
In 2016, Villa was featured in a video on a Scientology Youtube account; she said she discovered Scientology after going through a rough period in her life.
"Now, I feel like there's nothing I can't tackle," Villa said in the video. "Scientology gave me tools to survive, tools to create, and that's what I feel like: a creative person who is full of power, and there is no stopping me."
Villa has another album coming out in January and plans to attend the Grammys again, she said on Fox & Friends.