Who Is Uncle John Trump? President Says 'Brilliant Genius' Professor Taught Him About Nuclear Weapons
The first historic summit between President Donald Trump and North Korean leader Kim Jong Un in Singapore on Tuesday was meant to forge a path toward achieving the U.S. goal of "complete, verifiable, irreversible denuclearization."
But the joint agreement signed by the two leaders has not committed the regime to such a goal, mentioning "complete denuclearization," with no details given as to how this will be implemented in a "verifiable and irreversible" way. It's no wonder reporters had many questions for the president in the post-summit press conference, though Trump remained convinced the process could be achieved "pretty quickly."
Asked by a reporter to discuss the timeframe, the U.S. president told her: "We will do it as fast as it can be done scientifically, as fast as it can be done mechanically," dismissing the notion, presented by nuclear disarmament expert and Stanford professor Siegrief S. Hecker in a recent New York Times article, that it could take as long as 15 years for North Korea to complete its denuclearization.
"Whoever wrote that is wrong. There will be a point at which when you are 20 percent through, you can't go back," Trump said. And to give his understanding of denuclearization more clout, he reminded reporters of his uncle, professor John Trump. "I used to discuss nuclear with him all the time," Trump said at the press conference, adding: "He was a great expert, he was a great brilliant genius."
Trump then went on to describe how he understood denuclearization taking place. "It's just not like 'oh gee, let's get rid of the nukes.' It take a periods of time, but the main period of time that I'm talking [about] is that first period, when you hit a certain point you can't go back, it's very hard to go back." When the reporter asked again for a timeframe, Trump replied: "We don't know, but it'll go pretty quickly."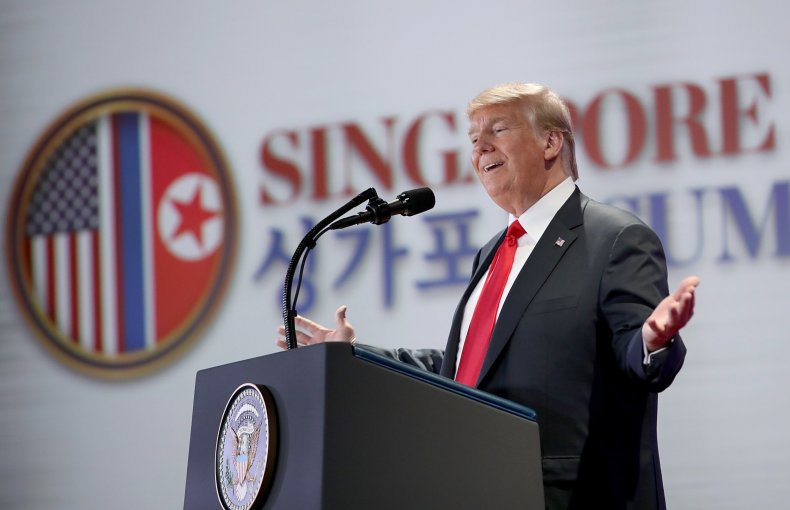 Professor Trump, who died of cancer in 1985 aged 78, was a widely respected scientist. He achieved a doctorate in electrical engineering in 1933 from the Massachusetts Institute of Technology (MIT), where he continued to work, and built his academic career over the next five decades. He became regarded as a "pioneer in the field of high voltage engineering, high voltage machinery and in the medical application of his energy radiation" to treat tumors, as his obituary in the National Academy of Engineering read.
Trump the professor never directly dealt with nuclear weapons but, as his nephew has repeated in several interviews, he obviously held a negative opinion of them. As a presidential candidate, Trump cited his uncle to add credibility to his opinions and statements on nuclear weapon. "He would tell me many years ago about the power of weapons someday, that the destructive force of these weapons would be so massive, that it's going to be a scary world," Trump told The New York Times' Maggie Haberman, adding he wouldn't want to be the first to use nuclear weapons. A few days later, he mentioned his uncle again to CNN's Anderson Cooper, this time discussing nuclear proliferation.
Trump first mentioned his uncle publicly in a 1984 Times profile titled "The expanding empire of Donald Trump." His uncle was then described as a "nuclear physicist" who began talking to him about the "troubling" prospect of a nuclear holocaust "15 years ago." Trump, then one of New York's most well known real estate magnates, told the newspaper he wanted to negotiate nuclear disarmament—a prospect the reporter dismissed as "the naive musing of an optimistic, deluded young man who has never lost at anything he has tried," but that Trump was convinced "could someday happen." That day finally came, nearly a quarter of a century later, in his meeting with Kim.