The U.S.-led coalition and its Syrian rebel allies were targeted late Thursday by a yet unidentified foe who reportedly entered the coalition's roughly 34-mile "deconfliction zone," opposed by the local government and its Russian and Iranian allies.
While the U.S.-led coalition's stated goal in Syria is to defeat the Islamic State militant group (ISIS), Washington's continued unauthorized military presence there, as well as its continued support for insurgents trying to overthrow Syrian President Bashar al-Assad, have created tensions with a parallel pro-Syrian government campaign to defeat the jihadis. No group has claimed responsibility for the latest flare-up, which apparently targeted the U.S.-backed Maghawir al-Thawra rebel group, but the coalition mentioned it remained in contact with Russian officials to avoid conflict spillover.
"Maghawir al-Thowra fighters and Coalition advisors within the deconfliction zone near At Tanf were engaged by an unidentified hostile force located just outside the deconfliction zone in the early evening June 21," the coalition said Friday in a statement sent to Newsweek.
"MaT fighters and their Coalition advisors attempted to break contact under continued fire, and returned fire in self-defense, at which time the hostile force disengaged. There were no Coalition or partner casualties. Coalition officials are engaged with Russian counterparts on the deconfliction line to ensure no miscalculations," it added.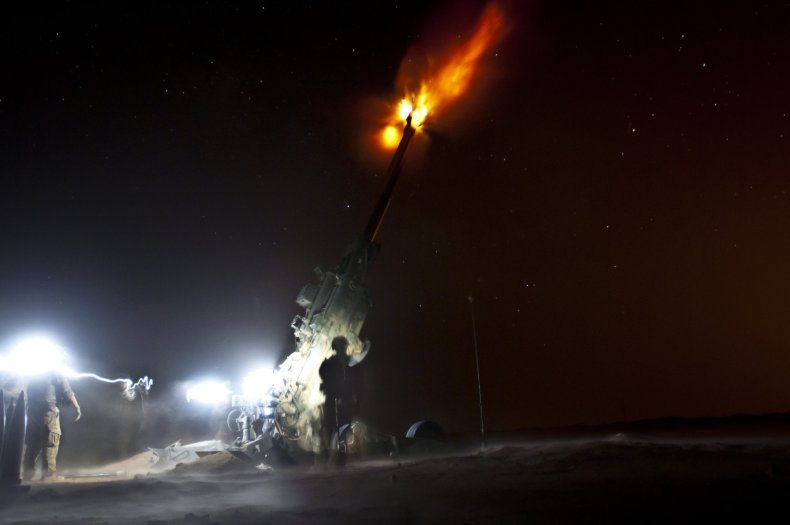 The U.S. was an early supporter of the 2011 uprising against the Syrian government, and the CIA offered covert aid to various anti-government groups. As the opposition became increasingly dominated by jihadi groups, the U.S. switched its focus to battling ISIS in 2014 and began supporting a majority-Kurd alliance known as the Syrian Democratic Forces. The jihadis had spread to Syria from Iraq, where they were the culmination of a series of ultraconservative militant Sunni Muslim mergers that began in the wake of the U.S. invasion of Iraq in 2003.
As the U.S. and its coalition allies—which now include up to 75 nations, but few of them have any major military role in Iraq and Syria—began battling ISIS, Russia staged its own intervention at Assad's request, helping him and his Iranian allies push ISIS, other jihadi groups and rebels out of major cities. It was at this point that the first major violent incident occurred between the U.S.-led and Russia-backed campaigns.
Related: U.S. and Russia military came "close" to fighting each other in Syria, Assad says
As Syrian troops besieged in the eastern city of Deir Ezzor fought off a total ISIS takeover in September 2016, the U.S.-led coalition began bombing them, reportedly killing dozens in what the Pentagon later called an accidental misidentification. President Donald Trump came to office months later offering a more sympathetic view of the Russia-backed campaign against ISIS, but targeted the Syrian military in a cruise missile strike in April 2017 after reports of an alleged chemical weapons attack against civilians in rebel-held Idlib.
The following month, the U.S. began to enforce a 34-mile "deconfliction zone" barring any presence of pro-Syrian government fighters in Al-Tanf, including pro-Iran militias staging a cross-country offensive against ISIS. The U.S. bombed a pro-Syrian government convoy and, in June, targeted other forces fighting on behalf of Assad at least four more times. In one attack, the U.S. shot down a Syrian air force jet, prompting Moscow to warn it would turn its air defenses on any U.S.-led coalition jets in its area of operations.
The number of casualties in such incidents has been difficult to calculate, as has responsibility. By late 2017, the U.S.-led coalition and pro-Syrian government offensives had taken out most of ISIS in eastern Syria, leaving the two rival campaigns dangerously close to one another in a region known as the Middle Euphrates River Valley.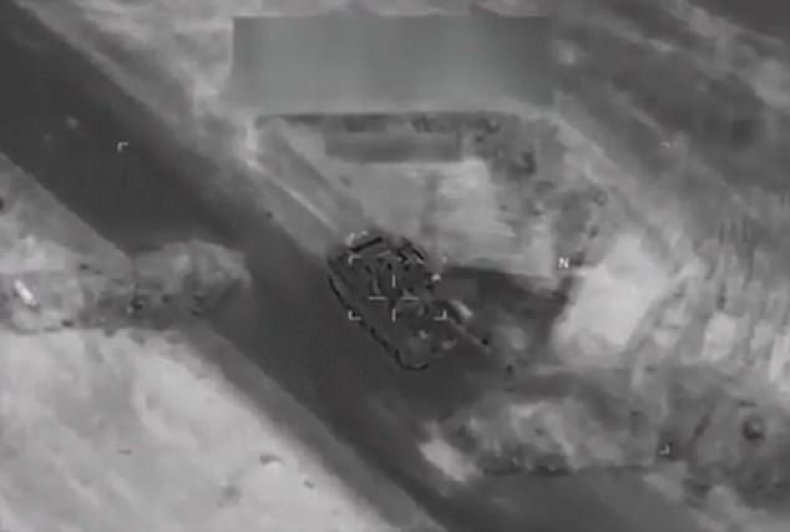 On February 7, the U.S.-led coalition and its Syrian Democratic Force allies claimed to have come under fire by hundreds of pro-Syrian government fighters. A four-hour battle erupted, with the U.S. quickly getting the upper hand through the use of massive aerial firepower. In the end, the Pentagon estimate 200 to 300 "pro-regime" forces, including Russian citizens, were killed. Days later, the U.S.-led coalition attacked a Russian-built T-72 tank that reportedly opened fire on its lines of defense.
Then-CIA Director Mike Pompeo said during his April state secretary nomination hearing that "a couple hundred Russians were killed" and Trump said days later that the U.S. was in "a very, very severe...fight in Syria recently, a month ago, between our troops and Russian troops, and that's very sad," noting that "many people died in that fight."
Related: Iraqi fighters threaten attacks against U.S. and Israel after deadly Syria strikes
Secretary of Defense James Mattis has been more reserved. He briefly discussed the incidents in March, revealing that a third conflict was avoided through the use of the U.S.-Russia deconfliction line maintained between the two militaries. He stood by Trump, however, when the president ordered another, larger round of "precision strikes" against Syria in response to more allegations of chemical weapons use in April, nearly exactly one year after the first attack.
Since then, the U.S.-led coalition has denied occasional reports of further strikes targeting pro-Syrian government fighters while still warning against Iran's presence in Syria. Israel has also conducted a number of attacks on targets deemed to be supportive of its archfoe Iran and escalated significantly after claiming Israeli troops were targeted in the occupied Golan Heights. Israel routinely refuses comment on its responsibility in strikes in Syria, and reports from CNN and the Agence France-Press cited an unnamed U.S. official who identified Israel as the culprit in an attack Monday that reportedly killed dozens of pro-Syrian government fighters in Deir Ezzor, far away from Israel's usual range of attacks.
A number of those killed were reportedly members of Iraq's Popular Mobilization Forces, an Iran-backed and mostly Shiite Muslim group of militias that actually helped the U.S.-led coalition defeat ISIS. Like the Syrian government, these fighters have increasingly called on the U.S. to withdraw and have vowed to identify and take revenge on whomever conducted the deadly strikes just across the border.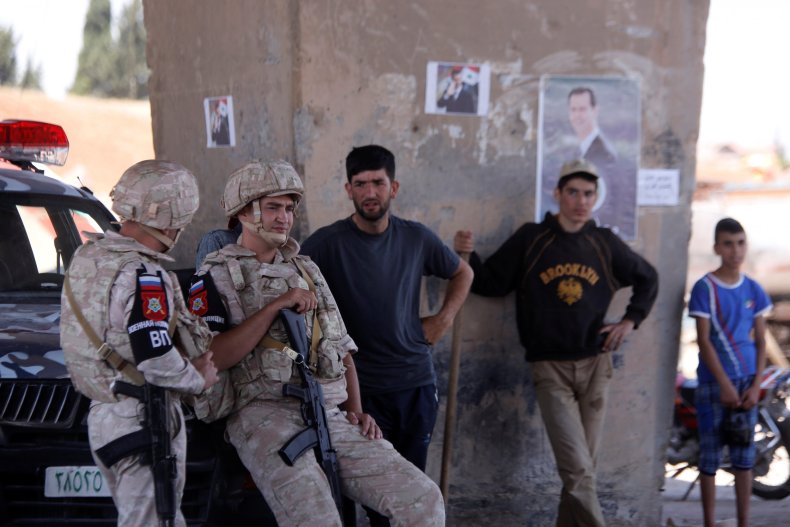 While the coalition has said it would only operate in Iraq as long as the government requested its presence, the U.S.-led force has so far ignored calls from Assad and his allies to leave Syria. The base at Al-Tanf has been a particular source of outrage, with Syria, Russia and Iran accusing the U.S. of using the restricted region to shield ISIS fighters and either help them regroup under a new name or release them back into government territory.
The U.S.-led coalition has staunchly denied any support for ISIS and, on Monday, announced along with its Maghawir al-Thawra allies that the rebels had seized and destroyed $1.4 million worth of ISIS drugs in Al-Tanf. During a press briefing the following day, coalition spokesperson U.S. Army Colonel Sean Ryan told reporters that the international alliance had not encountered any hostilities by pro-Syrian government fighters in Al-Tanf.
Southern Syria has again become the focus of the seven-year conflict as nationwide victories have allowed Assad to concentrate on retaking one of the country's last rebel-held regions in Daraa, located near the Israel-occupied Golan Heights and the Jordanian border. Reports have emerged suggesting that Israel would tolerate such an operation only if Iranian and Iran-backed militias were not involved. This has led the U.S., Russia and other involved powers to pursue extensive negotiations that may see Iran sit this offensive out and could include the dismantlement of the U.S.-led coalition base at Al-Tanf.