Who Is Vladislav Surkov? Putin Ally Reportedly Under House Arrest
A Russian politician who held significant influence within the Kremlin has been placed under house arrest, according to a former member of Russia's parliament.
Vladislav Surkov has been perceived as having been a crucial ally to Vladimir Putin and has helped shape policy within Russia for several years.
In a March 2021 Financial Times interview, Surkov is credited with inventing "Putinism," a system of power designed to keep the Russian president in office, and being behind the 2014 annexation of Crimea.
But according to unconfirmed claims made by former Russian parliament member Ilya Ponomarev, Surkov is now under house arrest.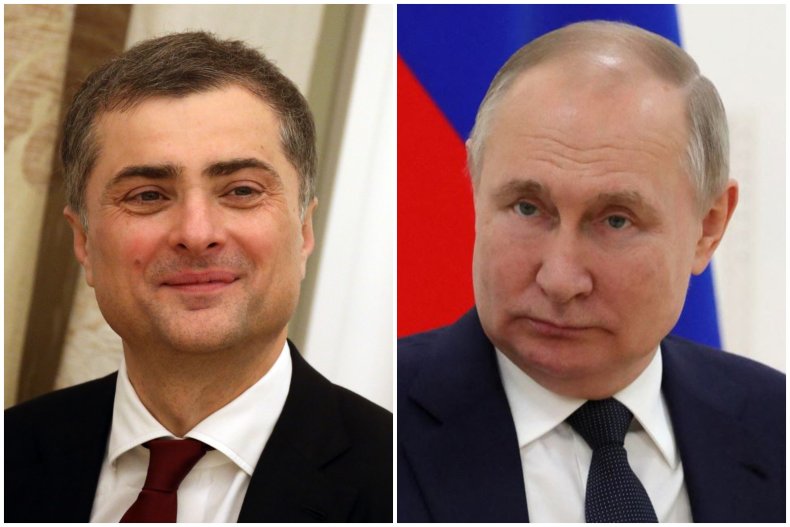 In an April 11 Facebook post, translated from Russian, Ponomarev, the only member of the State Duma to vote against the annexation of Crimea, said: "You're going to laugh, but Russian [military] z-sources told us about the arrest of Vladislav Surkov. Vladislav Surkov is under house arrest."
"Currently an investigation is ongoing into suspected embezzlement in the Donbas region starting from 2014.
"That said, the MoD [Ministry of Defense] crowd always held a grudge against Surkov, so maybe wishful thinking on their part.
"On the other hand, even though Putin relieved Surkov of his duties as presidential aide with a February 2020 executive order, to this day no-one has a better first-hand knowledge of the real state of affairs or has better on-the-ground contacts in the separatist pseudo-republics than Surkov. He is also close to the Russian 'Donbass veterans.'
"And thirdly, Surkov has always been quite close to Kadyrov [the ruler of Chechnya] and obviously there are many things that the Chechen leader clearly doesn't come up with on his own, but at the behest of Surkov.
"Let's wait to see an official confirmation or denial of the [reports] of Surkov's arrest!"
Should the reports be confirmed, it would represent a spectacular fall from grace for a man who was one of Putin's closest allies.
According to the Financial Times, Surkov was in the Kremlin when Putin won the Russian presidency more than two decades ago and viewed it as a chance to mold the country in his image.
He told the publication: "When the change happened, it was absolutely clear to me that the personality of the new leader provided an opportunity. With Putin, I realized everything that I wanted to do could be done now."
Surkov then described the political system he helped usher in as one with a controlled political opposition and limits on protestors, including leading Putin critic Alexander Navalny.
"The state protects itself, everywhere. Sorry, I'm saying simple things like a Kremlin propagandist, but this is obvious. In all countries, illegal rallies are crushed by force. Why should we be different?
"That man is not acceptable. He should not be a part of Russian politics. Germans love him, let him be elected to the Bundestag. They can give him a German passport."
Surkov remained close to Putin's operation until he left the Kremlin in the spring of 2020.
Newsweek has contacted the office of the President of Russia for comment.
Pressure has mounted on Putin following his invasion of Ukraine, with more than 10,000 Russian soldiers having been killed, sanctions being placed on Kremlin officials and many Russians with the means to relocate having left the country.
While such a military blunder would likely spell the end of a president's time in office, Putin has concentrated power around himself since he entered the Kremlin in 2000, leaving him well-placed to weather any storms.