Who Is Vontae Johnson? Meet the 'Cheer' Season 2 Coach Challenging Navarro
After more than two years of waiting, Cheer Season 2 is finally here. It's also been two years since Cheer fans saw Navarro pour blood, sweat, and tears into taking home the Daytona crown.
The new series of Cheer once again follows Navarro's preparations for Daytona 2020 and 2021, after 2020 was unfortunately canceled due to the coronavirus pandemic.
However, once again they face stiff competition from their rivals Trinity Valley Community College, located just 37 miles away. The new series shed's an equal amount of light on TVCC's journey, who has a new coach on the scene, Vontae Johnson.
Newsweek has everything you need to know about Johnson and TVCC.
Who is Vontae Johnson?
Vontae Johnson is the head coach of Trinity Valley Community College Cheerleading squad, The Cardinals.
Johnson has been the head coach for the past three years. The reason Johnson may seem super passionate about his team is that he was once a cheerleader at TVCC.
Johnson used to play college football but realized he could go much further with cheer. During his time as a cheerleader at Trinity Valley, his coach was Kris Franklin, who now serves as an assistant coach.
In addition to being a TVCC cheerleader, Johnson has also competed on legendary teams such as Team USA Coed and Cheer Athletics Claw6.
With Team USA Coed, his winning titles include Silver International Cheer Union (ICU) World Champions in 2015, and four back-to-back ICU World Champions in 2016, 2017, 2018, and 2019, details The Cheer Buzz.
At the International All-Star Federation Cheerleading Worlds in 2018, he won with Cheer Athletics Claw6.
You can follow Johnson on Instagram now @vontae_johnson where he shares numerous images and videos of his team and snippets of life outside of cheerleading.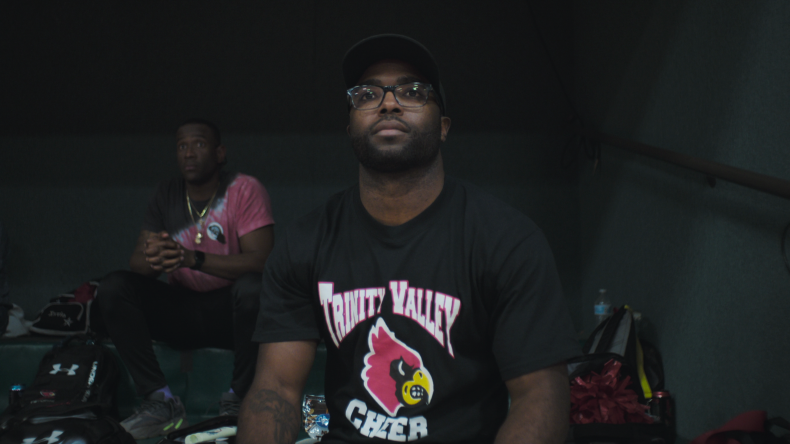 Warning: This article contains spoilers about the end of Cheer Season 2
Just like Navarro's coach Monica Aldama, Johnson is super competitive and has been able to turn TVCC's legacy around after the team suffered several defeats in recent years. However, after a whole load of hard work, commitment, and incredible new talent, TVCC was victorious at Daytona 2021. They last had their hands on the trophy in 2017.
Speaking to Newsweek about the win, Johnson shared: "It was a hard-fought win. It's been amazing, obviously been able to have that opportunity for the kids to be able to be champions."
Reflecting on holding the trophy and following the tradition of the winning team running into the sea, Johnson said: "It's something that you build up for all year, you talk about with the team, being able to have that opportunity to be able to run into the water and just swim away all those just tough times. All those tough times and hard-fought battles throughout the year, and also the great times that they had, to be able to push and work together. I thought it was a great experience to be able to just run into the water and be champions."
Throughout the 1990s, Trinity Valley used to dominate Daytona, winning numerous national championships in a row, but after Monica Aldama joined Navarro and began leading the squad from 1995 onwards as their coach, things began to change, with Navarro winning their first-ever national championship in 2000. They have been pretty much unstoppable ever since.
At the time Cheer Season 2 began filming, Navarro had won 14 national championships and TVCC 11, making them the biggest rivals in the competition.
Weighing in on TVCC and Navarro's rivalry, director Greg Whiteley told Newsweek: "I always found the rivalry to be very good-natured. I didn't ever get the sense that it dipped into an area that was inappropriate or unusually violent, but it was intense. I mean, these are two schools that wanted very badly to win and because of the quality of the two programs, usually, the other team is the one that's in the way of you achieving your goals and I think that's just, over the years, that's where that rivalry was started.
"What's interesting is, for years and years and years, Trinity Valley was the crown jewel of all of the cheerleading. And Monica, being a brand new first-year coach, I'm sure she looked down the road and just thought, 'oh, my gosh, how could I ever get to a place where I could even compete with a team like Trinity Valley, they are a juggernaut?' And Monica being Monica, she just went to work. And over the course of 10 to 15 years, she turned the tables, and she's now the juggernaut."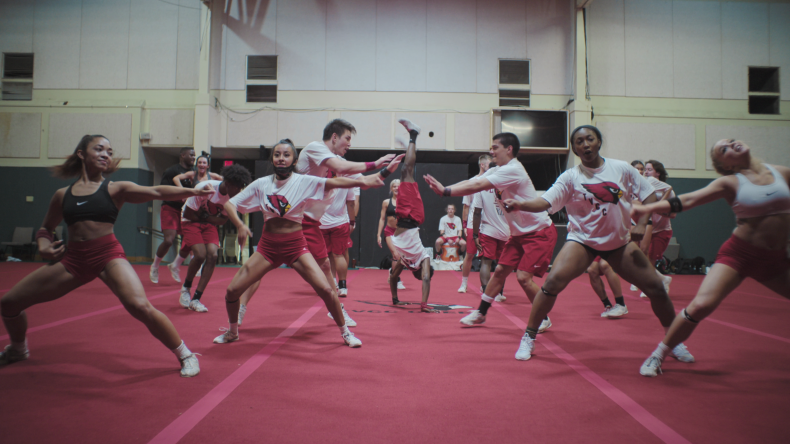 Now that Cheer Season 2 is out, Johnson shared an update on what TVCC is doing now and it may not come as a huge surprise to audiences that they are working hard to secure their second win in a row at Daytona 2022 in April.
Johnson shared: "We are definitely getting ready for our competition that's coming up here in April. That's what's next for us. We're just getting ready for our mat tryouts and get them hopefully in the same position to be able to be champions again."
When asked if TVCC would return to Cheer Season 3 if it was to be given the green light by Netflix, Johnson proudly said: "We're happy about season two. We want the world to be able to see us for who we are and you know, that will capture Trini Valley, and we don't know what the future holds for season three, so we'll see."
Cheer Season 2 is streaming on Netflix now.