Who to Vote for in Midterms: Closing 2018 Elections Arguments for Democrats, Republicans and Donald Trump
In the final days of the heated 2018 midterm elections campaign, both Democrats and Republicans pushed their last campaign messages before voters headed to the polls on November 6.
President Donald Trump was on a tear in recent weeks as he campaigned for vulnerable GOP candidates across the country. The president reinvigorated polarized conservative messaging on immigration and the economy with a flurry of rally speeches and policy announcements.
Democrats are shifting their focus away from Trump with a "For the People" campaign that is centered on health care, restoring voting rights and fighting government corruption and amorality. House Minority Leader Nancy Pelosi told CNN last week that "this is not a national campaign, it's one district at a time."
The party has had a helping hand with high-profile officials like former President Barack Obama and former Vice President Joe Biden stumping for liberal candidates around the country. Some political strategists worried that the more civil tone of the Democrats' midterm messaging lacked the punch needed to take down Trump and the GOP in order to regain control of Congress.
Here's how Democrats and Republicans are talking about the biggest campaign issues ahead of Election Day.
Immigration
Led by President Trump, Republicans have been hardening their already hard-line stance on immigration reform, fueled by the approaching migrant caravan to the southern border.
When scheduled to announce policy changes on asylum seekers on Thursday afternoon, President Trump took the opportunity to send a final campaign message that conservatives would not tolerate so-called "open borders."
Similar to the administration's "zero tolerance" practice enacted earlier this year, which resulted in immensely unpopular family separations and detention centers, conservatives are calling for the detention of asylum seekers who enter the country between ports of entry. Trump touted that the thousands of migrants would be detained in "massive tent cities."
The announcement came shortly after the president released his latest attack advertisement against Democrats, alleging that there were unlawful criminal immigrants entering the United States. The ad featured Luis Bracamontes, a Mexican man convicted in February in the 2014 murder of two California deputies. Trump's ad appeared to suggest that Bracamontes's crimes were a result of Democrats' position on immigration, even though it was revealed that he re-entered the country under Republican President George W. Bush.
Democrats have not made immigration as much of a focus of their midterm strategy. Republicans mention immigration four times as often as Democrats in campaign advertisements, according to a report by The Wall Street Journal. But when applicable, Democrats have used Trump's inflammatory rhetoric to support liberal values like tolerance, openness and denouncement of racism, especially when it came to family separations.
However, Democrats have been noticeably quiet about Trump's latest proposal to restrict asylum rights and his decision to deploy thousands of troops to the border, with just a handful admonishing Trump for his "fearmongering" tactics.
Health Care
For Democrats, health care was a top priority in midterm campaign messaging. Some of the more progressive Democratic candidates, like New York's Alexandria Ocasio-Cortez, are embracing Senator Bernie Sanders's "Medicare for All" proposal. Others, like Texas's Beto O'Rourke, are calling for expanding federal regulation to lower health care costs but do not support a complete government takeover.
The Democratic Congressional Campaign Committee devoted a new round of ads calling out vulnerable House Republicans who voted in favor of repealing and replacing Obamacare.
After a positive jobs report was released on November 2, Senate Minority Leader Chuck Schumer said the "numbers may look good" but that "when families see their health care costs go up because of GOP actions, these numbers will mean little."
The Republican push on health care has been much more sporadic. Trump attempted a last-minute effort on the issue by writing a USA Today op-ed slamming Democrats for their position. "The Democrats' plan means that after a life of hard work and sacrifice, seniors would no longer be able to depend on the benefits they were promised," Trump wrote. But the op-ed was riddled with inaccuracies, fact-checkers from multiple news organizations found.
Last week Trump made an announcement about reducing drug prices, but then complained that the news was overshadowed by coverage of the pipe bomb threats targeting Democrats.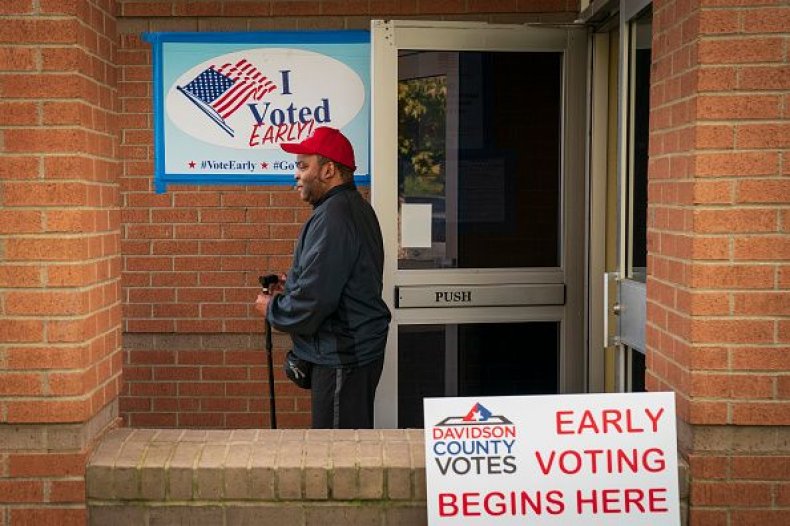 Economy
While the economy has moved to the backburner in midterm messaging, Republicans have held that if they maintain control of Congress the economy will continue to grow. Trump, while speaking at the White House the week prior to the elections, said that the U.S. had the "hottest economy right now in the world" but warned of trouble if Democrats regained a majority in the House.
"If the midterms for some reason don't do so well for Republicans, I think you're all going to lose a lot of money," he said. "I hate to say that. I think you're going to lose a lot of money."
The GOP received a last-minute boost thanks to a positive jobs report for the month of October, released just four days before voters headed to the polls. The report showed the best wage growth since 2009, with an average hourly earnings increase at 3.1 percent pace.
Democrats have continually slammed conservatives for their tax bill passed earlier this year, but they don't have a uniform midterm message on the economy. Though in some key battleground races where Democrats are facing tough Republican challengers, trade and the economy are at the forefront of debate. North Dakota Senator Heidi Heitkamp has sent out 530 tweets and Facebook posts related to the economy from late June to early October, according to a report from MarketWatch. Democratic candidates Kyrsten Sinema, Claire McCaskill and Jon Tester have also had a high number of social media posts mentioning the economy.
House Minority Leader Nancy Pelosi acknowledged the Democrats' lack of focus on the economy during an event with New York Times columnist Paul Krugman in mid-October.
"We owe the American people to be there for them, for their financial security, respecting the dignity and worth of every person in our country—and if there is some collateral damage for some others who do not share our view, well, so be it. But it shouldn't be our original purpose," she said.