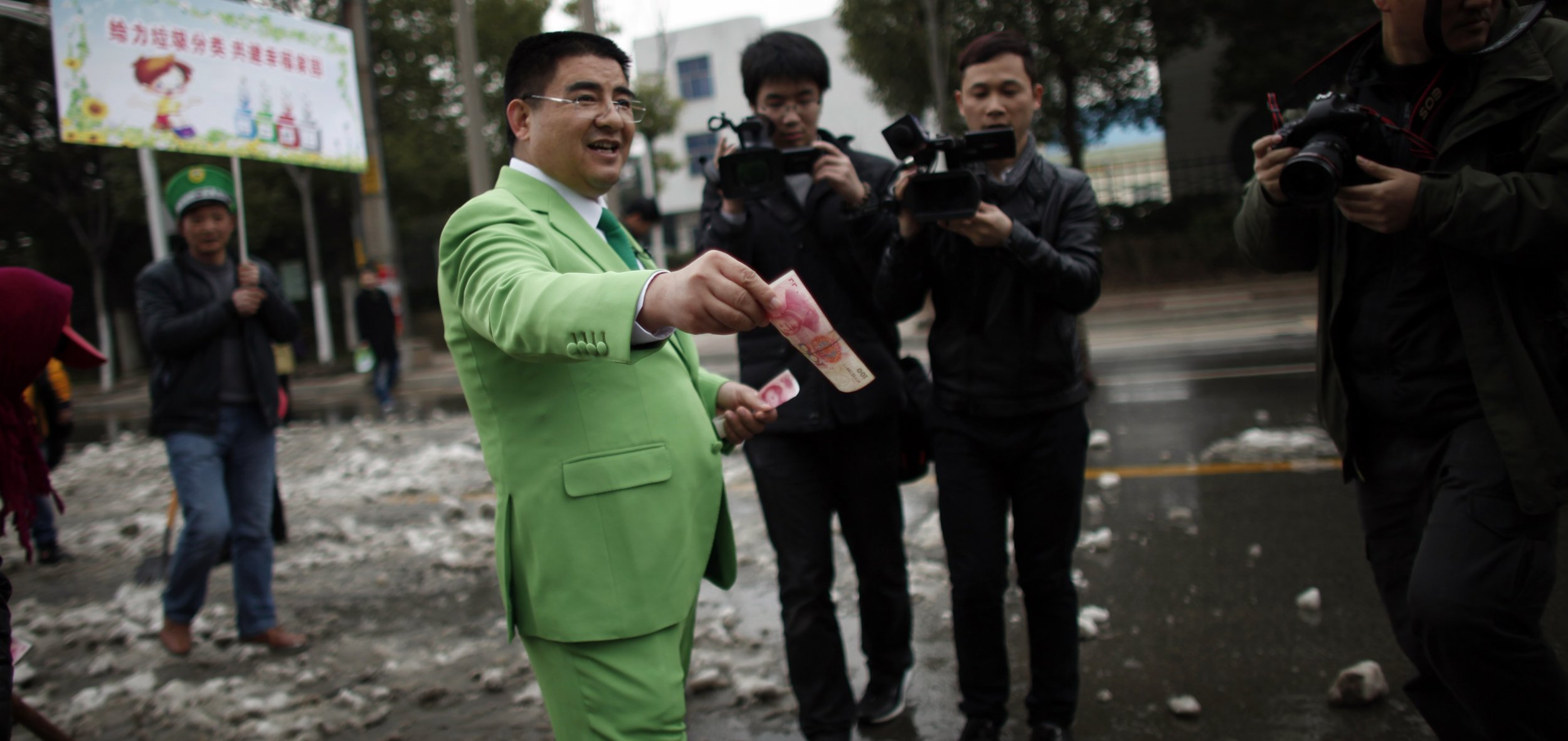 People come to New York City for all sorts of reasons: to study; to travel; to become doctors and lawyers and writers; to make it on Broadway or as stand up comedians or to toil in the kitchens of up-and-coming restaurants.
Chen Guangbiao is here this week to buy the New York Times. It's not as surprising a proposal as it might sound if you know anything about Chen, the 45-year-old Chinese billionaire philanthropist with a knack for staging over-the-top, headline-grabbing stunts in the name of politics, poverty, disaster relief and the environment.
But why buy the Grey Lady? "The influence of the New York Times is so great," explained Chen, who is prepared to make a $1 billion bid for the paper -- $400 million of his own money and $600 million from an unnamed Hong Kong investor.
"In almost every country in the world, as well as in their embassies, they read this newspaper. In order to expand the circulation quantity all the way to Asia, to China, to each household, that's why I want to have cooperation with theNew York Times."
Chen sat in a small brown club chair in a luxe suite at the JW Marriott Essex House on New York's Central Park South. He wore a tailored navy pinstripe suit, with a light blue dress shirt and striped tie. His rimless glasses sat delicately on his nose, and his neatly cut thick black hair looked like a manicured hedge.
Next to him sat his interpreter, who repeated Chen's answers in English, often taking notes on a yellow legal pad. There was a serious quietness to both of them.
So we already know the New York Times is hugely influential, but why exactly is he interested in buying? Could it be to improve relations between the Times and the Chinese government?
At present, ever since the paper's reporters drew attention to dubious business transactions between JPMorgan Chase and Wen Ruchun, the daughter of Wen Jiabao, the former Chinese prime minister, they have been harassed and threatened with the withdrawal of their working visas. It has got to such an impasse that even Vice President Joe Biden has intervened -- to no avail.
But Chinese state censorship does not appear to be on Chen's mind.
"The number one reason is because it has such a huge influence," Chen repeated firmly, as if he thought we thought he was joking the first time he said it. "The second reason is that by means of my own personal influence, my intention is to sell the newspaper to Asia and to each household in China, in order to express such information as world peace, environmental protection, philanthropist career, and the pursuit of human kindness. That's my ambition."
World peace, keeping the world green, and spreading human kindness. Contestants for Miss Universe could not have come up with a better answer.
On December 30, at an awards ceremony in Shenzhen, Chen announced his plans to "go to the U.S. to negotiate with the New York Times." The Chinese press quickly picked up the news, reporting he planned to "have dinner with a middle-level leader from the NYT."
As Chen recounted the story of how a Chinese friend introduced him to a Times shareholder, he sat very still, his legs crossed at the ankles, and he made occasional gestures with his hands and fingers.
"We planned to meet on January 5th. However, it is because of this incident [the announcement] he refused to see me. Because I exposed this information, and both my Chinese friend and the shareholder of the New York Times got upset, so they did not want to see me."
Another reason might be that the Ochs-Sulzberger family that has controlled the Times for over 100 years does not want to sell the paper.
Last August, soon after the Boston Globe was sold to Boston Red Sox owner John Henry for $70 million and the Washington Post was sold to Amazon.com founder Jeff Bezos for $250 million, the New York Times' publisher and chairman, Arthur "Pinch" Sulzburger, Jr., insisted that the Times was not for sale.
He could not have been more clear. "Will our family seek to sell the Times? The answer to that is no," he said.
Chen did find a way of buying into the Times, if only for a day.
Soon after Japan declared the Senkaku islands Japanese soil in 2012, the latest stage in a dispute with China about who exactly owns the mineral rich rocks in the China Sea, Chen bought three half-page ads in the Times.
"How would Americans feel and what would America do, if Japan announced that Hawaii was its territory?" he asked in both English and Chinese, publicly calling on the U.S. government to condemn Japan's decision.
But that gesture did not bring him any closer to meeting Pinch, who now runs the business. Early in January, Chen requested a meeting with "the Chairman of the newspaper. However, a reply came indicating that there would not be such a meeting."
But you can't keep a budding media magnate like Mr Chen down for long. If the Times doesn't bite, he says, he is prepared to offer his $1 billion to other U.S. media outlets, including CNN (which, he said, laughing, he might not be able to afford on his own) and the Washington Post (though he says he has not spoken with its new owner, Jeff Bezos).
"Whichever news media outlet that I purchase, I want to make it in both versions, in English and Chinese," said Mr Chen. "Chinese people want to understand the news. I hope that U.S. media and China will promote the U.S./China relationship, so that peoples of both countries know each other better… I am confident through my personal influence and effort I can make the U.S. news medias circulate broader and better." Chen is a man on a mission.
He comes from humble beginnings. Raised in poor rural Jiangsu Province, he dreamed of becoming a doctor. He eventually fulfilled that dream — then later founded Jiangsu Huangpu Recycling Resources Ltd., which recycles waste materials from demolished buildings across China.
His net worth is an estimated $1.5 billion and he has given away more than $330 million to charities that in turn has helped the plight of over two million poor people. As he put it, "In the beginning I was the doctor for man. Now I become the doctor for earth."
A self-professed "flashy philanthropist," Chen — who has been described as everything from "eccentric" and "oddball" to a "tireless self-promoter," yet whose demeanor on the day of the interview seemed hardly flashy at all — employs untraditional methods when it comes to giving back to society.
After the devastating Sichuan Earthquake of 2008, for example, he gave $15 million towards aid, handing out cash to homeless survivors and posing for photos as they held up wads of cash. In 2012, after anti-Japan protests spread through China, Chen spent $800,000 on 43 Chinese-made cars, giving them to those whose Japanese-made vehicles had been damaged in the protests.
Last year, in response to Beijing's ever-worsening air pollution, he sold cans of fresh air, all to make a point. Brightly decorated with Chen's own smiling face, each can sold for around five yuan ($0.80) and came in flavors such as "post-industrial Taiwan" and "pristine Tibet."
To make another point, Chen also smashed his Mercedes Benz car and donated 50,000 bicycles to Chinese citizens all to encourage people to drive less and bike more.
He even changed the names of his own family to make a point. One son's name is now "Environmental Protection," the other "Environmental Preparation." His wife has changed her name to "Green" and he has changed his to "Low Carbon Emission."
"The reason to do that is to arouse people's attention," he said. "To be alert to the environmental protection. That's my life goal pursuit. The philanthropist's career is not divided by country borders. It is not divided by beliefs or races."
"Currently [only] China knows about me. Now I want people of the world to know about me," he said. "That's why the next step for me is to invest in the New York Times, either to purchase shares or invest in the Corporation. My purpose is not for making money. Even though I would lose money in the media investment, I can use my profits from other business areas to cover. My purpose is to make myself a good example of a good man to influence other good people in the world."
Trying to buy the New York Times isn't the only reason Chen is in New York City. Along with him came a mother and daughter seeking life-changing surgeries.
Hao Huijun, 53, and Chen Guo, 31, suffered horrific burns during the 2001 Fa Lun Gong self-immolation protest in Tiananmen Square. Both women lost their hands, ears and noses. The before-and-after photos are haunting, their delicate features and sweet smiles now entirely unrecognizable, erased by red burn marks.
Thanks to Guangbiao, who receives no less than 100 letters a day from strangers asking for help, the two women will undergo a series of life-changing medical procedures in New York City to restore as much as 80 percent of the damage.
"When I received a request letter from the mother and daughter for help, I went to visit their home. I saw their situation was very bad," Chen said. "I felt pain in my heart. I cried as well."
After consulting with doctors in China, France and Britain, he settled on a surgical team at a New York City hospital. Over the course of six months, Huijun and Guo will receive six to eight surgeries. All the expenses, from the extensive operations, to travel and lodging and home care, will be covered by Guangbiao out of his own pocket — at an estimated $2 million.
"If I wrote an article, only about 20 news outlets would report it," said Chen. "However, if I do something in real action, this will capture the attention of the whole nation."
And there is no doubt people are watching to see what he will do next, waiting to see what stunt he'll pull next in the name of philanthropy — and whether his bid for theNew York Times bid is a serious pursuit or a publicity stunt.
Chen, too, is waiting.
"I've helped so many people, but I wonder why there is no one else to help me?" he asked, leaning forward in his chair. "Of course, I never regret it… In order to minimize the distance between wealthy and poor people, and in order for the environment to be better, I'll never rest doing this. I'll keep shouting with flashy fashion every day."