Who Was Amadou Diallo and Why Is The Story of His Death Still Relevant?
21 years ago, an unarmed Amadou Diallo was tragically killed by four plain-clothed New York City police officers, who fired 41 shots at him. Last month, an unarmed George Floyd died after a Minneapolis police officer knelt on his neck for nearly nine minutes. As nonviolent protests and demonstrations continue nationwide, the decades old case of Diallo is sadly more relevant than ever.
In 1972, New York City established the Street Crime Unit whose members were dressed in civilian clothes. So imagine a purse-snatching taking place in the middle of the streets. The idea was that this purse-snatcher would then be arrested on the spot by a plain-clothed cop. The elite unit was sent out to patrol areas in the city that were considered to have high crime rates. Sean Carroll, Richard Murphy, Edward McMellon, and Kenneth Boss, the officers who shot and killed Diallo, were members of this team.
But that wasn't where all the officers started their careers. In 1997, Boss, for example, was assigned to the 75th Precinct in Brooklyn where the white police officer was involved in the fatal shooting of an unarmed black man. On Halloween night of that year, Boss opened fire, shooting twice at Patrick Bailey in his own hallway after responding to complaints of a man in the apartment building menacing others with a gun.
Bailey's parents, Lloyd and Evadine, later said that at least four witnesses saw that the Wall Street clerk did not have a weapon. In fact, the 22-year-old did not have any weapons when he was shot to death, only a set of keys on him. An empty shotgun was found at the crime scene, but was unusable and unloaded. According to The New York Times, his parents allege that the police searched the building for the weapon after Bailey's killing and placed it at the scene.
Brooklyn District Attorney Charles Hynes did not present Bailey's case to a grand jury at the time, because the shooting was deemed justified internally. Boss was not just allowed to keep his badge, but he was transferred over to SCU. Community activist Charles Barron told the Village Voice, "Had Hynes stopped Kenneth Boss, Amadou Diallo would be alive."
In order to understand Amadou, it's best to hear it from the person who knew him best, his own mother. Kadiatou Diallo described her son to Newsweek, "What I want the world to know about Amadou was, when he was one, he grew up in a very wealthy surrounding. When he was growing up, as a young little boy, we had five people working in the house. A gardener, someone who could cook, a driver, and everything else. Amadou never saw that type of privilege. He would always go and connect with the less fortunate people. Those were the people that Amadou would talk to."
"When he came to New York, he was facing hardships. He was doing hard jobs, not because his family could not support him. Because he was independent. he wanted to achieve on his own. And when I see some of his pictures in New York City, he looks so tired. He was just a man who wanted to make it no matter what," said Diallo.
Five days before his death, Amadou called his mother to tell her that he had raised $9,000 to pay for college courses. He was earning his income by selling videotapes, gloves, and hats out on the streets of lower Manhattan. Though he was struggling, the 22-year-old street vendor was on his way towards attending college and was an aspiring computer programmer.
"I want people to know Amadou that his dream was to achieve a Computer Science program in an American university. That is why I created the Amadou Diallo scholarship program through the Amadou Diallo Foundation, because like him, so many young immigrants today are facing the same hardship in America. They want to go to college, but some may not go completely because they have to do two or three jobs," added the president of the Amadou Diallo Foundation.
Everyone involved was going to collide in an explosive way after the midnight hours of February 4, 1999.
That Fateful Day
That night, Carroll, Murphy, McMellon, and Boss were out on patrol, searching for an alleged serial rapist in the Soundview section of the Bronx. While driving down Wheeler Avenue, the four cops spotted Diallo, stopped their unmarked car, and questioned their possible suspect outside his Bronx apartment.
Carroll and McMellon were the first ones to step out of the vehicle. When they ordered Diallo to show them his hands, the 23-year-old young man allegedly ran towards the vestibule and reached into his pockets. Diallo was actually pulling out his black wallet, but the other four police officers didn't see it this way.
According to Charles Campisi and Gordon Dillow's nonfiction book, Blue on Blue: An Insider's Story of Good Cops Catching Bad Cops, this is what supposedly happened from neighbor accounts and the officers' statements. Standing at the top of stoop, Carroll first shouted, "He's got a gun!" and opened fire, along with McMellon. When McMellon fell backwards from the stoop, Boss assumed his partner had been shot and continued firing at Diallo. As gunfire erupted, Murphy continued blasting away at Diallo.
This is apparently called a "contagious shooting." Confused cops will continue firing until the supposed threat is stopped. Out of the 41 rounds fired, 19 bullets had fatally struck Diallo. When the four officers searched Diallo's dead body for a weapon, they only found a black wallet and a beeper. Realizing he had shot an unarmed civilian, Carroll cried, "Oh my God! Please don't die!"
"When you think about Amadou, you think of yourself, you think of your brother, your cousin. He could have been anyone. That night, the officers saw a black man standing on the vestibule, that it didn't take time to stop and look, give time," said Kadiatou Diallo to Newsweek. "They just stereotyped him and just killed him without any time to understand that he lived in this building. That he was not a criminal, and this is why in the depths of everything, I didn't know I was creating a movement."
Diallo continued, "I was part of this movement. Amadou created the movement, he opened up the door with awareness when we didn't have social media. His name and memory resonates up to today after 21 years. And behind the headlines, I want people to understand that all these victims are humans. They have a name. They have parents. They have siblings."
The Trial
As publicity boiled over four white policemen killing an unarmed black man, the murder trial was moved from the Bronx to Albany. The attorneys for the four officers argued they wouldn't be able to find an impartial jury in Gotham, according to The New York Times. Boss, Carroll, McMellon, and Murphy pleaded not guilty to second-degree murder charges to Diallo's death. There were protestors outside the Albany courthouse, shouting for all to hear, "No justice! No peace!"
The defense blamed Diallo for forcing the policemen to fire their guns, according to the Washington Post. If he had done what Carroll and McMellon told him to do and not run away, Diallo would still be alive, to hear them tell it.
During the Albany trial, eyewitness Sherrie Elliott recalled the events that took place from across the street where Diallo was shot. Elliot did say that one of the policemen had yelled out, "Gun!" According to her account, the four officers continued shooting after Diallo had fallen to the ground. Even when McMellon had fallen backwards, and was lying on the floor, he was still shooting at Diallo.
The jury, which consisted of four black and eight white jurors, deliberated for three days. When the jury finally reached their final verdict, the officers were acquitted of all charges in Diallo's death.
The Reactions
In reaction to the not guilty verdict, protesters marched down Fifth Avenue, blocked traffic to Wall Street, and continued towards City Hall. The protests were calling out for police reforms and for the NYPD to be held accountable for their mistakes. Protestors were holding out their own wallets and shouting, "This is not a gun!"
Then-president Bill Clinton made his first comments about the Diallo verdict at a Democratic fundraiser in San Francisco. "I don't pretend for a moment to second-guess the jury. But I know most people in America of all races believe that if it had been a young white man in an all-white neighborhood, it probably wouldn't have happened," Clinton said.
Giuliani accused the 42nd president of "trying to drive this as a political issue." Civil rights activist Al Sharpton, though, called Clinton's comments "on point."
According to Michael Shally-Jensen's Encyclopedia of Contemporary American Social Issues, the city of New York paid $3 million to Diallo's family in 2004 to settle a civil lawsuit.
When Newsweek asked what Diallo expects from government leaders today, she answered, "My hope is that all leaders, whether you are government leaders, or community leaders, or teachers, everyone will seize the hands that are extended from these young people. These young people are the first of this movement, let us extend our hand to them and grab their extended hands. Connect with the youth and let them be part of this question, let them be part of the work that we're doing. I am doing my part."
"These young people are watching the news. People say that there was violence, there was looting, and all these things. Sometimes it is because they are processing the anger that they have been feeling for many, many years. And they're ready. Let us bring them in. Let us connect with them. Let us continue to engage with them because they are going to be the change agents of change."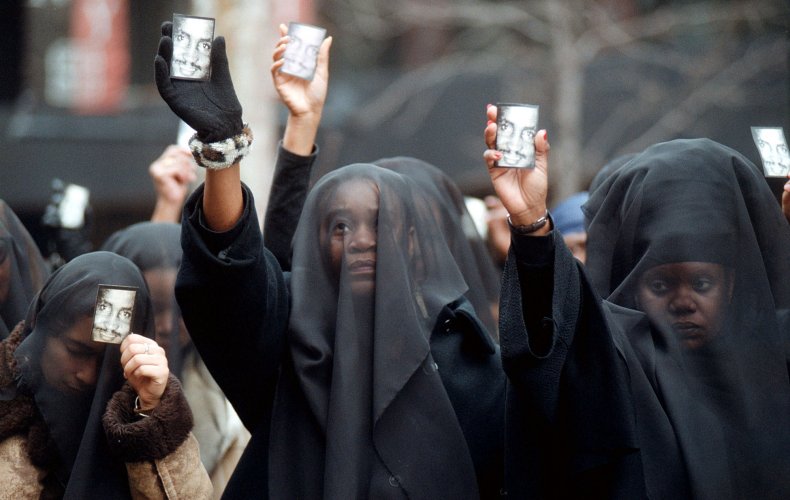 The Aftermath
After a federal investigation discovered findings of racial profiling, the Street Crimes Unit was officially disbanded in 2002. Though the other three officers have since left the police department, Boss remained on the force. He was allowed to carry a gun again 13 years later, by former police commissioner Ray Kelly.
Then in 2016, Boss, while working for the NYPD's Aviation unit, was hailed a hero by the Sergeant's Benevolent Association and awarded with "Sergeant of the Year." SBA President Ed Mullins said to the New York Daily News, "The SBA realizes the hard work that is put forth by its members. So it's very important that they be acknowledged for their momentous efforts throughout the year." Three years later, Boss retired from the NYPD.
When asked what she would like the NYPD to change, Diallo responded to Newsweek, "I think that in the past, they have implemented some changes, but it was not enough. That is why after Amadou, it's important to point out that so many people or their families have lost their children at the hand of the NYPD police officers. Accountability is going to bring the change. Accountability means when an officer is involved in shooting kids. They need to be fired, but also they need to go to trial. They need to be held accountable because they are paid to protect the community, not to harass the community."
"And I'm not anti-police at all, but I am inside the whole system. The system needs to change. The system has not benefited the community at large. Some people including our families have lost loved ones will say, "No, this is not the way we want it to be," she mentioned.
Not only has the Diallo shooting been covered in books, the trial was adapted into a Law & Order episode and covered in Netflix's docu-series, Trial by Media. Four years ago, artist Hawa Diallo restored the Amadou Diallo mural in Soundview. As displayed in the photo by Bronx Times, Diallo can be seen smiling in the mural. The message repeats Amadou's last words to his mother, "Mom, I'm going to college."
The co-author of My Heart Will Cross This Ocean: My Story, My Son, Amadou added, "I have received tremendous outpouring support since the release of the Trial by Media. People are connecting. In fact, even schools are requesting that I speak to their class. They are planning to use this film for students. They also want me to join to discuss about the issue after that."
His Legacy
Launched in 2005, the Amadou Diallo Foundation continues to promote racial healing and guides high school students as they continue their education. The Amadou Diallo Scholars serve as positive examples as they pursue their careers and make the community stronger. These scholars participate at the nonprofit organization with workshops, panels, and educational events.
As the foundation's founder, Amadou's mother said to Newsweek, "The Amadou Diallo Foundation will be grateful if the people will connect with us through our website, we have a link where they can login and enter their information if they want to do volunteering, if they want to be part of the committee mentorship program, if they want to be part of the programs that we are going to implement through our foundation. We are welcoming them, and we want them to join us."
She said, "I want engagement. I want connectivity with them. If you are frustrated and you want to do be part of the solution, the Amadou Diallo Foundation platform may be the one for you. And we want to welcome you to our mission."
After George Floyd
Upon hearing tragic news of the 46-year-old peace activist, Diallo saw the video of his murder and said she "felt him. All the mothers felt him. It reminded me of when I was crying for my child. When I had arrived in New York City at his place, where he was killed, there was so much pain and hurt. And I hope that with the spirit of George Floyd and his brother, who has spoken so well on behalf of the family, that we really can achieve the changes that need to be made. So many people have been victimized by the system. The system needs to be challenged, needs to be changed."
As the world has recently broken out into protests and demonstrations for Floyd's murder, Diallo reminds Newsweek that "it's not just when we have a police shooting case that we will come out and speak. After that uproar and energy of people marching, protesting, what is the next step? That is the continuous work through education, work through supporting, and work with young people. There are so many young people today that are aware, and I am comforted by that."
She continued, "I hope that with the spirit of Amadou and the mission of the foundation that they can connect with us because we need them. They're the future. We will never say, 'Here we go again. Nothing will ever change.' Every positive long-term outcome has to travel a long way."