Who Was Amanda Crowe? Legendary Cherokee Woodcarver Celebrated in Google Doodle
To mark Native American Heritage Month, Google created a Doodle celebrating Amanda Crowe—an Eastern Band Cherokee Indian woodcarver and educator who was a prolific artist renowned for her expressive animal figures.
Crowe was born in 1928 and raised within a 56,000-acre territory of North Carolina, known as the Qualla Boundary, which is held in trust by the U.S. government specifically for Crowe's tribe of woodcarvers.
A federally recognized Native American tribe, the Eastern Band Cherokee are descended from a small group of 800 individuals who remained in the eastern United States after the Indian Removal Act forced more than 125,000 to move west in the 19th century.
Both of Crowe's parents died when she was young, so she was raised by a foster mother for much of her childhood. She displayed signs of artistic talent at an early age, picking up drawing and carving around the age of 4. Despite being "barely old enough to handle a knife," as she said in her own words, she was determined to express herself.
She studied with her uncle Goingback Chiltoskey, a well-known woodcarver in his own right, who helped her hone her skills. Crowe was known to carry her tools to school so she could work on her creative projects and even began selling her carvings at the age of 8.
This hard work paid off because in 1946 she was awarded a scholarship to study at the Art Institute of Chicago. During her time there she was exposed to the world-renowned museum's permanent collection of sculpture, helping her to expand her artistic vision.
At the institute, she learned to work with plaster, stone and metal, but she always found herself coming back to wood as her preferred medium.
"The grain challenges me to create objects in three dimensions," she explained. "A mistake or flaw in the wood will improve your design. To me, a knot can be the best part."
After completing her master of fine arts degree, Crowe studied in Mexico with the renowned Spanish-born American artist José de Creeft before returning to her homeland in the Qualla Boundary.
There, she set up a studio in the Paint Town community and began leading art classes at Cherokee High School, where she would teach more than 2,000 students over the course of 40 years.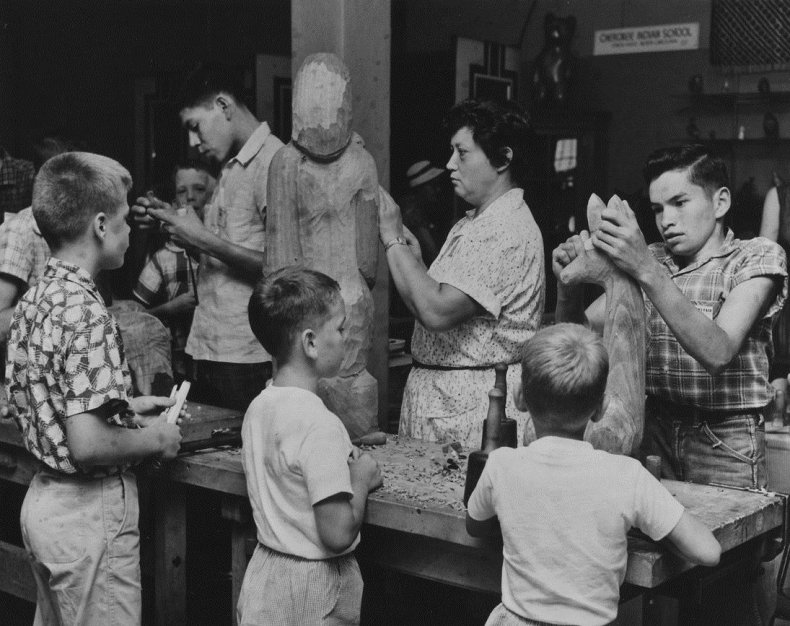 Many prominent American Indian artists studied under Crowe, and as a result she was credited with helping to foster a resurgence of Cherokee carving.
Crowe's work has been showcased at the Art Institute of Chicago, the Atlanta Art Museum, the Denver Art Museum, the Mint Museum of Art in Charlotte, the Asheville Art Museum, the Cleveland Museum of Natural History, the United States Department of the Interior, the National Museum of the American Indian, as well as venues in Germany, the United Kingdom and public collections around the world. She died in 2004.
The latest Google Doodle was created by Lydia Nichols in collaboration with William "Bill" H. Crowe Jr.—a woodcarver who is Crowe's nephew and a former student—as well as the Qualla Arts & Crafts Mutual, the nation's oldest American Indian cooperative.
The Doodle itself features high-resolution imagery of Crowe's works, which are housed at the cooperative, as well as original music composed by Bill.
Showcasing the works of more 250 members, Qualla Arts & Crafts preserves and promotes the traditional arts and crafts of the Eastern Band of Cherokee, offering a vast selection of baskets, pottery, wood and stone carving, beadwork, and much more.
This article has been updated to include additional information on the Google Doodle and the Qualla Arts & Crafts Mutual.