Who Was Ari Fuld? American Pro-israel Activist Fatally Stabbed in West Bank Mall
A 45-year-old American who became well-known on social media for his defense of Israel was stabbed to death by a Palestinian near a mall in the West Bank on Sunday, according to reports.
Ari Fuld was born in Queens, New York, but relocated to the Israeli settlement Efrat, a settlement outside Jerusalem that is home to many religious nationalists from the U.S. He became a social media sensation for his Israeli nationalism and strong support of the Israeli Defense Forces. He had active YouTube and Facebook accounts, and was also a co-host of a show on an English-language television channel in Israel.
A 17-year-old Palestinian stabbed Fuld near the entrance of a mall on Sunday. A video showed Fuld chasing his attacker and shooting at him before he ultimately collapsed; the young Palestinian is in the hospital with minor injuries.
Israeli Prime Minister Benjamin Netanyahu released a statement on Facebook saying Fuld had fought off his assailant "heroically."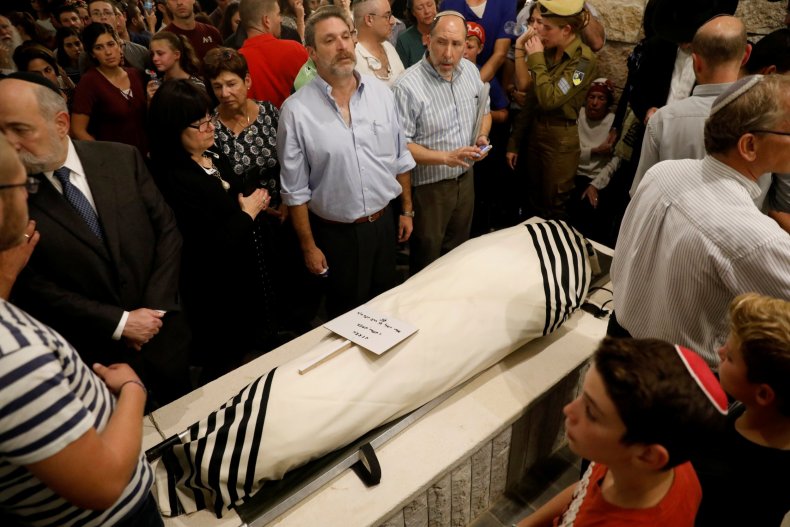 "Ari was a wonderful father to four children. He was an advocate for Israel who fought to spread the truth about Israel. May his memory be a blessing," the prime minister said in his statement. Netanyahu also met with members of Fuld's family.
"He lived as a hero and died as a hero. My big bro is gone. Thanks for the messages. Really. Just looking for oxygen now," Hillel Fuld, the victim's brother, tweeted.
Fuld was a member of the religious Zionist political party Habayit Hayehudi, and the assistant director of the organization Standing Together, which supports IDF soldiers. He was known to give assistance and care packages to Israeli soldiers fighting Palestinians along the border with Gaza. He had also served with the IDF in Lebanon, according to his wife, who during his funeral read passages from a diary he kept while fighting in the military.
Israeli soldiers claimed that the attacker's mother attempted to warn them about her son's attack, but arrived too late to stop it. Reports suggested that the IDF was planning to demolish the Palestinian's home in Yatta, a small city south of the city Hebron, in the West Bank.
Videos on social media showed the IDF planning the demolition of the attacker's home, a controversial tactic the Israeli military sometimes uses against terror suspects.