Who Was Carter G. Woodson? The Man Who Created Black History Month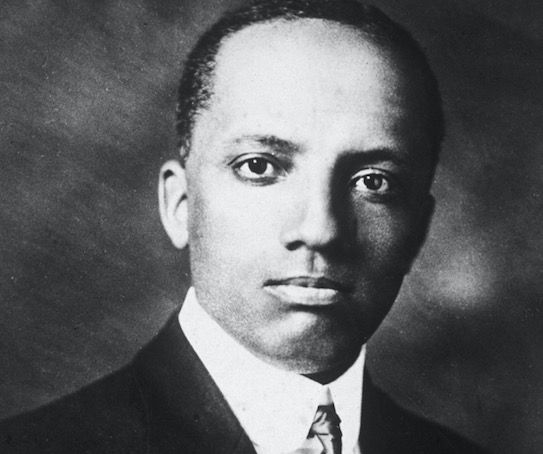 Although National African American History Month wouldn't be officially celebrated until after he passed, Dr. Carter G. Woodson was responsible for the creation of the monthly observance.
Born in 1875 near New Canton, Virginia, Woodson's parents, Anne Eliza Riddle and James Henry Woodson, were former slaves. For his undergraduate degree, Woodson attended the University of Chicago, graduating in 1907. He continued his education at the University of Chicago and then Harvard University where he became the second African American to receive a doctorate from the prestigious school, according to Biography.com. The first was writer and activist W.E.B DuBois.
However, his education wasn't a straight nor easy road. During much of his life, he was unable to attend school because he had to work on the family's farm. It wasn't until he was 20 years old that he entered Douglass High School in Huntington, West Virginia, according to the NAACP. Primarily self-taught until that point, Woodson earned his diploma in less than two years.
Over the years, Woodson authored several books, including, A Century of Negro Migration, The History of the Negro Church and The Negro in Our History. A firm believer that Black Americans should be proud of their heritage, the NAACP reported Woodson also believed that pride would enable all Americans to understand the contributions African Americans made to society.
In 1915, Woodson and his friend established the Association for the Study of Negro Life and History, later to be renamed the Association for the Study of African American Life and History (ASALH). The association created the Journal of Negro History in 1916, which published quarterly and gave black scholars the opportunity to have their original scholarly articles published.
Eleven years later, in 1926, Woodson launched an annual observance called "Negro History Week," according to the Dr. Carter G. Woodson African American Museum. February was selected for the observance because it included the birth of former President Abraham Lincoln, who was born on the 12th, and Frederick Douglass, whose accepted birth was on the 14th, according to the Library of Congress.
Woodson also founded the Negro History Bulletin, later titled the Black History Bulletin, in 1937. It gave teachers background on Negro History Week in an effort that students would have access to more well-informed lessons and educational programming.
Although Woodson passed away in 1950 from a heart attack, as reported by History.com, his push for African American recognition continued. In 1975, then-President Gerald Ford issued a message on the observance of Black History Week and urged all Americans to partake in it.
He acknowledged that the achievements of black citizens were "obscured" and "unsung," and called it "most appropriate" that Americans dedicate a week to recognizing those contributions.
"Emphasis on these achievements in our schools and colleges and in daily community life places in timely perspective the benefits of working together as brothers and sisters regardless of race, religion or national origin for the general well-being of all our society," Ford said.
In 1976, he issued another message, urging Americans to take part in Black History Month. He explained that freedom and recognition of individual rights was a key theme of the American Revolution.
"They were ideals that inspired our fight for Independence: ideals that we have been striving to live up to ever since. Yet it took many years before ideals became a reality for black citizens," Ford said. " We can seize the opportunity to honor the too-often neglected accomplishments of black Americans in every area of endeavor throughout our history. "
Negro History Week became Black History Month in 1976 after the ASNLH made the official shift, which coincided with the 50th anniversary of the first Negro History Week. In 1986, Congress passed a law designating February to be National Black History Month.
Former President Bill Clinton issued a proclamation in 1996, which titled the annual observance National African American History Month and in the years since, every president has issued a proclamation marking the month.
Given that it was his vision and dedication to history that paved the way for National African American History Month, Woodson is often referred to as the "Father of Black History."