Who Was James Cone? Founder of Black Liberation Theology Dies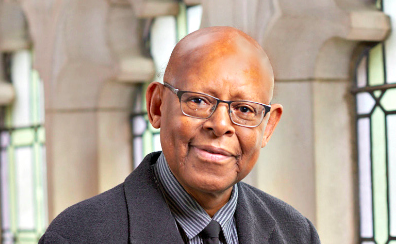 Rev. Dr. James Cone, who founded Black Liberation Theology, died Saturday, politics and faith reporter Guthrie Graves-Fitzsimmons tweeted. The Union Seminary professor was 81 years old. A cause of death was not immediately known.
Cone was inspired by civil-rights activism in the 1960s. He cited Rev. Martin Luther King, Jr. and Malcolm X, as "mainly a theology that sees God as concerned with the poor and the weak" during a 2008 interview with NPR.
The basis behind black liberation theology was to show how the gospel related to people of color in a world that was dominated by whites. He wanted "to teach people how to be both unapologetically black and Christian at the same time," he said in 2008.
Dr. Cone wrote more than a dozen books, but was best known for his works like Black Theology & Black Power (1969) and A Black Theology of Liberation (1970), God of the Oppressed (1975) and of Martin & Malcolm & America: A Dream or a Nightmare? (1991). His books were translated into nine languages. His final book, The Cross and the Lynching Tree, was a best-seller on Amazon in February 2012 and won the 2012 Nautilus Silver Award in Religion/Spirituality-Western Traditions.
He had 13 honorary degrees, including a bachelor's degree from Philander Smith College (1958), a Master of Divinity degree from Garrett Theological Seminary (1961) and a master's degree (1963) and a doctorate's degree (1965) from Northwestern University.
The most recent courses he taught at Union Seminary were Black Theology and The Life and Thought of James Baldwin in Spring 2017.
Union Seminary, where Cone was a Professor of Systematic Theology, issued a statement on his death. "James Cone was not just a professor. He was a prophet—a theological giant who shook the foundations of Christianity, dragging us miles closer to justice," Union Seminary wrote. "He showed the world that the gospel cannot be separated from the push for black freedom—that black liberation is God's story."
"We'll be sharing extended reflection on his revolutionary ministry in the days and weeks to come. For now, we dwell in overwhelming grief," they added in another tweet. "Dr. Cone, the fire you ignited in generations of students continues to burn stronger than ever. We will carry on your work. Rest in power."