Who Was the First Woman to Run for Vice President? Females Have Been Campaigning for the Role Since 1884
Come November 3, Kamala Harris' name will appear on the Democratic ticket for president alongside former Vice President Joe Biden, making her at least the 11th woman to run for the position.
From the outset of his campaign, Biden vowed to pick a female running mate and announced his long-awaited decision on Tuesday. Harris, who ended her own bid for the presidency in December, endorsed Biden in early March and said she would do "everything" in her power to help the presumptive Democratic nominee become president.
If Biden wins in November, it'll be the first time a woman will occupy the residency at Number One Observatory Circle not as a wife, but as the vice president. It's not for a lack of trying though, and Harris is just the latest woman in a 136-year history to run for the position.
In 1884, Marietta Stow became the first woman to run for vice president. She was the running mate to Belva Lockwood and the two ran under the banner of the Equal Rights Party. That same year, Stow, a newspaper owner, ran as an independent for governor of California to demonstrate the irony of women being unable to vote, according to GW Magazine.
It would take 100 years for a woman to be the vice-presidential nominee for a major political party, though. In 1984, Democrats faced pressure to pick a woman as the vice-presidential candidate because people believed it would help the party oust President Ronald Reagan from office. That July, Democratic candidate Walter Mondale selected Geraldine Anne Ferraro, a member of Congress at the time, as his vice president.
"I think it's very exciting, for several reasons - one of which is that people are no longer hiding behind their hands and giggling when they talk about a woman for national office, and I think that's wonderful," Ferraro told The Christian Science Monitor in May 1984 of rumors she could be named as the vice-presidential candidate.
Before Biden's nominee announcement, only one other woman, Sarah Palin, had run as the vice-presidential candidate for a major political party. Palin was the first woman to be a vice-presidential candidate for the Republican Party and ran with Senator John McCain in 2008.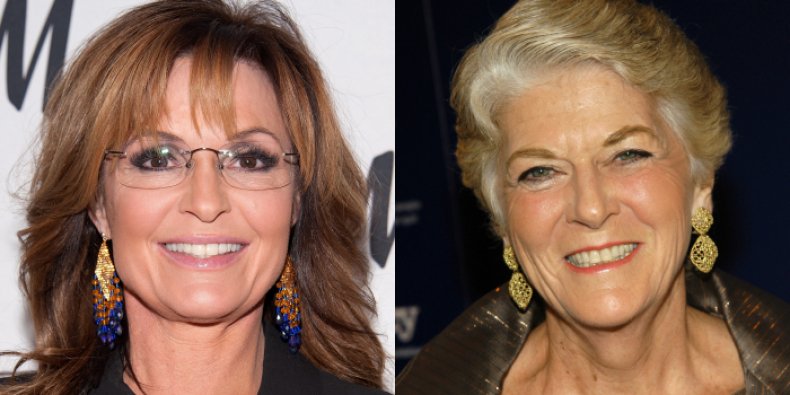 Sixty years before Ferraro was put on the ticket, in 1924, Lena Springs became the first woman to be nominated for vice president at a major-party political convention. During that year, the Democratic convention was in chaos over who to nominate for president, a process that would take 10 days and 103 ballots, according to The Roanoke Times.
Before Democrats selected their nominee for president, a "handful of party leaders" put Springs' name in for vice president. At the time, she was a delegate-at-large.
"While she probably will not go over the line a winner she will at least, we are sure, receive a rousing compliment such as has been accorded to few women in our history," a member of the South Carolina delegation told The New York Times in 1924.
Springs acknowledged there wasn't a "chance in the world" of her being nominated, but said she appreciated the "delightful tribute."
Another first for women occurred in 1952 when Charlotta Spears Bass become the first Black woman nominated for vice president. Likely the first Black woman to own and operate a newspaper in America, according to the National Parks Service (NPS), she pushed for police brutality reform and was a staunch advocate for civil rights, women's rights and immigration.
She ran on the Progressive Party ticket with the slogan, "Win or lose, we win by raising the issues."
Twenty years later, in 1972, Toni Nation, a Libertarian, made history by becoming the first woman to receive an electoral vote for vice president. That same year, Gloria Steinem, an icon in the feminist movement, put Frances "Sissy" Farenthold's name into the ring for vice president at the Democratic National Convention. Farenthold received enough votes to put her in second place behind Thomas Eagleton.
LaDonna Harris became the first Native American woman to run for vice president in 1980, according to Rutgers University, and four years later, Emma Wong Mar became the first Asian American woman to run for vice president when she joined the Peace and Freedom Party ticket.
If Harris becomes vice president in November, she'll be putting her own stamp on America's history.