ESPN's The Last Dance premiered on Sunday night and the cast of the 10-part documentary chronicling Michael Jordan's last season with the Chicago Bulls would have looked familiar even to non-NBA fans.
Alongside Jordan, Scottie Pippen and then-Bulls head coach Phil Jackson made an appearance, as did former U.S. President Barack Obama.
Viewers were also introduced to Jerry Krause, who was swiftly identified as the chief villain. Unlike Jordan, Pippen and Obama, the name of the former Bulls general manager may not ring familiar to non-NBA fans.
Crucially, his only appearances in The Last Dance are restricted to the enormous amount of archive footage director Jason Hehir delved into, as Krause passed away in 2017 and couldn't feature in the documentary.
The role of introducing him in the opening episodes was left to Bulls owner Jerry Reinsdorf, who pulled no punches when speaking about his former employee.
"After I bought the Bulls, [Jerry Krause] came to see me and said he'd like to be the general manager of the Bulls," he said. "I asked around the league and, uh, everyone I talked to said, 'Don't touch the guy.'"
Reinsdorf, however, ignored the advice and went on to hire Krause, who succeeded Rod Thorn as the Bulls' general manager in 1985. In the early stages of his spell in Chicago, Krause could seemingly do no wrong. In the 1987 NBA Draft, he selected Pippen with the fifth overall pick— the Bulls had an agreement in place with the Sonics, who drafted Pippen and immediately traded him to Chicago, going against Jordan's wishes, who wanted Joe Wolf or Kenny Smith—and Horace Grant with the 10th overall pick. The duo went on to be cornerstones of the Bulls team that won three titles in a row between 1991 and 1993, and Pippen played the role of Robin to Jordan's Batman for the second three-peat too.
Krause was also responsible for hiring Phil Jackson from the Continental Basketball Association in 1987 and acquired or drafted every player to feature in the Bulls' six titles runs. Jordan, of course, was the notable exception as he was drafted in 1984.
Jordan and Krause first clashed in the former's second season, when the manager prevented Jordan from returning to the court after a foot injury. Krause's logic was two-fold as keeping Jordan out would minimize the risk of the Bulls star suffering another injury, while improving the franchise's position in the 1986 NBA Draft.
Chicago eventually went into draft night with the ninth overall pick, which Krause used to select Ohio State center Brad Sellers, despite Jordan's demand the franchise draft Duke's two-way guard Johnny Dawkins.
"He said, 'You're Bulls property now, and we tell you what to do,'" Jordan told Sports Illustrated in 1993. "I was a young, enthusiastic kid, and that just made me realize this was a business, not a game. We never hit it off after that."
Not hitting it off would be an understatement. Krause was in the unenviable position of having a frosty relationship with his team's greatest asset—and the greatest basketball player in history—while simultaneously feeling underappreciated.
In the first two episodes of The Last Dance, the Bulls' former general manager is described by various interviewees as a man suffering from a short-man syndrome whose resentful and petty nature is detrimental to team's success.
Pippen, in particular, developed a bitter feud with Krause. The fifth overall pick of the 1987 NBA Draft never made more than $4 million a season during the Bulls' six title-winning runs and felt underpaid.
As early as 1995, Pippen told TNT Sports he hoped he would be traded away from Chicago. However, despite being linked with moves to Seattle, Sacramento, Miami and the Los Angeles Lakers, Pippen never left the Bulls, which only compounded his frustration and led him to label Krause a "compulsive liar."
The trade rumors continued during the 1997-98 season, which began with Pippen being, somewhat incredibly, only the sixth-highest paid on the Bulls roster. The former Central Arkansas alumni, was incensed at Krause for not improving his deal while investing a lot of money to convince Toni Kukoc to swap Europe for the NBA in 1993.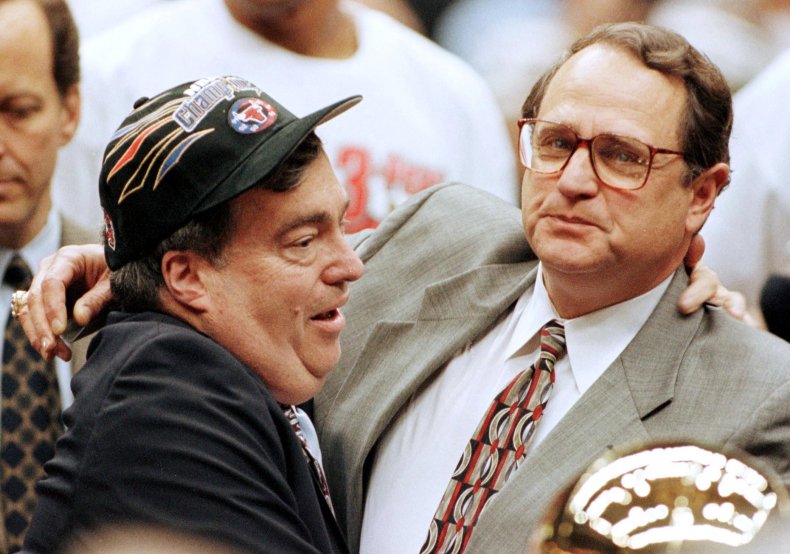 After the Bulls won their fifth title in 1997, Krause decided it was time to stamp his identity on the team and convinced Reinsdorf the Bulls' historic core players had run their course.
"After the fifth championship, which was '96-97, we were looking at this team and we realized, other than Michael, the rest of the guys were probably at the end of their high-productive years," Reinsdorf said.
"We realized, maybe this is the time to do a rebuild, and not win a sixth championship."
Krause was adamant organizations mattered more than players and coaches and made clear to Jackson that not even going 82-0 in the 1997-98 regular season would be enough to earn him a new multi-year deal in Chicago.
"[Krause] called me into his office," Jackson said, "and said 'This will be your last year with the Bulls. I don't care if you win 82 games and the championship.'"
Jackson eventually signed a one-year contract before the 1997-98 campaign, but was far from pleased with Krause, even though the latter had been convinced to wait at least another year before blowing up the team.
"The only dark spot is the resonance of the words of [Krause], who said recently that coaches and players don't win championships, that organizations win championships," Jackson said during a pre-season trip to Paris in the summer of 1997.
"He would say that. Michael [Jordan] says he won't come back after this season to play for the Bulls unless I'm the coach, but I signed a one-year deal and the Bulls definitely have plans to hire another coach for next year. Probably Tim Floyd of Iowa State."
Krause steadfastly maintained he had been misquoted and that he had in fact stated that "players and coaches alone don't win championships, organizations win championships."
The point, however, stood and even a decade after winning his final title for the Bulls, Jordan had an axe to grind.
"I don't know who invited him—I didn't," Jordan said of Krause during his induction speech into the Basketball Hall of Fame in 2009.
"He was a very competitive person, I was a very competitive person. He said, 'Organizations win championships.' I said, 'I didn't see organizations playing with the flu in Utah. I didn't see organizations playing with a bad ankle.'"
Firmly cast as the villain in the first two episodes of The Last Dance, don't expect Krause's role to change in the remaining eight episodes.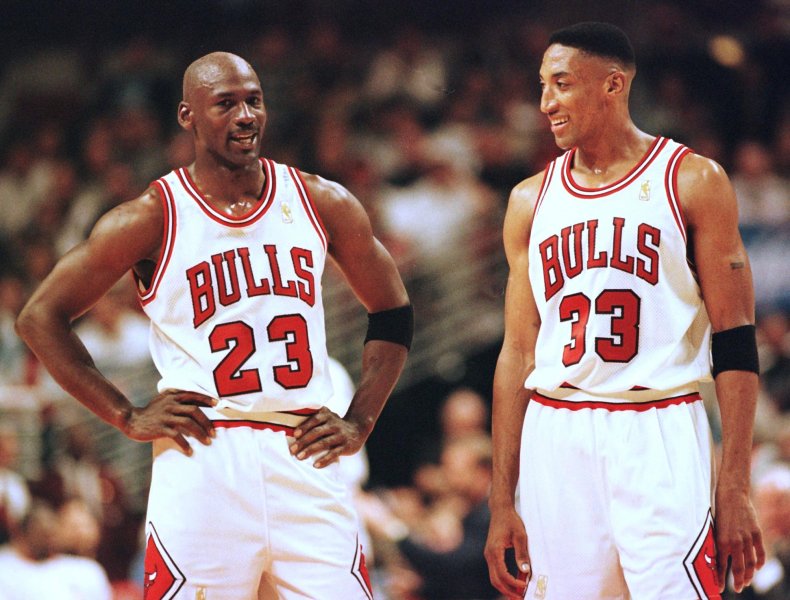 Uncommon Knowledge
Newsweek is committed to challenging conventional wisdom and finding connections in the search for common ground.
Newsweek is committed to challenging conventional wisdom and finding connections in the search for common ground.
About the writer
Dan Cancian is currently a reporter for Newsweek based in London, England. Prior to joining Newsweek in January 2018, he was a news and business reporter at International Business Times UK. Dan has also written for The Guardian and The Observer.