A popular Instagram influencer was found dead in Richmond, Texas, on Sunday in an apparent murder-suicide.
Miss Mercedes Morr, real name Janae Gagnier, boasted millions of social media followers, with 2.6 million on Instagram alone. She was 33 years old.
Some of her Instagram followers include major stars like Cardi B and Megan Thee Stallion. She also had a presence on OnlyFans
She last posted on her Instagram grid one week ago.
Authorities have confirmed that Gagnier was found dead at the Cortland Apartments located at 5200 Pointe West Circle in Richmond, per ABC 13.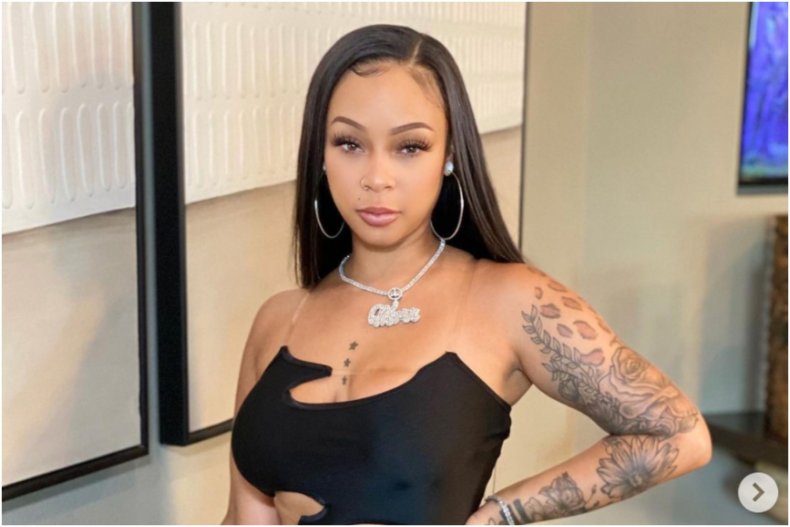 Police say a man was found dead at the apartment identified as 34-year-old Kevin Alexander Accorto.
Police have confirmed that the suspect in Gagnier's death has been identified as Accorto.
In a statement to Newsweek, the Richmond Police Department said: "The alleged suspect in the death of Jenae Gagnier, Also known as 'Miss Mercedes Morr,' has been identified as 34-year-old, Kevin Alexander Accorto with an address in Florida.
"Accorto was the second person found at the scene at 5200 West Pointe Circle in Richmond on Sunday evening. The cause of death for the victim and Accorto will be released directly from the Fort Bend County Medical Examiner's Office. As this is an ongoing investigation, no more information will be released at this time."
Investigators believe a murder-suicide took place but don't believe that there was a relationship between Gagnier and Accorto. The cause of death for both is still unconfirmed, pending autopsy results.
Officers found the bodies after they responded to a welfare check on Sunday afternoon around 4 p.m.
Rapper Tory Lanez has led tributes to Gagnier on social media.
"Rest in peace Queen," he said on an Instagram story, alongside a picture of her.
Fellow rapper Bow Wow commented on Gagnier's most recent Instagram post, writing: "Stop playing we just spoke on thurs dont do me like this yo! Naaa."
Houston recording artist Brittany Bangaz also posted a tribute, commenting: "Mercedez I'm so sorry, you did not deserve this at all. You had your whole life ahead of you. I remember all our times we had and you have always been the sweetest woman in the world. God bless you and your family. I'm sorry Mercedez rest in heaven."
NBA G League player Sheldon Mac also shared an emotional tribute to Gagnier saying her was in "disbelief" at her death.
"We just talked on thursday & everything was good! I knew something was wrong because u always respond! I'll never forget the times we spent together! Im gone miss that smile & good energy u always had no matter where we were! Your energy and personality was unmatched! The most genuine person! We always laughed & joked with each other no matter what & thats part of what made us close for 6 years!" his Instagram tribute reads in part.
Mac added: "U showed me luv in every way! I could write a damn book bout us. Gone miss u like crazy & the city will truly miss u!"
Newsweek has contacted the Richmond Police Department for updates.
UPDATE 8/31/21 9:43 a.m. ET: This article was updated to add information from the Richmond Police Department which identified Accorto as the suspect in Gagnier's death.