Who Was the No. 1 Pick in the 2020 NFL Draft? Meet the Bayou Bengal Drafted by Cincinnati
With the first pick in the 2020 NFL Draft on Thursday night, the Cincinnati Bengals picked LSU Bayou Bengal star, Joe Burrow.
Who is Joe Burrow?
Burrow was a standout high school quarterback from Athens, Ohio, who wanted big-time college football opportunities. Ohio State University was the only school to offer him a big-time chance, but he had to sit and learn behind other players in that system for three years.
Burrow spent his last two years of college eligibility in Baton Rouge, Louisiana, with the LSU Tigers. The Bayou Bengals, how LSU is also known, were a team that usually relied heavily on running, high on history and an unwavering reliance on a defense that could keep them in games.
Though Burrow had some memorable games in 2018—the season-opening win against Miami and wins over Auburn and Georgia—a blowout loss to Alabama and a seven-overtime loss to Texas A&M helped accentuate the fact that LSU football was not on track. Even after LSU stopped Central Florida's 25-game winning streak in the Fiesta Bowl, a change seemed inevitable in Bayou Country.
LSU brought in Joe Brady to revamp the passing game, and here's what Joe Burrow did in a pro-style offense during the 2019 season en route to beating Alabama, beating Georgia for the SEC championship and then knocking off Clemson for the national championship—capping a 15-0 season for the Tigers.
60 passing touchdowns (NCAA record)
76.2% completions (2nd in NCAA for single season)
5,671 passing yards (SEC & LSU record, 3rd in NCAA)
65 total TDs responsible for (NCAA record)
402 completions (LSU record)
13 300-yard passing games (LSU record)
6 TD passes in CFP semifinal (Playoff record)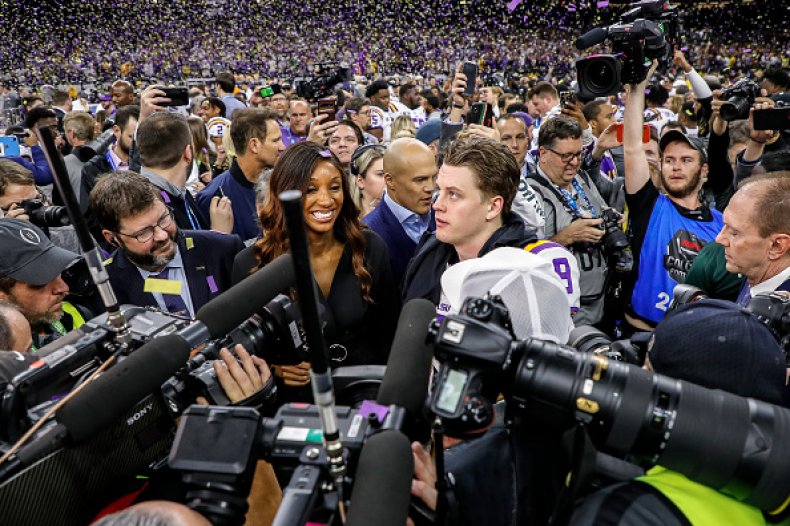 Last December, Burrow became the only the second player in LSU history to win the coveted Heisman, doing it 60 years after Billy Cannon galloped his way to the award after one of the most-memorable Heisman moments—the kick return against nemesis Ole Miss on Halloween night.
Burrow won the Heisman with 2,608 total points, which was in overwhelming fashion hardly seen before. Here's how dominant Heisman voters thought of the new Bayou Joe.
1,846 — his margin of victory was the largest in Heisman history
93.8 — largest percent of possible points in history of Heisman voting
90.7 — highest percentage of first-place votes
95.5 — highest percent of a name on ballots in history
Burrow, who is typically stoic and unflappable, broke down during his Heisman emotional acceptance speech.
"My journey ... I wouldn't have traded it for anything in the world," Burrow said before directing attention to LSU coach Ed Orgeron. "You have no idea what you mean to my family. You know I didn't play for three years and you took a chance on me, not knowing if I could play or not and I am forever grateful for you."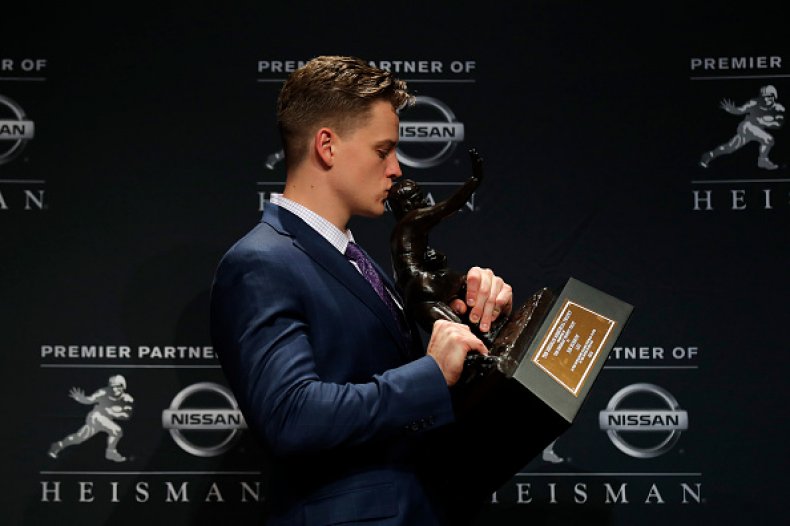 The Cincinnati Bengals secured the top pick for this year's draft when they fell to 1-14 on the season after a 38-35 loss to the Miami Dolphins in overtime in Week 16. The Dolphins led, 35-12, before the Bengals came storming back, which included scoring 16 points in the final 29 seconds of regulation. The Dolphins kicked a field goal as overtime expired to win the game.
Andy Dalton has been the No. 1 quarterback for the Bengals since the 2011 season, making the Pro Bowl three times. Though Dalton has had a good career, the Bengals have been rather stagnant lately in the tough AFC North division, which also includes the Baltimore Ravens, Cleveland Browns and Pittsburgh Steelers.
The Bengals made the playoffs in each of Dalton's first five seasons, but they lost in the wild card round each time. The Bengals have not made the playoffs since then, finishing third in the division in 2016 and 2017, and finishing last in both 2018 and 2019.
Burrow will be the fourth Heisman-winning quarterback in the AFC North along with starters Baker Mayfield (Cleveland) and Lamar Jackson (Baltimore), and backup Robert Griffin III (Baltimore).