Who Was Octavia E. Butler? Quotes and Facts About Science Fiction Writer Celebrated in Google Doodle
A Google Doodle is marking what would have been science fiction author Octavia E. Butler's 71st birthday on Friday, June 22. Butler died in 2006.
Born in Pasadena, California, in 1947, Butler knew early on she wanted to be a writer and refused to let her dyslexia overcome that dream.
According to her Guardian obituary, Butler was shy and six feet tall by the time she was 15. Her father was a shoe shiner who died when she was very young, and her mother was a maid.
She read avidly and wrote often, though it wasn't until 1976 that her first novel, Patternmaster, was published.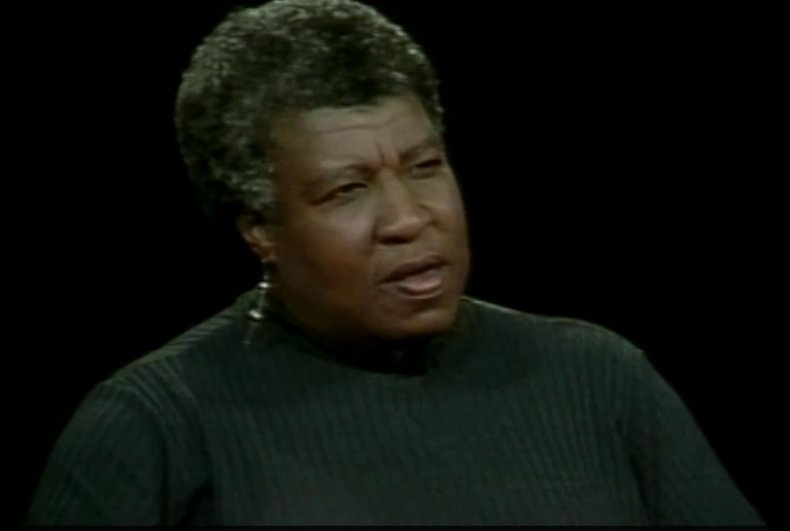 It was the first in the four-book Patternist series that, according to Goodreads, details "a secret history continuing from the Ancient Egyptian period to the far future that involves telepathic mind control and an extraterrestrial plague."
But it was her 1979 novel Kindred that became her breakthrough. It tells the complex and gripping story of an African-American woman who jumps back and forth in time between 1970s Los Angeles and an early-19th-century plantation in Maryland on which her ancestor works.
The protagonist must save the life of the plantation's brutal white slave owner who, it transpires, is also her ancestor, in order to maintain her own existence—even if it means facilitating the horrors he will inevitably commit, such as rape.
In 1984, her short story "Speech Sounds" won Butler her first Hugo award. A year later, her short story collection Bloodchild earned another Hugo as well as the Locus award and the Nebula award.
At the end of the 1980s, Butler published the critically acclaimed Xenogenesis Trilogy, also known as Lilith's Brood, in which humans and aliens reproduce with each other to survive. In the series were the books Dawn: Xenogenesis, Adulthood Rites and Imago.
A black lesbian, Butler broke the science fiction mold, a writing genre dominated by straight white men.
"For some writers, science fiction serves as means to delve into fantasy. But for Butler, it largely served as a vehicle to address issues facing humanity," reads her profile on Biography.com. "It was this passionate interest in the human experience that imbued her work with a certain depth and complexity."
In 1995, Butler was awarded a "genius" grant from the MacArthur Foundation, which made her a fellow. She was the first science fiction author to achieve this.
She later found herself stuck for inspiration. "In 1999, Butler abandoned her native California to move north to Seattle, Washington. She was a perfectionist with her work and spent several years grappling with writer's block," said Biography.com.
"Her efforts were hampered by her ill health and the medications she took. After starting and discarding numerous projects, Butler wrote her last novel Fledgling (2005), which was an innovative take on the concept of vampires and family structures, the latter being one of her works' prevailing themes."
After a fall at her Seattle home on February 24, 2006, Butler died.
Via BrainyQuote, here's a selection of Octavia E. Butler quotes:
At school I was always taller than the rest of my class, and because I was an only child, I was comfortable with adults but shy and awkward with other kids. I was quiet, bookish, and in spite of my size, hopeless at sports. In short, I was different. And even in the earliest grades, I got pounded for it.
My race and sex had a great deal more to do with what people believed I could do than with what I actually could do.
The big talent is persistence.
I wanted to write a novel that would make others feel the history: the pain and fear that black people have had to live through in order to endure.
Tolerance, like any aspect of peace, is forever a work in progress, never completed, and, if we're as intelligent as we like to think we are, never abandoned.
Sometimes being a friend means mastering the art of timing. There is a time for silence. A time to let go and allow people to hurl themselves into their own destiny. And a time to prepare to pick up the pieces when it's all over.
I took classes taught by an elderly woman who wrote children's stories. She was polite about the science fiction and fantasy that I kept handing in, but she finally asked in exasperation, "Can't you write anything normal?"
Most of us, if we're not careful, tend to dehumanize the enemy.
I used to give up writing like some people would give up smoking.
Every story I create, creates me. I write to create myself.