Who Was Oscar Romero? Pope Canonizes Left-Wing Archbishop Killed for Supporting Democracy
An archbishop who strongly opposed the military dictatorship in El Salvador has been canonized by Pope Francis on Sunday in Vatican City.
Oscar Romero was shot dead by a sniper while leading mass at the Church of the Divine Providence, a hospital chapel in the country's capital, San Salvador, on March 24, 1980.
The murder came just a day after Romero had spoken to soldiers, pleading with them to stop the repression that descended into a bloody civil war. His assassination was one of the most shocking developments in the long-running conflict between the U.S.-backed regime, right-wing death squads and left-wing rebels.
Between 1979 and 1992, the Salvadoran Civil War killed almost 75,000 people and saw many Salvadorans fleeing the country. Like many priests, Romero was outspoken in criticizing both sides of the divide, blasting the rebels and the regime for inflicting untold devastation on the country's most disadvantaged citizens.
In particular, he staunchly criticized the regime for arresting, kidnapping and killing priests who supported worker's rights.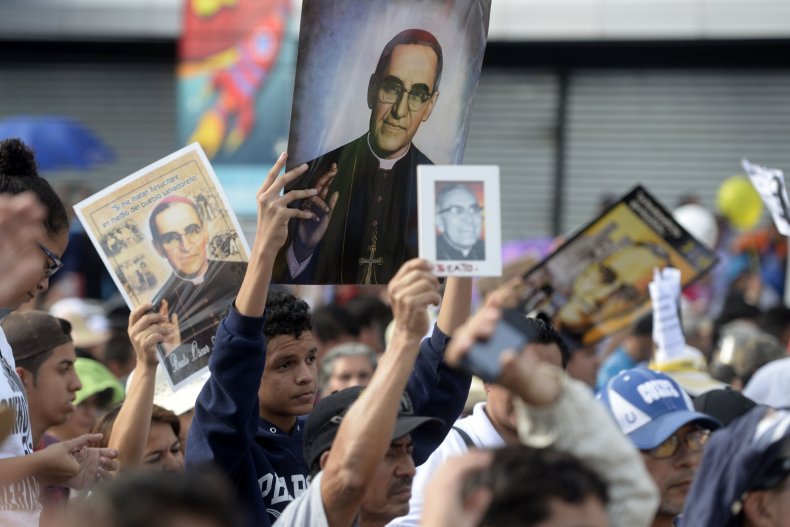 His stance earned him scorn and threats from both parties, but Romero always maintained persecution was par for the course for a man of faith.
"Persecution is necessary in the Church. Do you know why? Because the truth is always persecuted," he said in 1980, after finding a bomb destined for him had been planted on a church altar.
Born in Honduras in 1917, Romero studied theology in Rome before returning to El Salvador as a parish priest in 1943 and was ordered Archbishop of San Salvador in 1977.
After his death, the Vatican considered his canonization only for the process to be put on hold amid concerns Romero was an overly political figure.
However, in 2015 Pope Francis declared him a martyr who had been killed for hatred of the faith. Like Romero, the current pontifex is a Latin American who has made no mystery of his commitment of defending the poor.
In the same year, Cecilia Flores' husband prayed to Romero after doctors told him only a miracle would save his wife during pregnancy. Following her husband's prayers, Flores not only survived but gave birth to a healthy child and the Vatican recognized it as a miracle.
Salvadoran Cardinal Jose Gregorio Rosa told Reuters that Romero's sainthood will prove to be an example for religious leaders.
"It's the greatest thing a human being can achieve, an incredible joy," he was quoted as saying.
Major Roberto D'Aubuisson, a military intelligence officer, was rumored to have ordered the killing of Romero but a Washington-led investigation led nowhere and nobody was ever prosecuted for the crime.
D'Aubuisson, who had just left the army at the time of Romero's killing, then went on to become one of El Salvador's most successful politicians before dying of cancer shortly after the conclusion of the civil war.